Great change is happening in the Arctic of Norway
Erik Lødding, Vice President of Strategy, Communications and Public Affairs at Avinor Air Navigation Services, speaks to International Airport Review about the operator's position at the centre of the world's largest remote towers programme.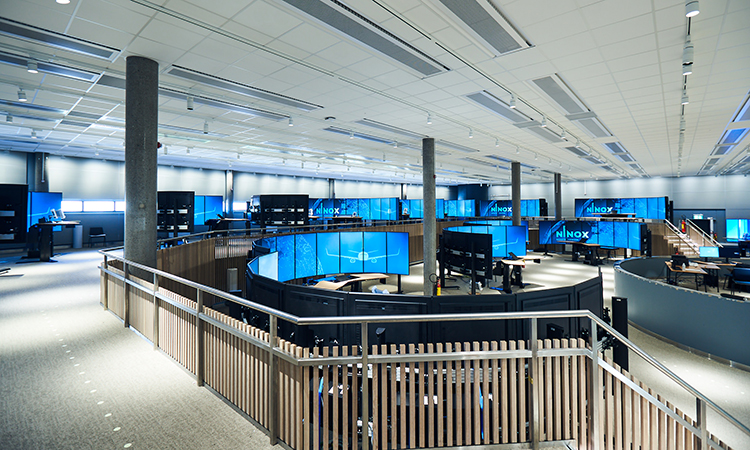 Credit: Avinor Air Navigation Services/Catchlight Fotostudio
The Avinor Group is the main airport operator and air navigation service provider (ANSP) in Norway. It currently operates four airport towers digitally from the Remote Towers Centre in the city of Bodø in Norway, north of the Arctic circle. By the end of 2022, 15 airport towers are scheduled to be operated from what will be the world's largest Remote Towers Centre.
Norway is a country defined by large distances and challenging topography. Norwegian businesses are internationally focused and rely on aviation. Aviation is also vital for the country's population, education and the tourism industry. Two out of three Norwegians have access to an airport within one hour. In Western Norway and Northern Norway, two out of three people can reach their nearest airport in half an hour. Aviation is vital for regional growth and for making regional centres accessible. It also plays a key role in Norway's decentralised education system and its healthcare sector, which handles more than 30,000 ambulance flights every year. The hospital structure in Northern Norway is largely based on the frequency of air transport.
From analogue to digital remote towers technology
The Avinor Remote Towers programme started in 2012, when the company was preparing for a major maintenance programme for its existing physical towers throughout its airport network. At that stage, the digital remote towers technology was in its infancy. However, it soon became clear that there would be significant benefits in investing in the new technology, rather than maintaining the aging physical towers that were located across vast geographic distances. After a test phase and public tender, Avinor teamed up with Kongsberg Defence & Aerospace and Indra to develop the Ninox Remote Towers system at 15 of Avinor's airports.
Avinor Air Navigation Services implemented the remote towers solution at the airport on the Arctic island of Røst (ENRS) on 19 October 2019, with the airports at Vardø (ENSS), Hasvik (ENHK) and Berlevåg (ENBV) to follow in 2020. In addition, the world's largest Remote Towers Centre officially opened in Bodø, Norway, in October 2020. The remote towers solution will be implemented at 15 airports during the first phase of the programme and is scheduled to be completed by the end of 2022. In the event of a second phase, it is expected that more of Avinor's airports will be run from the Remote Towers Centre in Bodø.
The aim of this investment is to improve the quality and efficiency of airport operations. Many of the control towers in Norway are due for refurbishment or total replacement. Using remote towers will save some of these costs. In the future, it will also be possible for one person to control traffic at multiple airports from the same location. This is known as 'multi operations' and is a tremendous opportunity to improve efficiency, reduce costs, and enable Avinor to continue providing extensive air traffic services across Norway.
A safe solution that you can trust
Any changes in the aviation industry are regulated by strict safety rules. Remote towers are required to provide a service which is at least as safe, or safer than, the traditional tower services. Avinor performs extensive safety analyses of every modification to systems or methods, in accordance with internal processes, which are approved by the Civil Aviation Authority (CAA) in Norway. Before remote towers services are introduced at an airport, the services must be accepted by the CAA and substantial documentation must be provided in order to demonstrate sufficient safety levels. Transparency and a continuous dialogue between Avinor Air Navigation Services and the CAA is a key success factor of the Norwegian remote towers programme.
How remote towers work
A remote tower service means that the people who are conducting the towers services at airports (air traffic control (ATC)/ aerodrome flight information service (AFIS) are physically located in a remote towers centre, instead of a conventional tower at an airport. Cameras, microphones and other equipment are installed at the airport. These tools provide extremely detailed information about weather and activities at the airport at all times.
As a passenger, one will not notice that the airport has a remote tower, other than the fact that the airport is now equipped with a camera mast instead of a conventional tower. However, the staff who used to sit in the local tower will now be located at the Remote Towers Centre in Bodø. For the pilots flying the aircraft, there are no practical differences in procedures. They will still talk to the tower personnel on the radio, as they do today.
A camera at the airport takes a 360° image of the airport, which contains more detail than can be detected by the human eye. The cameras can zoom in on small details, show movements (for example, birds or drones) and have an infra-red setting, which makes it possible to see in the dark. Every airport is connected to the Remote Towers Centre via networks with redundancy. If one network should fail, the other can be used to connect to the remote towers centre. These networks are high-grade networks used for aviation and involve the use of both fibre cables and radio transmissions. The Remote Towers Centre in Bodø is manned by the same staff who used to sit in the individual towers across vast geographic distances. With large screens, they have a full overview of every movement and operation at an airport and can communicate directly with pilots and ground crew. 
Erik Lødding is the Vice President of Strategy, Communications and Public Affairs at Avinor Air Navigation Services, the air navigation service provider (ANSP) in Norway. In addition to his aviation background, he has substantial experience from the FMCG, railways and defence sectors, with a broad international background from Europe, North America and Oceania. Lødding holds a Master of Business Administration in strategic leadership and economics from the University of Tromsø, Norway, and a Bachelor of Communications degree from the University of Queensland, Australia.