Smart, seamless, stress-free
With the new airport set to begin operations in 2026, Tom McCormack, Chief Technology Officer at Western Sydney Airport, describes how the airport is being designed with the future of seamless travel in mind.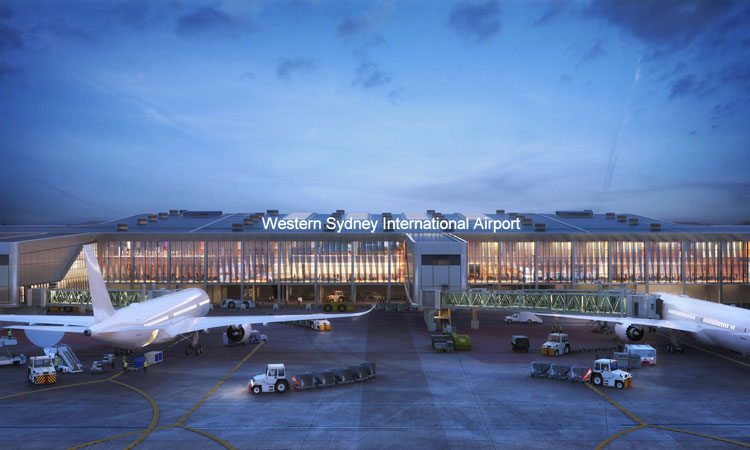 Ahead of opening Sydney's new airport in late 2026, Western Sydney International (Nancy-Bird Walton) Airport (SWZ) is focused on leveraging emerging digital capabilities to deliver a smart, seamless and stress-free experience that travellers should expect and enjoy.
Smart travel
Over the past two decades, technology has changed how we interact with each other socially and professionally, and this has been further accelerated by the recent global pandemic. Over this same period, airport operations have remained largely unchanged. Reliant on segregated technology systems and manual processes managed by in‑person interaction, airports were finding it harder to respond quickly to changing resource needs and increased strain during peak periods.
Digital technology is influencing and shaping the travel environment and travel experience in exciting, but deceptively simple ways. In recent years, small evolutionary changes to improve and simplify passenger flow through a terminal have started to become standard practice.
Digitised self-service check-in and baggage drops at automated kiosks are commonplace in both international and domestic terminals. More recently, upgrades to security and passenger screening queueing ahead of departure are streamlined and, upon arrival in Australia, e-gates for immigration were a welcome change.
As we are designing Western Sydney Airport, we are thinking beyond these discrete systems upgrades and considering how tomorrow's technology will come together with great design and customer service to create a stress-free experience for our customers.
Seamless collaboration
In 2019, the International Air Transport Association (IATA) announced a resolution to implement One ID, a single biometric identifier to keep passengers moving without relying on paper travel documentation. A collaboration between airlines, airports and government authorities, trials of the concept continue at several airports around the world.
As the aviation industry's pandemic recovery efforts pick up pace, so too does the speed of the transition toward touchless travel – both for the traveller and the systems that support a seamless journey. The applications for these new and emerging technology solutions will transform the way that we travel by air.
What if we could identify you as a passenger even before you arrived? You could place your bag on a conveyer belt and walk through passenger screening without breaking your stride. You could be identified through digital means and smart devices and be placed safely with other passengers on your flight with ease. Upon arrival, your bag would be returned to you with precision, or could be easily transported to the office, your home or hotel for your convenience on a dedicated service.
We are closely collaborating with Transport for New South Wales (NSW), Sydney Metro, various Australian federal law enforcement agencies, the Department of Agriculture and a range of other organisations to deliver tightly integrated transport and logistic access for both customers and cargo. Two new Sydney Metro train stations at the airport terminal and airport Business Park, and integration with the new M12 motorway into and out of the airport precinct, will ensure that passenger and freight arrival will be fast, accurate and reliable, from kerbside to the plane. Safe, seamless and stress-free.
From the moment that passengers arrive, through check-in, security and immigration to the boarding gate, we want every stage to be fast and easy. The answer is better communication and collaboration.
Throughout an airport, there are over 100 technology systems which rely upon cooperation as a first principle. In a smart airport, these systems must communicate efficiently and work together effectively, from your front door to the aerobridge.
Using the latest industry-leading technology, the design and construction of our modern and flexible baggage handling system will ensure that missing, delayed or damaged luggage is a thing of the past. As the airport grows with demand, this system can be easily expanded to meet capacity demands, ensure the safety of all workers and keep up with emerging technology as the airport grows into the future.
From baggage handling to airside access, building utilities to aircraft apron management and customer information to freight management, the power of smart design, automation and interoperability can be leveraged to address the traditional travel pain points for passengers, airlines and the airport.
A stress-free journey
Western Sydney Airport is focused on designing and delivering a fit-for-purpose airport and digitally-enabled terminal, for our passengers and our airline customers.
A 2019 survey of more than 1,000 UK-based passengers found that the single most stressful part of air travel was getting to the airport (63 per cent), followed by baggage collection (49 per cent) and passing through security and waiting for transfers (47 per cent).
Australian airports are not immune to these passengers' concerns. We all know the delight of the captain's announcement upon landing that you are 10 minutes ahead of schedule, only to discover that there is no operator available to connect the aerobridge to the aircraft. The desperation of the connecting flight dash between terminals, only to discover that the flight has moved gates. These situations are frustrating and unnecessary. That is why we are putting ourselves in our passengers' shoes and taking advantage of the latest technology, so that we can build the best airport possible.
While we are still early in the design journey, safety, privacy and security is front of mind. The requirements of running a smart and modern airport in a heavily regulated industry are complex. As the world grapples with the impact of COVID-19 on the sector, emerging risks must be managed carefully and with consideration for the data and personal information with which airports continue to be trusted.
Compliance with federal and state legislation is necessary and, while there is a lot of work ahead, our team is committed to delivering the people of Western Sydney a game-changing airport that we can all be proud of.
A smart airport for passengers and their families means a better passenger journey, a consistent service, real-time information and getting you where you need to go safely. For airlines, efficient and smooth turn-around of aircraft is crucial to maximise asset usage, build profitable routes and demonstrate value for money.
According to IATA's 20-year global forecast, while the aviation industry is resetting in a post-COVID-19 reality, there will be 2.8 billion more passengers per year by 2039. Opening in 2026, Western Sydney International stands ready as the full service, smart airport of choice for international, ultra-long haul and domestic travel on full-service airlines and low-cost carriers.
Within 20 years, one in two Sydneysiders will call Western Sydney home, and the demand for passenger journeys in the Sydney region alone will more than double, from 40 to 87 million. The power of technology to deliver a seamless, stress-free travel experience will make Western Sydney International the smart choice.

Tom McCormack is the Chief Technology Officer at Western Sydney Airport. In this role, he is responsible for the design and implementation of all technology and cyber security aspects of Australia's first smart airport, which is due to open in 2026. Over his career, McCormack has been involved in the creation, implementation and operations of complex technology systems across a range of sectors, including financial services, transportation, the public sector and media, amongst others. With a great deal of experience across both the FMCG and aviation industries, McCormack has held a number of transformational technology leadership roles within a range of global brands. He is widely regarded for providing thought leadership in technology outsourcing.