Expecting the unexpected at Edmonton International Airport
Steve Maybee, Vice President of Operations and Infrastructure at Edmonton International Airport, discusses the challenges that the airport faces due to the changeable Canadian weather and how they are able to deal with it in order to remain operational.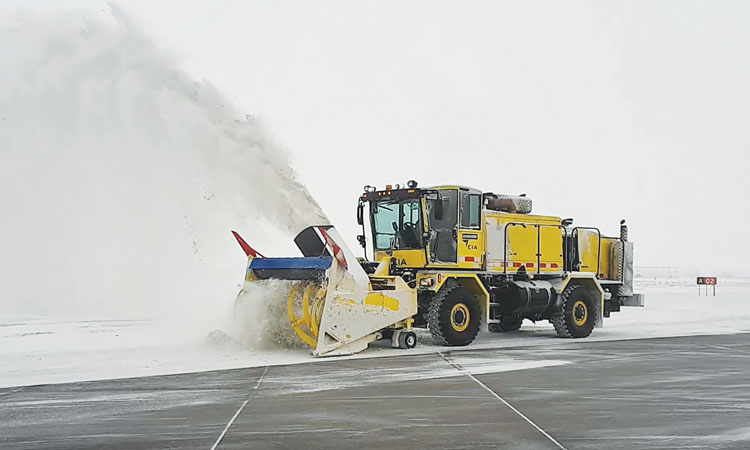 We are no strangers to snow, ice and cold weather at Edmonton International Airport (EIA). We often refer to ourselves as Canada's gateway to the North, as we are the most northern-based major airport in the country.
The winter of 2011 is one I will never forget. Between January and February 2011, it snowed for 24 days straight, and our crews had to respond adequately. When we finally stopped shovelling, it came to 218cm of snow, including one 24-hour period with 42cm of snow and 16 days with more than 6cm.
EIA is Canada's largest major airport by land size, with roughly 7,700 acres of land. We are located south, outside of city limits and, with that, comes a lot of open space for the winds to roar, the snow to drift in from farm fields and temperatures that are always just a little bit below the warmth of the city centre.
Towards the end of 'Snowmaggedon 2011', as it has come to be known, we were in a full 'all hands‑on deck' situation, as our crews were exhausted. I will never forget personally helping to reload bristle sweepers in our operations building so that the drivers could focus on snow removal. If you could drive the trucks or carry a shovel, you were drafted, and my directors and I spent time clearing apron areas for ground handling crews and helping to clear public areas.
Throughout that entire span, we never closed. In Edmonton, you do not close because of some snow. But that does not mean that it's easy to stay open either. Winters are evolving In fact, this 2020-2021 winter season in Edmonton has been mild by temperature standards. Our first major snowfall of this season arrived on 6 November 2020 with a dump of 40cm over a 16 hour period. However, much of December 2020 and January 2021 has been above normal temperatures with limited snowfalls.
That does not mean that we haven't been busy. In fact, it has become undeniable that our winters in Edmonton are changing. Climate change and changing weather patterns have brought their own challenges in recent years. For one week this year, in January 2021, our crews have had to handle rain, freezing rain, sleet, snow and, a first for our airport, a 'snow squall', where winds gusted in the middle of the night at speeds of 107km per hour for some periods, blasting our airport with snow and forcing our employees and others to make sure that every bit of exposed equipment was secured in order to prevent objects from blowing onto the runways, potentially endangering planes.
Our airport, like all others, relies on weather forecasts and advance warning systems. We saw these systems coming and were prepared. However, we do not rely on just one or two systems, but track five major weather sources continuously.
Making science and data-driven decisions
Science and data drive our decisions. Our crews are experienced and professional, but 'trusting your gut' is not adequate when it comes to preparing for storms. We strive to understand the severity, content, wind speeds, pressure and temperature of the air versus surface temperature of our runways and aprons, because all of these factors affect our plan of attack. It truly is science as much as experience.
When we know that a storm is imminent, our crews are ready to move. If we know that there is potential for rain or freezing rain, our crews move to spray our runways and aprons 10 to 15 minutes in advance of the storm's arrival with a potassium‑acetate solution that inhibits the formation of ice. All of the substances that we use on runways and other areas are approved products from Transport Canada, which are environmentally responsible and safe.
EIA's airside has 2,665,336m2 to clear when the snow arrives. Groundside, there is 4,200,000m2 of public roads, parking lots and sidewalks to handle. This includes all of the roadways through our Airport City complex, which is home to a major shopping outlet mall, casino and horserace track, our cargo village and other significant light‑industrial developments. Our in-house crews clear it all. Perhaps because we live it every year, our community has high standards for snow removal – if the roads aren't clear or the sidewalks are icy, we'll hear about it.
Training field crews to ensure top performance
Time is the most significant factor. Our crews work 12-hour shifts 24/7, and we constantly evaluate performance. Training is key; when they are not out in the field, we are training and reviewing. Our field crews must be more than operators, as they deal with our biggest stakeholders every day and need to be able to manage relations with airlines, NAV Canada and other contractors.
It is about trust. The airlines need to trust that we are doing our jobs to put their safety and the safety of all our passengers first. We only accept excellence in our crews, because we are dealing with people's lives and we don't get second chances.
The COVID-19 pandemic has, of course, presented its own challenges. This winter season, we have strict rules on how the crews can interact with each other and who can even enter our Airfield Operations Facility. We have been fortunate with no cases of the virus in our crews.
Embracing future technology and innovation
Unfortunately, I don't have a crystal ball for the future, and weather is inherently unpredictable and may continue to change in future years. At a corporate level, EIA's strategic business plan is dubbed 'Innovation Expansion'. That is because, as an airport, we are focused on embracing the future, using technology and innovations to change how we do business. That will continue, perhaps a little slower due to the pandemic, but it will move forward and touch all aspects of our business, including winter operations. An example is a partnership with a local company, Absolute Combustion, which has developed a new aircraft heater that has drastically lower emissions and improved fuel efficiency and performance over existing heaters. It was developed and tested at our airport. Our operations team has also embraced the use of remotely piloted aircraft, or drone technology, at our airport. We consider ourselves a leader in Canada in using drones, and we are now exploring how they can be used to improve our winter operations by refining the weather data that we can access in real time.
My leadership group and I know that we are good at this, but we can never stop challenging ourselves to be better.
I hope I will never see a winter quite like 2011 again, but this is Canada, and you learn to expect the unexpected.

Steve Maybee is the Vice President of Operations and Infrastructure at Edmonton International Airport. Before joining the aviation industry, Maybee worked in the oil and gas industry with Chevron Canada in northern Alberta. He joined Edmonton Airports in 1992, starting in Contracts and Procurement, where he obtained his Professional Designation in Supply Chain Management (SCMP) and led the Procurement and Contracts department through two major terminal expansions before moving into the position of Director of Human Resources. He later joined the Operations department as Manager for Airside Operations and was promoted to Vice President of Operations in August 2014. In August 2018, the Infrastructure department was added to his portfolio.