A runway back to flight: Eurofins' SAFER@WORK delivers robust, end-to-end solutions to return airports to full operation
To get the world flying again, airports need a comprehensive action plan that addresses every aspect of air travel. During their webinar, which takes place on 10 February 2021, Eurofins will explore how their solutions can enable airports to resume full operations and welcome back their passengers.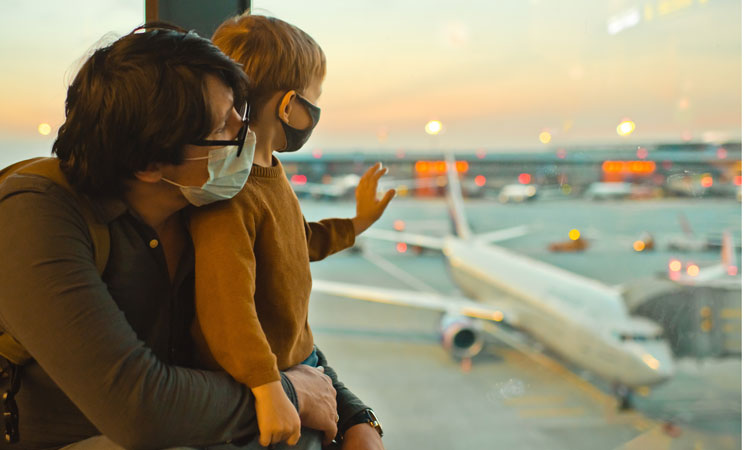 In our webinar on 10 February 2021, Eurofins SAFER@WORK: A runway back to flight, Eurofins will explore how our end-to-end testing, monitoring and consulting solutions can enable airports to resume full operations and get airlines – and, indeed, the world – flying again.
To achieve that, airports need robust, comprehensive and customisable action plans that address every aspect of the airline travel experience, both for personnel and for passengers.
As a world leader in the provision of clinical diagnostics, forensic, pharmaceutical, food and environmental laboratory testing services, Eurofins is uniquely positioned to provide critical COVID-19 testing, monitoring and consulting solutions for virtually any industry around the globe.
We continue to innovate to meet global need, providing diverse options for delivering our services. Examples include: At-home sampling; on-site mobile sampling/testing units; fully automated IT solutions; innovative mobile apps; accelerated turnaround times (through optimised logistics and lab processes); and enhancing testing capabilities for detecting and monitoring new variants of the COVID-19 virus.
Proven performance
Eurofins provides customised cross-functional solutions for virtually any site or employer, including events, hospitality and travel; government buildings and municipalities; and schools and care facilities. Eurofins has now demonstrated it can deliver successful COVID-19 recovery solutions for both hospitality and airline industries, with large international customers. In our webinar on 10 February 2021, we plan to share case studies that include Brussels Airport, along with airline and cruise industry customers.
The Eurofins mobile lab solution
As pre-departure and post-arrival regulatory screening requirements ramp up around the world, Eurofins has installed mobile sampling centers and testing labs that can deliver results in as little as four hours with Eurofins' extraction-free PCR testing methodology. We were the first in Europe, and among the first in U.S., to deploy mobile COVID-19 testing labs on site.
Eurofins' scientific expertise is well established – we have more than 30 years of infectious disease testing experience; our clinical laboratory network contains over 50 labs and the capacity to perform more than 500,000 COVID-19 PCR tests weekly. As a result, Eurofins has now partnered with many airports and transportation companies alike for successful COVID-­19 test execution and IT solutions.
PCR COVID-­19 testing is the Centers for Disease Control and Prevention (CDC)/World Health Organization (WHO) gold­ standard for COVID-19 diagnostics; Eurofins' PCR test is one of the most sensitive on the market today, and our labs use the most state-­of-­the­-art diagnostic technology available.
Travellers and airport personnel can eliminate the risk of test shipping delays, and the Eurofins solution is designed to integrate seamlessly with airport infrastructure, operate according to your schedule and eliminate logistic hassles. We deliver convenient, timely results with Eurofins' sophisticated technology solutions.
The Eurofins mobile laboratory approach balances passenger convenience, safety and itineraries with implementation designed to suit your terminal needs, all while aligning with respective regulatory mandates.
Airports need more than testing to get us – and keep us – back in the air
Eurofins' consultation services incorporate CDC/WHO guidelines and the unique logistics of each airport to deliver unique site plans that cover every aspect of airport safety, from passenger traffic flows to air quality and filtration.
The Eurofins SAFER@WORK SentinelTM programme keeps watch over your site through ongoing environmental monitoring, including worn mask, surface, air and wastewater testing. All provide layers of protection that can build your lines of defence against the continued impact of COVID-19.
The airline industry is integral to everything that matters most in all our lives – our families, homes and food logistics; our businesses and communities. The 'new normal' depends critically on our safe return to flight. Please register to join the 10 February 2021 Eurofins SAFER@WORK webinar to learn about strategies that can get us there.