Airports take prime position in sector's climate ambitions
The Airport Carbon Accreditation programme – the global carbon standard for airports led by Airports Council International – has extended its framework to include two new, more ambitious levels. Marina Bylinsky, Head of Sustainability at ACI EUROPE, thinks that, despite the pandemic, airports are more willing than ever to step up to the plate and walk the talk when it comes to hitting sustainability targets.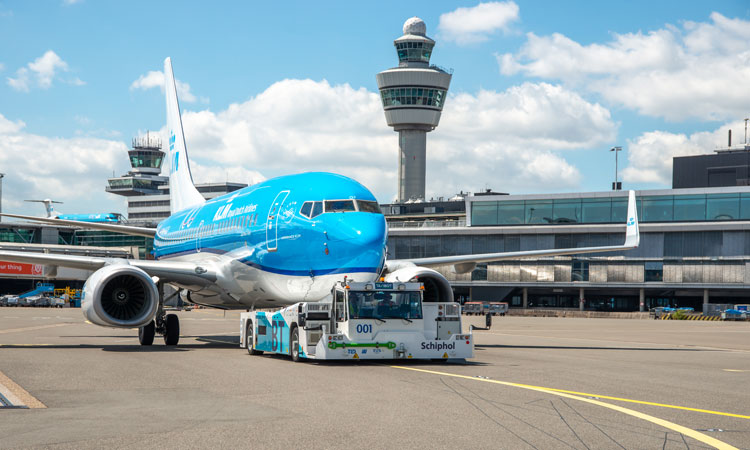 The global airport sector has been dealt a major blow by the ongoing COVID-19 pandemic; this industry was hit hard and fast even by the standards of the broader economy, very little of which is unscathed. The chaotic patchwork of travel restrictions and national lockdowns have left aviation – which is structurally reliant on political cooperation and open borders – simultaneously reeling from the shock and trying to plot a course through into recovery.
As forecasts push full recovery further and further back, the industry is fighting for its survival through deep cost-cutting and, at the same time, ensuring that their services are as COVID-19-proof as possible. Despite this, another priority firmly established before the crisis continues to drive business change is the industry's response to the climate emergency. Current conditions would seem very unfavourable for the climate efforts of a so-called 'hard to abate' sector; requiring significant investment under normal circumstances. Holding firm to sustainability commitments has never seemed more challenging. Ambition and commitment, however, remain as resolute as ever.
Continued momentum
It is in precisely these challenging conditions that the global airport community has continued to welcome new participants to the Airport Carbon Accreditation programme. In the thick of the pandemic-stricken year, 29 airports became certified for the first time by the global carbon standard, and 22 airports progressed to higher levels of accreditation – an indication of steadfast commitment to reducing their impact on the climate. Eerily empty tarmacs were also seized as an opportunity by some airport operators to test new, climate-friendly solutions in their operations. In April, Amsterdam Airport Schiphol (AMS) and its partners Air Traffic Control of the Netherlands (LNVL), the Ministry of Infrastructure and the Environment, Corendon Dutch Airlines, KLM, Transavia, easyJet and the airline handlers dnata and KLM Ground Services began a sustainable aircraft taxiing trial. A 'TaxiBot' towed aircraft to the runway during the trial, making it possible for the engines to remain fully turned off and, therefore, securing substantial emissions savings.
This is not an isolated case. Airports continued to invest in: Renewable energy production, such as the new 10 MW solar energy farm at Melbourne Airport (MEL); sustainable aviation fuel (SAF) supply, with examples including Swedavia's investment in SAF supply at Stockholm Arlanda Airport; zero-emission airside vehicle fleets, including the successful deployment of six all-electric, zero-emission buses at San Francisco Airport; and striking new strategic alliances with cross-industry partners to advance climate solutions – Copenhagen Airports, A.P. Moller – Maersk, DSV Panalpina, DFDS, SAS and Ørsted have formed a first-of-its-kind partnership to develop an industrial-scale production facility to produce sustainable fuels. While the above list is far from exhaustive, all of these projects are a testament to the unwavering willingness of the sector to decarbonise. Without question, climate‑smart airports mean business.
Laying the groundwork for full decarbonisation
Building on its track record as a carbon management enabler for airports the world over, ACI's Airport Carbon Accreditation programme has taken stock of the pressing need to align its requirements with the global climate goals. Taking its foundation as a solid base, the programme has extended its framework to include two new, more ambitious levels: Level 4 Transformation and Level 4+ Transition.
The introduction of these new levels constitutes a step-change on several fronts. First of all, it represents a shift in the ambition level of the programme. Emissions reductions and continuous improvement have been at the core of the accreditation since its launch, but Levels 1 to 3+ do allow for flexibility in the magnitude of reduction to be achieved. By contrast, Levels 4 and 4+ require airports to align their carbon management strategies and plans with the ambition of the Paris Agreement, according to which global warming should be limited to below 2°C and, ideally, 1.5°C. These objectives have been translated into several emissions reduction scenarios by the Intergovernmental Panel on Climate Change (IPCC). Airports will have to define their reduction targets and associated emissions pathways in alignment with these scenarios.
The latest developments in the realm of airport climate action confirm that airports are willing to walk the talk and advance decarbonisation despite the losses of the present crisis and prevalent uncertainty"
Airports will also have the possibility of including into their reduction target emissions sources which are not directly controlled by the airport operator (Scope 3 emissions as per Greenhouse Gas Protocol), provided that they can demonstrate that they have significant influence over the sources concerned. This will assist airports in identifying and pursuing the most effective emissions reduction opportunities, recognising that they might be outside the airport's operational control. The emissions that airports will have to disclose in their carbon footprints will also be broadened, so as to encompass all of the significant operational sources on- and off-site. Finally, the requirements relating to stakeholder engagement will be tightened, with effective partnerships, oriented towards delivering emissions reductions, coming to the fore.
Essentially, the new levels, by requiring deeper airport business transformation and focusing on absolute emission reductions, are a meaningful preparation ground for the ultimate challenge of achieving net zero emissions.
If you build it, they will come
This major, structural change in the Airport Carbon Accreditation – the first since the programme's inception back in 2009 – has been a leap of faith too. Would the new framework stand the test of severed airport resources and budgets due to the coronavirus pandemic?
These uncertainties were instantly dispelled when three airports in different world regions immediately hit the new levels. Dallas/Fort Worth International Airport (DFW) in the United States and Indira Gandhi International Airport (DEL) in India were the trailblazers for Level 4+ 'Transition', while Christchurch International Airport (CHC) in New Zealand secured Level 4 'Transformation' as the first airport globally and in its respective region. These ground-breaking achievements brought the proof of viability of the new levels and strengthened the global airport community's leadership role in decarbonisation.
Looking ahead
At the close of 2020 – a truly extraordinary year for humanity – there is no doubt that the crisis is far from over, and its impact on almost all facets of our lives will continue to ripple through the years to come. At the same time, we cannot afford to let climate action slip because of it, and we need to continue investing in sustainability, keeping our eyes firmly on the prize. The latest developments in the realm of airport climate action confirm that airports are willing to walk the talk and advance decarbonisation despite the losses of the present crisis and prevalent uncertainty. There is no doubt that this will be a costly enterprise, one that will require multiple stakeholders joining up forces, including governments, financial institutions and a broad spectrum of aviation partners. However, if there is one message that came out of the current pandemic loud and clear, it is that effective cooperation is the surest way to meaningful results. Airport Carbon Accreditation and each and every airport involved are already stepping up to the plate.

Marina Bylinsky joined ACI EUROPE in September 2015 and is responsible for the coordination of all aspects of the association's sustainability strategy. In this regard, she represents ACI EUROPE in various high-level EU, ECAC and EUROCONTROL fora. She also monitors the administration and ongoing evolution of the global carbon standard, Airport Carbon Accreditation, which belongs to ACI EUROPE, and was leading the development of ACI EUROPE's Sustainability Strategy for Airports.
Marina is a graduate of the Institute of Political Sciences in Paris. Prior to joining ACI EUROPE, Marina worked as a Senior Consultant at BearingPoint in France and in Belgium. During this time, she worked on several projects with the European Commission, the SESAR Joint Undertaking and EASA.