Sustainability remains a key focus at Toronto Pearson Airport
Todd Ernst, Director of Aviation Infrastructure, Energy and Environment at the Greater Toronto Airports Authority, highlights the changes that the operator has made to proactively reduce energy consumption and emissions rather than waiting to comply with international agreements.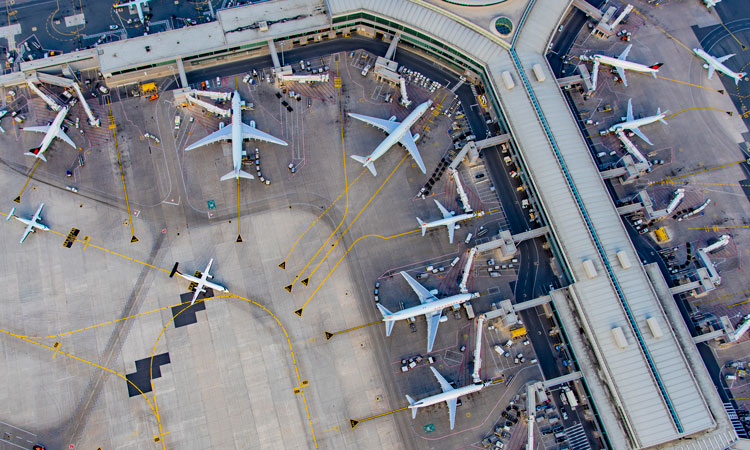 Fresh off an Airports Council International (ACI) Environmental Award win, Toronto Pearson International Airport is working on finalising a new long-term environmental sustainability plan that follows their successful '20/2020' plan.
As the operator of Canada's largest airport, the Greater Toronto Airports Authority (GTAA) has been a leader among North American airports when it comes to sustainability. It believes that it has a responsibility to make a meaningful contribution in this area, which is why it made a long-term commitment in 2009 to tackle growing concerns around climate change and greenhouse gas (GHG) emissions.
Efforts have paid off, as the GTAA was awarded a 2020 ACI Environmental Award in the Environmental Management System category for its long-term plan, which wrapped up this year.
The '20/2020' Greenhouse Gas Policy was developed to focus on reducing GHG emissions in response to growing concerns about climate change. At the time, the magnitude and potential impact of climate change was becoming increasingly clear, and the GTAA made the decision to lead by example. Rather than waiting to comply with international agreements and planned legislation, the GTAA moved to proactively find ways to reduce energy consumption and associated GHG emissions.
The '20/2020' plan set an ambitious target of reducing airport emissions by 20 per cent (from 2006 levels) by the year 2020. In the end, emissions were reduced by 60 per cent, which was achieved by making changes across the business, as well as through the elimination of coal-fired electricity plants in the province of Ontario.
Approach to reducing emissions
The approach that the GTAA has taken to tackle climate change generally falls into two categories: Mitigation and adaptation. Reduced energy consumption has acted as a mitigating factor by reducing emissions. Ensuring that facilities are ready for the expected future effects of climate change is one example of adaptation.
Significant success has been achieved with energy reduction projects that focus on switching to energy-efficient LED lighting and through upgrading the airport's heating, ventilation and air conditioning systems. In addition, the GTAA has invested in electric vehicles and charging stations. There are currently 32 electric vehicle charging stations around Toronto Pearson, with the majority available free of charge to airport employees and the general public. These complement a more extensive network of about 80 charging stations used by electric baggage tugs and other service vehicles that are part of airside operations.
Rather than waiting to comply with international agreements and planned legislation, the GTAA moved to proactively find ways to reduce energy consumption and associated GHG emissions
Emissions from aircraft aren't under the direct control of the airport, but the GTAA is working with airline partners to promote processes and technologies that lower fuel burn and emissions. For example, Airport Collaborative Decision Making (A-CDM) was introduced in 2019: A digital tool which coordinates various aspects of ground operations to help shorten taxi times and eliminate unnecessary idling as aircraft wait to access gates or the de-icing facility. The GTAA has also designed airside infrastructure to minimise the time that aircraft spend with their engines idling by improving the performance of air conditioning units that connect to aircraft at the gates and introducing ways to supply ground power more quickly. This has reduced reliance on auxiliary power, helping to lower fuel consumption and GHG emissions. It has also enhanced passenger comfort.
Looking towards the future
With the completion of the '20/2020' plan, the GTAA has been busy working to develop the next long-term sustainability plan. Despite severe interruptions to the industry due to COVID-19, the GTAA is as committed as ever to sustainability and is currently revising their future goals.
The GTAA has now identified six environmental action plans to focus on:
The Climate Change Resiliency Plan will include actions for assessing risks related to changing weather patterns due to climate change. Building codes will be revised to require pre‑wiring for solar PV projects and climate change resilience will be fully integrated into operations and development processes by 2025.
The Carbon Neutrality and Emissions Action Plan will set near-term targets and initiatives to put the airport on track for net zero by 2050. Initiatives will include working with airlines to further reduce emissions and the full electrification of the Ground Service Equipment, light fleet and bussing operations.
The Strategic Energy Master Plan will implement a net-zero energy strategy requirement into net new-build and set renewable energy targets to support the net-zero GHG goal.
Under the Water Management Action Plan, a sustainable construction policy targeting low flow fixtures and potable water use and water recycling has already been developed. A feasibility study is underway for the full recycling of de-icing fluid to enhance current recycling and management practices.
The Natural Resources Action Plan will require environmental reviews of all airport development projects and manage on-site invasive plant and animal species in order to protect our natural resources.
Finally, the Zero Waste Action Plan will focus on the elimination of public-facing single-use plastics, with a long-term goal of becoming zero waste certified by 2050.
This past summer, the GTAA connected with stakeholders – including local elected officials, airlines and the Toronto and Region Conservation Authority, as well as the general public and resident committees – to gather comments on the direction of the focus areas. Results from the feedback show that the majority of stakeholders responded positively to the updated plan, with specific feedback highlighting the importance of energy reduction and water management.
Despite severe interruptions to the industry due to COVID-19, the GTAA is as committed as ever to sustainability and is currently revising their future goals"
In addition to the long-term sustainability plans, the GTAA are founding members of Partners in Project Green (PPG), a business eco-zone that was established to transform more than 12,000 hectares of industrial and commercial land surrounding Toronto Pearson into North America's largest eco-industrial area.
PPG supports a growing community of businesses working together to strengthen the Greater Toronto Area's economy and environmental sustainability by fostering collaborations with businesses and municipalities, supporting the installation of green technologies and participating in environmental projects and events.
Through PPG, the GTAA has been able to connect with the community by hosting tree planting initiatives, running employee environmental challenges and a 'Bike the Creek' event, which invites the public to bike a trail adjacent to the airport to encourage active transportation and raise environmental awareness.
Due to COVID-19, many in-person events have been cancelled, but these were replaced with virtual events in order to keep people engaged.
Staying committed to sustainability, even during a pandemic
As with the rest of the aviation industry, the pandemic has caused a huge shift in how Toronto Pearson is operating. But sustainability remains a priority, and the GTAA is doing what it can to make the most of the slowdown. This means ensuring that sustainability is worked into all new projects and construction, including those that have been paused or postponed. COVID-19 has provided a unique opportunity, and the GTAA is taking advantage of it in order to prepare for the future. 

Todd Ernst, Director Aviation Infrastructure, Energy & Environment, is a senior business risk and sustainability professional with diverse practical experience including environment, engineering, accounting, internal audit and project management. Over the course of his career he has done substantial work in both industry and consulting, with public and private sector organisations ranging from venture start‑ups and local NPOs to Fortune 500 companies and large government organisations.