Airport Profile: Gatwick Airport, ticking the box for business travellers
Gatwick Airport is fast becoming the smart choice for the savvy business traveller. Guy Stephenson, Chief Commercial Officer, explains why.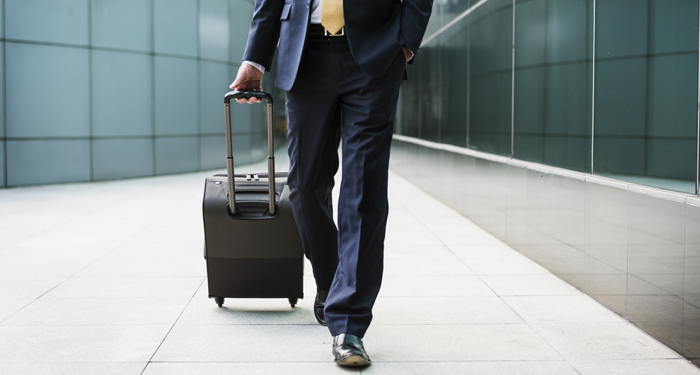 You could be forgiven for assuming that it is only leisure traffic that London Gatwick Airport competes with other UK airports for, because we serve this market very well. However in recent years, under new ownership, we have been working hard to increase the proportion of business travellers that we serve – and making great progress.
From opening up new long-haul routes into high-growth markets, to supporting our airlines in expanding their frequencies to offer more choice and introducing new businessfocused services, Gatwick is fast becoming the smart choice for the savvy business traveller.
In fact, according to a CAA survey carried out in 2012, London Gatwick actually serves 42 out of the top 50 short haul business destinations with frequencies up to 90 a week for some of these key locations.
Expanding UK flight connections
Runway capacity in the South East and the importance of ensuring London remains one of the world's best connected cities has become a much-debated topic of late. Gatwick has the capacity to grow and accommodate more flights in the short- and medium-term, so we are in a good position to help the UK broaden its trade links with the fast-growing developing markets and support UK Plc more generally going forward.
The fact that airlines from emerging economies such as South East Asia and high growth markets like the BRIC nations are choosing to come to Gatwick sends a clear message that airlines can serve London effectively from our airport and that Gatwick has a large role to play in contributing to the economic wellbeing of the UK.
In recent years, we have seen new direct routes open to Beijing with Air China, and the start of the first direct links between the UK and Vietnam from Gatwick. Relations between the UK and Vietnam have grown rapidly; in 2010 the two countries agreed a strategic partnership to help boost bilateral trade, economic ties and investment. The following year, Vietnam Airlines announced it had chosen Gatwick as its exclusive partner in the UK, launching the first non-stop flights to Hanoi and Ho Chi Minh City in winter 2011.
As well as being a popular tourist destination, with around 100,000 UK holidaymakers travelling to the country each year, Vietnam is also a key emerging market for business. Designated one of UK Trade and Investment's High Growth Markets, bilateral trade increased by over 26 per cent in 2011; with UK exports of goods and services to Vietnam reaching £520 million.
Serving emerging markets
Interestingly, Gatwick's success in attracting new airlines and routes to emerging markets means the airport now serves three of the eight key 'growth markets' as identified by Goldman Sachs – Russia (Moscow), China (Beijing) and Turkey (Istanbul). A fourth will be added when Garuda Indonesia begins the UK's only direct operation to Jakarta, from Gatwick in spring 2014.
Another key milestone for business travellers using Gatwick this year has been the launch of easyJet's Moscow route; offering a competitive alternative to a key emerging economy and business destination. The decision to award the rights to this route to Gatwick and easyJet demonstrates true competition at work – and precisely the reason the BAA monopoly was broken up in the first place. Only through real competition can air passengers – whether they are flying for business or leisure – reap the rewards of choice, better prices and improved service.
We are also pleased to be seeing new airlines and routes to Gatwick flourish here. For example Turkish Airlines, which has recently expanded its services to Istanbul – now serving both of Istanbul's airports three times a day.
Another airline to increase its frequency is Norwegian Air Shuttle, which has expanded its flights from Gatwick by over a third since 2009, when it moved its operations from Stansted Airport. As well as offering 12 new routes across Europe, Norwegian has increased the volume of its daily flights to Scandinavian business destinations. Critically, flights to Stockholm and Oslo – key trading partners of the UK – now offer more choice in the early morning wave, when business passengers prefer to travel. But we recognise that the business traveller wants a choice of when they can fly and to this end, there are now up to five Norwegian Air Shuttle flights a day, direct to Stockholm and Oslo.
This progress adds to the choice and convenience already on offer for business travellers wanting to fly into or out of London via Gatwick. People are often surprised to learn that Gatwick flies to more destinations than any other UK airport – with around 190 to choose from. It has the largest domestic and short-haul network, and Gatwick's long-haul network is second only to Heathrow.
Accessibility for business passengers
Gatwick is extremely accessible from London – particularly from the city and key business areas such as Canary Wharf. The Gatwick Express offers direct rail services into Victoria every 15 minutes and First Capital Connect runs services to both London Bridge and St Pancras International stations, while non-stop services into Victoria and London Bridge stations take less than 30 minutes. The airport is equally well-connected to the rest of the UK, with direct train services to more than 120 rail stations – more than any other London airport. We know that direct train services are critical for business passengers who need to make that vital meeting.
Gatwick ticks all the boxes business travellers require – in terms of quick and easy access to and from key business areas in central London and the South East, as well as the choice of destination. However, we are also focused on delivering what the business traveller wants when it comes to an airport experience and we have implemented a number of facilities to accommodate this.
For a business traveller time is always of the essence and therefore a speedy and efficient journey through the airport is important. We recognise that these passengers follow a 'working on the go' ethic, and therefore things like 45 minutes of free Wi-Fi are important.
Gatwick future developments
As part of our £1 billion worth of investment in the airport over the past three years, a key focus has been making improvements to our security areas. A £45 million upgrade of South Terminal security, introducing new cutting-edge e-gate technology, has transformed the experience of passengers and will shortly be followed with an upgraded North Terminal security area. This work and our relentless focus on getting passengers away on time means we consistently exceed our target of 95 per cent of passengers waiting less than five minutes in security at Gatwick.
Additional developments include tailoring our services to meet the needs of different passenger types. An example of this is the introduction of dedicated Premium Security channels and car parks, both of which provide the business traveller with maximum convenience and service to make their journey faster and simpler. And this service begins at arrival. Gatwick First is a concierge service which is on offer to all of our passengers. For a fee, Gatwick can provide passengers with a dedicated member of the airport to guide them through; from kerb-side to boarding gate. The passenger's luggage is taken from their car or off the train and they are given priority at the check-in desk if they have luggage that needs to be checked onto the aircraft.
From there, the passenger is taken straight to Premium Security and through the security checks in a calm and speedy environment before they reach airport airside. From here, passengers can either go their own way or the concierge service can assist further, for example, by booking them a table in a restaurant or arranging a lounge for them to access before their flight.
And for passengers wishing to stay at the airport the night before their flight, Gatwick offers a range of hotels, many of which attached to the airport itself. Due to open later in 2013, Gatwick is also introducing the Bloc Hotel concept inside the South Terminal and a Hampton Hilton Hotel with direct access to the North Terminal.
The airport is also pleased to be able to offer dedicated security areas for passengers travelling in first or business class with their airline. This service appeals directly to the business traveller as it opens up a further increase in the speed they can progress through the airport. While these developments serve the particular needs and expectations of the business passenger group, it also means our main security areas are freer and are able to offer a quicker, more efficient service for business travellers.
Once through to the departure lounge, business travellers can make use of the No 1 Traveller Lounges in both terminals if they are not using an airline lounge. Offering competitive prices, the lounges provide Wi-Fi and computer terminals, as well as more extensive business facilities such as meeting rooms and conference call facilities.
As part of Gatwick's extensive investment programme, the retail and food and beverage offerings in both terminals have also been significantly enhanced. As well as an extensive choice of eateries, many of our restaurants, such as Jamie's Italian in Gatwick's North Terminal, also offer 'grab and go' options for time-pressed travellers. New seating areas in both terminals also offer business travellers some quiet space, away from family-focused areas, so they can continue working as they wait to board their flight.
As Gatwick continues with its investment programme, the airport will remain focused on delivering even more choice for business travellers as well as attracting new airlines and routes. We have plenty more in the pipeline to enhance the passenger experience and ensure Gatwick becomes London's airport of choice.
Biography
Guy Stephenson was appointed as Chief Commercial Officer of Gatwick Airport in November 2010. He was previously Commercial Director of the Coach Division at National Express Ltd, prior to which he spent five years with the TUI Group as Commercial Director of Thomsonfly. In these roles he had responsibilities for pricing and revenue management, network and capacity planning, business analysis, product development and customer operations.