Aviation must adapt with the changing world, thanks to COVID-19
Adam Wilson, Operations Director at Edinburgh Airport, discusses how COVID-19 has demanded airport operations change, and how Edinburgh has met these challenges.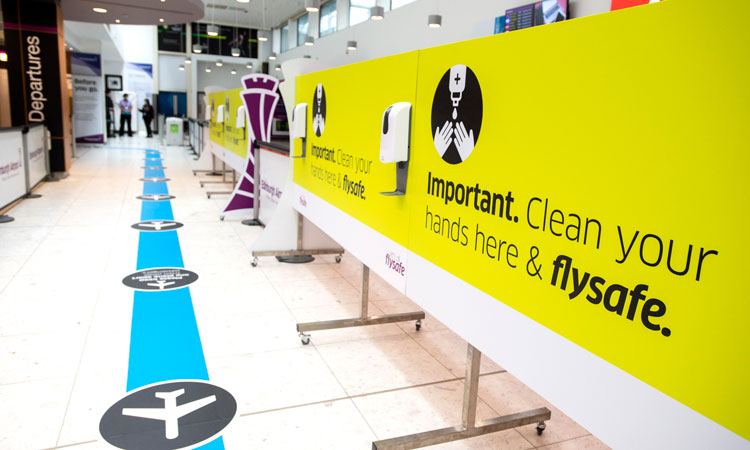 Flying has changed. Travel has changed. The world has changed. Three short sentences maybe but 10 words that are absolutely true thanks to the COVID-19 pandemic that has actively changed the way we live our lives, and will continue to do so for many years to come. 
For us in the aviation industry, which is an active facilitator of travel, it clearly means we will have to adapt with the changing world. Given the nature of aviation, this something we are used to and good at, but I think the COVID-19 pandemic is a situation none of us have ever experienced before. 
The impact of COVID-19 at Edinburgh
From an Edinburgh Airport perspective, its impact has been severe. As Scotland's busiest airport we welcomed 14.7 million passengers through our doors in 2019 – that will be below five million this year. Where we'd normally be welcoming 50,000 passengers per day during the summer months, this has only just recently risen to around 3,000. At the depths of the health crisis in Scotland, there were days with no passengers at all. 
We have all been working out how to respond to the situation and I suspect many of us started planning long before the virus landed in our respective countries. It is a virus that doesn't respect borders and its impact will have been felt across all sectors, some more than others. Aviation has been amongst the hardest hit with some inaccurate and damaging assumptions made about the health risks of travelling by air. This virus creates challenges for all of us and we must embrace those challenges to make sure we recover.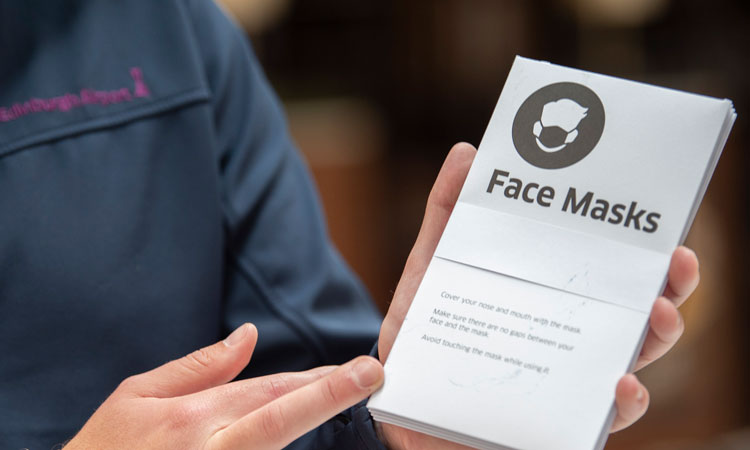 Aviation has a record of safe, secure and efficient travel and ultimately that hasn't changed. There are new things to think about and a new dynamic to contend with, but the fundamentals of our business remain the same – how do we get people from A to B in the safest, most efficient and most enjoyable way possible? That's how we at Edinburgh Airport have approached this COVID-19 world, by focusing on how we continue to meet those expectations from our customers.
Edinburgh's 'let's all flysafe' campaign
Our 'let's all flysafe' campaign was born out of that approach. We know that COVID-19 has had a huge impact on many ways of life, including travel, so we wanted to do something that demonstrates to passengers and staff that we've thought carefully about them and made improvements to our operation to alleviate any concerns they may have. 
Our overarching objectives were safety and confidence. Safety for everyone at the airport during a health emergency, delivered using language that restores confidence rather than increases apprehension. There are some things that everybody already knows – the importance of clean hands, the need for social distancing, the use of face coverings.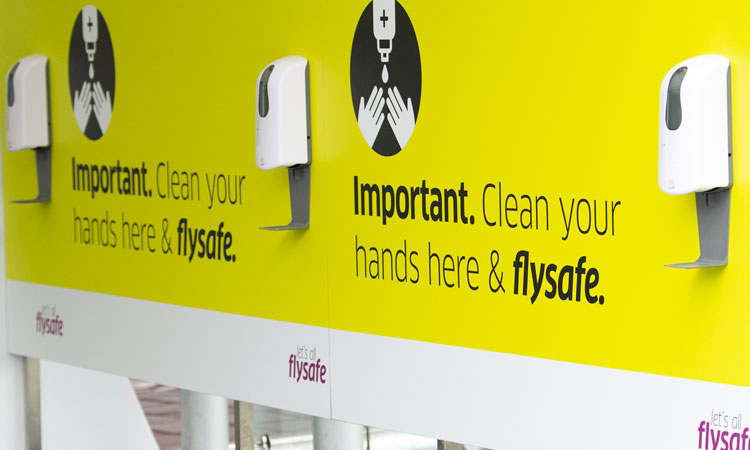 At Edinburgh Airport we have a mindset which starts with really understanding any problem that we face; COVID-19 has been no different. We have analysed every aspect of passenger experience, our terminal and the wider infrastructure to construct a plan which would best meet our objectives; it's broad and multi-layered. 
We have invested significant time in understanding how people feel during this crisis, through a variety of methods. We looked at the feedback we'd received from passengers through email, social media and face-to-face conversations. We spoke to a wide range of stakeholders, including travel trade, airlines, other companies and government, to understand their feelings and perceptions. We also looked at the extensive media coverage locally, nationally and internationally to get as good an understanding as possible of the current and future issues. So, it has been a focused and rigorous approach that we've adopted. 
Physical measures against COVID-19
The same important measures that other airports have installed were also put in place at Edinburgh – protective screens in check in, security and arrivals, encouraging the use of face coverings and enhanced cleaning schedules.  
We're also trialling thermal imaging technology for departing passengers. We're an airport that's always embraced technology and use it in almost every aspect of our operations, so we're trialling this technology now to ensure we are prepared for its introduction if and when that comes. 
But when we are effectively welcoming people into our house, what else could we do to make sure it was as safe as possible?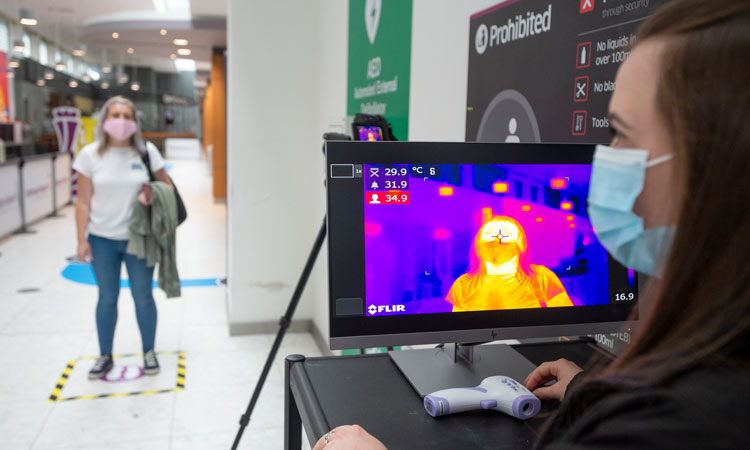 Enhancing the campaign as much as possible
We're aware of the international profile that Edinburgh has and we have a number of international passengers passing through the airport so we knew we had to make the campaign as pictorial as possible to get over that language barrier and make it easy to understand.  
The best example to offer is the biggest change we've made – our one-way colour-coded walking routes. Passengers arriving at all points of the airport will have to follow a sky-blue line to take them into the check-in hall and on this route, they'll have to sanitise their hands before they enter the building, before entering security and before exiting security. Exiting/arriving passengers will follow a maroon line out of the terminal and will be separated from those looking to head out of Edinburgh. 
People might think it's an unnecessary step, but we certainly don't. It reduces cross over and any potential transmission of the virus, it keeps an orderly flow to things and is very easy for passengers to follow, even if English isn't their first language. It might be something we keep in place. 
Additionally, these two colours have been specifically selected for this campaign. The sky-blue lines will lead all passengers into the terminal while the maroon-red lines will lead passengers out of the terminal. The third colour is lime green and is used on our behavioural messaging, so where we are asking people to clean their hands, be patient, get ready for check in and security – all of the things that will prepare them and help them fly safe. 
The colours used enable people who are colour-blind to differentiate between the different messaging, so the campaign is accessible, and we'll continue to make improvements where we can. 
For me, what brings the 'let's all flysafe' campaign together is our tone of voice. 
There's a tendency to be quite formal and authoritative in such situations, and that normally means making rules and telling people to follow them. But our approach has been to adopt a campaign that is a partnership with our passengers. All of our governments and health bodies have been clear that we have a personal responsibility to help curb the spread of the virus and that hasn't changed. The inclusive nature of the campaign builds on that – we'll do all that we can do, you do all that you can do and together we'll all flysafe. It's almost a social contract between us. 
Our communications team has also worked to clearly deliver the message across our social channels, in our email newsletters, in communications and discussions with politicians, government and stakeholders. We must work together because the industry needs us to: This situation is too big for us not to.
Looking to the future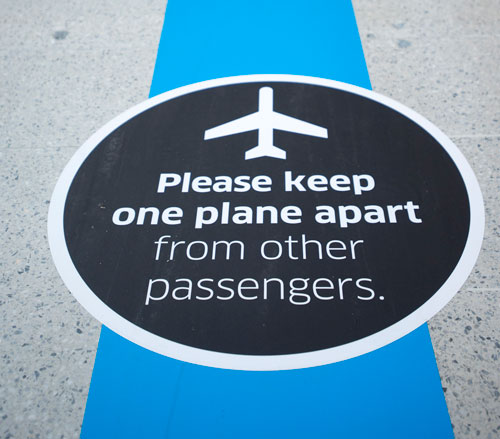 We are all seeing the impact now and will continue to see it going forward. On a personal level it hurts us to lose colleagues and friends. On a business level it hurts us to see regression. But there are signs of optimism and we should capitalise on them to begin that recovery. 
The analogy I've been using is that this will be like a time machine when it comes to passenger numbers. Edinburgh Airport is probably going back to levels not seen for around 25 years, but it will rebound much quicker. It's how quick that is the question and at the moment no-one quite knows what the COVID-19 recovery will look like. But it will come. 
Flying has changed. Travel has changed. The world has changed 
We are changing with it. 
Biography
Adam Wilson is Operations Director at Edinburgh Airport. He began his professional career as a British Army Officer, principally in Strategy and Operations roles including deployments to the Balkans, Iraq and Afghanistan. Wilson made the move into aviation in 2014 and initially spent three years at Heathrow as Airport Operations Manger learning all aspects of airport operations. He joined Edinburgh Airport in 2017, initially as Head of Airport Operations and Assurance. He recently took up his current role and looks after all aspects of operations at Edinburgh, including security, passenger, airside and baggage operations as well as resilience and assurance.