How becoming a hub for drone cargo deliveries will affect an airport's airspace
Steve Maybee, Edmonton International Airport's VP of Operations and Infrastructure, details how by welcoming Unmanned Aircraft Systems (UAS) into its airspace, an airport's operations will need to adapt and evolve.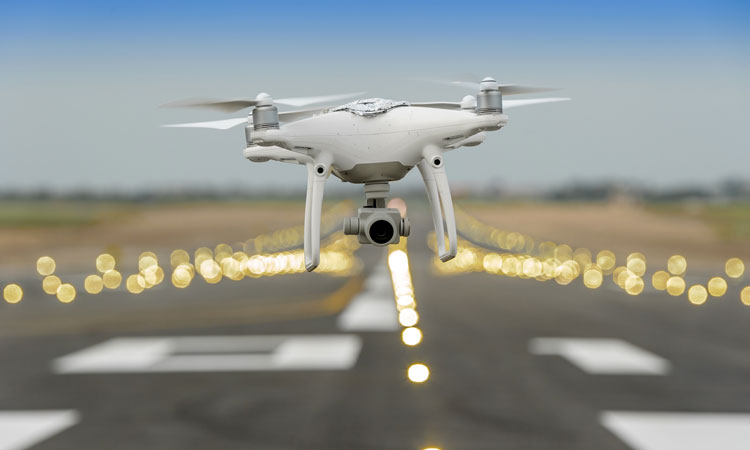 During the last few months of 2019, Edmonton International Airport (EIA) deployed a highly-specialised drone to conduct runway safety inspections.
The Microdrone md4-1000 drone was flown to collect Lidar and imagery data of the airport's runways. The data collected was used to more accurately predict when to conduct preventative maintenance on runways, taxiways and aircraft handling aprons; all with the ultimate aim of enhancing safety.
The drone operation was approved by Edmonton (one of the only airports in Canada using this technology) in collaboration with Nav Canada and AERIUM RPAS. Following this, International Airport Review spoke to Steve Maybee, Edmonton International Airport's VP of Operations and Infrastructure, regarding how the use of drones will more widely affect airside operations.
What regulatory requirements are necessary for safe UAS operations at an airport?
Safety and security is our first priority and all drone operations at EIA are carefully managed in partnership with federal regulators, Transport Canada and Nav Canada, as well as the UAS companies involved.
Part IX of the current Canadian Aviation Regulations (CARs) permits the use of unmanned aircraft, under visual-line-of-site operations, in an aerodrome environment. An advanced pilots certificate is required to fly within controlled airspace, which requires passing of a written test as well as review by an approved flight reviewer.
The type of aerodrome and the category of surrounding airspace determine the applicable operating rules, pilot licencing requirements and aircraft safety standards. For those aerodromes in controlled airspace, approval is also required from NAV CANADA, the Canadian air navigation service provider, prior to conducting flight operations.
The existing CARs Part IX, and the accompanying Advisory Circular, also address the required processes for gaining approval to conduct beyond visual-line-of-sight operations in various environments, including around aerodromes. In these situations, the UAS operator is required to provide the regulator, Transport Canada, a completed risks assessment or safety case showing that the planned operation can be conducted to an acceptable level of safety.
Currently, the use of recreational drones is prohibited at or within 5.6km of the airport.
What are the requirements, advantages and disadvantages for UAS operators working at an airport?
EIA performs additional internal due diligence evaluations on all UAS operators including safety cases and risk assessments, operator reviews and detailed coordination of all RPAS operations on airport property. All of these essential steps, as well as effective communication with stakeholders, are absolutely necessary to ensure safe operations. In addition to the regulatory requirements discussed above, there is a need to coordinate with various stakeholders (for example, the airport authority, other air operators, local law enforcement and other airport tenants). Provided operations are conducted safely and they are effectively controlled and managed, there are few disadvantages to operating UAS at, or to and from, an aerodrome. There could, in fact, be numerous advantages, including some of those listed below.
The primary advantages relate to increased data collection and accuracy, decreased operational time and increased safety for support of airport operations. EIA is fortunate in having an excellent working relationship with our RPAS partners, Transport Canada and Nav Canada, who recognise the positive potential of UAS. This excellent working relationship results in the safe and scientific advancement of drone regulations within the controlled airspace of an airport.
Why should we operate UAS at, or from, an airport at all? What do they contribute?
UAS provide unique capabilities which can save time and money and often be more environmentally friendly than other forms of transportation due to their lower carbon footprint. Examples of these operations could include; airport operational support including surface analysis, FOD detection and aerial survey, aircraft inspections, navigation aid calibrations, wildlife control and the transportation of goods around the aerodrome property as well as to, and from, the aerodrome. 
Airports provide a unique ecosystem with specific requirements that UAS are uniquely developed to solve. When considering the transportation of goods around an aerodrome, UAS can provide last-mile delivery solutions for the airport operator or tenants on the airport property. Such a capability can be tailored to meet the needs of customers when it comes to scheduling, amounts and types of cargo to be carried, locations to be serviced and efficiency of routings. UAS may also be in a better position to transport certain types of cargo, such as dangerous goods, and to address security of cargo which could include bonded security requirements. As an example, high-value assets arriving at the live-side of an airport could be transported over specific routes without ever having to leave the secure area or using ground transportation. Advancements in the automation of UAS, the increase in amount of data collected and the rapid analysis of this data, continue to open up new uses for UAS at airports.
UAS are already used at EIA for a variety of special programmes, such as scaring away birds and wildlife with a falcon-shaped Robird UAS. EIA also supports the wildlife management programme by using UAS for habitat assessment and nest detection. In addition, EIA has employed UAS for Lidar scans of our runways to detect safety and maintenance issues before they arise. EIA was also the first Canadian airport to have night drone operations to perform a real-time analysis of the Precision Approach Path Indictor (PAPI), a safety system designed to help pilots see and maintain the correct approach for landing.
What are the next steps in the aviation community (i.e. BVLOS, cargo delivery, surveying, scanning)?
Specific to steps with a focus on airports, the next steps are to continue the safe integration of UAS operation at airports and into the current management of air traffic. In parallel to this, the aviation community also needs to continue to educate the general public on the safe use of drones in all airspace, especially controlled airspace. While EIA and our partners' advance the use of UAS at airports, it is important to ensure we utilise technologies that identify non-cooperative UAS incursions (airspace awareness) to help keep our passengers and clients safe.
Embracing this technology at EIA creates jobs, fosters innovation and technology growth and helps keep us at the leading edge of future aviation trends and technology. This is why EIA has been proud to partner with technology companies as part of the Alberta Aerospace and Technology Centre to advance UAS and related technologies, including the design and manufacture of UAS at EIA. AATC is also part of the effort to make the Edmonton Metropolitan Region into a Living Lab where technology and regulations can be advanced together.
In Canada, the UAS industry continues to move the yardsticks forward thanks to the innovation from companies like EIA's partners, and by having a regulator willing to work with the industry to foster an environment where safe UAS operations can be conducted. Transport Canada has supported the continued advancement of the UAS industry's capabilities through various trials and pilot projects, the results of which provide the regulator critical data needed to develop effective regulations. The critical next step for this industry is the ability to conduct routine BVLOS operations. In order to do so certain technologies, such as detect-and-avoid capabilities (whether airborne or ground based) will need to be proven to ensure the safety of other airspace users. Drone Delivery Canada is working towards these goals through the development of a Ground Based Sense and Avoid capability which will be used to ensure that their unmanned aircraft can be safely separated from traditional aircraft. The groundwork being laid for these types of operations will also foster future innovation such as the implementation of urban air mobility solutions.
Credit
Michael Zahra, President and CEO of Drone Delivery Canada
Jordan Cicoria, VP of Operations, Aerium Analytics