Successfully utilising A-CDM at Vaclav Havel Airport Prague
Matej Nesvadba, ATM systems specialist at ANS CR, provides an overview on air traffic management at Vaclav Havel Airport Prague (LKPR), and emphasises how A-CDM is one of the airport's core processes.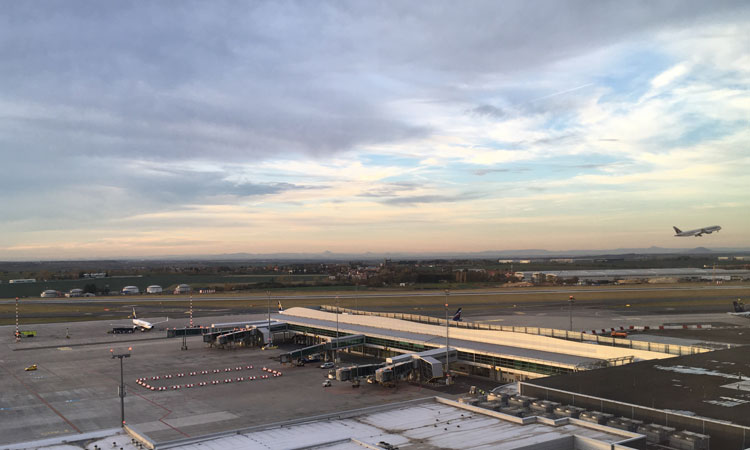 Vaclav Havel Airport Prague (LKPR) has been a fully-implemented A-CDM airport since September 2015. However, A-CDM development activities are still ongoing, and planned for years to come.
Current aerodrome layout
In terms of aerodrome layout, there are two crossing runways (RWYs) operationally used at LKPR. However, most of the time it is single RWY operations occurring on RWY 24 – with a capacity of 46 movements per hour.
Extra movements can be added thanks to props departing south from RWY 12. The second available RWY configuration is RWY06, followed by 30 and 12 in order of preference.
In regard to de-icing operations, there is normally up to six remote de-icing areas used, according to the runway in use.
Air traffic at LKPR
The air traffic mainly consists of medium jets and medium props, with the addition of business jets, general aviation and helicopter traffic, and heavy long-haul aircraft including B747s and A380s operating on daily basis.
Traffic normally peaks during the summer season, with more than 500 daily movements. Yearly, it represents more than 150,000 movements.
In 2019, 37 per cent of departing traffic was regulated and over three per cent of departing traffic was de-iced. This year also, a record-breaking number of passengers were processed; the terminal saw nearly 18 million passengers throughout 2019.
Status and governance of A-CDM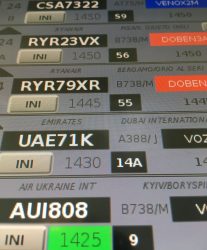 The A-CDM implementation project, led by Prague Airport, started in 2009 with Air Navigation services of Czech Republic (ANS CR) as well as Czech Airlines and Menzies Aviation. Local implementation was achieved in 2012, followed by full implementation in 2015.     
The A-CDM working group is the main body established to run all A-CDM activities at LKPR. Most importantly, the working group is responsible for the preparation and execution of a five-year A-CDM development plan. Leading members of the A-CDM working group frequently take part in EUROCONTROL's A-CDM Coordination and Harmonisation Working Group meetings.  
The required systems
The systems that support the A-CDM processes are owned and operated by Prague Airport as well as ANS CR.
On Prague Airport's side, these systems are mainly represented by the CDM portal, including the mobile app on top of the AODB (CAODB).
On ANS CR's side, the A-CDM's main functions are integrated in the main FDPS in terms of PDS module and DPI generator module. Moreover, the A-CDM functions are fully integrated into the ATC tower systems, namely EFSS and A-SMGCS.
The initial DMAN/PDS module calculates the departure sequence, taking multiple constraints into account. One of the options is to take arrival traffic into account automatically. PDS calculates the sequence including the de-icing sequences for all remote de-icing areas in case of winter operations.
Problems and challenges faced
In summer 2018, LKPR was one of the most constrained airports in terms of the ratio of regulated flights. LKPR experienced record figures – two thirds of traffic were regulated in July 2018.  
When the CTOTs represent significant delay, the high ratio of regulated flights causes challenges in the stand allocation process, due to already maxed out stand capacity. The less stable the CTOTs, the more difficult it is to organise the planning of airport resources.  
An evergreen A-CDM challenge is the quality of the data inputted, mainly TOBT and its late updates. These late TOBT updates are a particular issue for regulated flights and most notably in situations when there is an excess of regulated flights, such as during the peak summer season.
Achievements
LKPR has progressed in many different areas regarding ATM with the use of A-CDM.
Milestone 1
The so-called A-CDM Milestone 1, to check EOBT versus SOBT, was put into operations in early 2019.
Milestone 1 is performed as an initial check only.
Mobile app
The mobile app for GHA has been developed and put into operation: Enabling easier TOBT input and increasing situational awareness.
Harmonised A-CDM alerting
During 2019, changes were made to A-CDM alerting, in order to have fully harmonised A-CDM alerting at LKPR.
CTOT extension via TWRUPDATE
LKPR was one of the first airports to implement and operationally use A-DPI TWRUPDATE. It was achieved in summer 2019 and enables the TWR ATCOs to ask for a CTOT extension via specific DPI messages, instead of a telephone call to NMOC to coordinate. 
Cooperation with Network Manager
We are working with the NMOC to reflect all the changes foreseen in NM systems (there is a new release every six months) and to implement future system changes in a synchronised manner.
Sequence stability increase
Despite the record ratio of regulated flights peaking in summer 2018, and the instability in the network and CTOT allocation processes, we managed to increase the sequence stability for our users at LKPR.
Due to system optimisation, we achieved increased stability of the pre-departure sequence by 23 per cent between 2017 and 2019. We were able to publish final TSAT six minutes earlier than in 2017. We also achieved better sequence realisation in 2019 by four per cent compared to 2017.
Data quality and procedure adherence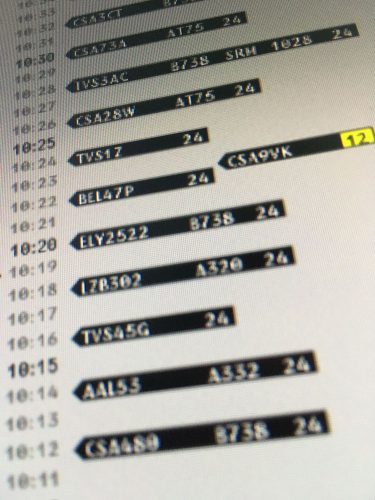 Activities were relaunched in order to increase quality of input data, mainly TOBT and de-icing data (mainly EDIT).
Multiple workshops were carried out with the following purposes: To increase the quality of initial TOBT, but mainly the quality of TOBT update. The second target was to anticipate and insert de-icing requests earlier, increase de-icing pad allocation stability and EDIT quality.
We have been exploring relations of TOBT quality in connection with CTOT allocation processes and its dynamics, mainly in connection with changes in NMOC systems and recent summer periods.
It has been demonstrated that the earlier TOBT update forcing new CTOT, the better new CTOT.
Activities are ongoing in order to prevent capacity losses due to insufficient data quality or procedure breaches (flight out of sequence due to not respecting the TSAT tolerance window).
Development of test, simulation and analytics environment
Capabilities of ANS CR for testing, simulation and analytics for A-CDM purposes have been greatly enhanced since 2017. This enables us to identify potential issues earlier and come up with adequate measures in time. 
Future development of A-CDM
Future development has been approved by the A-CDM working group for the following areas:
Continuous development of initial DMAN/pre-departure sequencer and DPI generator in terms of stability, accuracy and predictability
ANS CR will continue to keep DPI message exchange in line with latest NM releases (with minor enhancements in DPI logic, and FSAs, DPIs via B2B instead of AFTN)
Development will continue due to airport expansion plan, airside and landside (including infrastructure growth, TWY reconstruction, increased stand capacity, terminal expansion, new TETRIS de-icing area with six parallel lanes, and the construction of a parallel RWY with connecting TWY system)
There will be a fully integrated A-SMGCS/EFSS with possible clearance input from the labels, with A-CDM fully integrated into the CWP, and A-CDM integration with AMAN.
System support for virtual/physical APOC will occur, including the Meteo app and DCB modules for RWY, PAX, BAGs
A performance-driven airport management project will be launched, with the extension of standard A-CDM horizon into D-1, a what-if mode, scenario selection, DCB, and tools for analysis, real-time KPIs and dashboards.
Conclusions
Securing successful A-CDM implementation and operation requires a process: The concept is now proven.
A-CDM continues to develop and shape, with an increasing number of airports confirming full implementation connected to the network in Europe. A-CDM outside of Europe is being adopted by more sites, even with the ATFM link. 
There are of course challenges. There are no two identical A-CDM implementations in Europe, so having the same A-CDM 'face' for crews and aircraft operators is currently just a wish.
Even implementation guides and results of harmonisation activities allow for multiple ways of implementing A-CDM, such as different start-up procedures (request start-up at TOBT or at TSAT within +/- five minutes). This example is just the tip of the iceberg as A-CDM implementation is a complex task with many allowed nuances. Therefore, one of the major challenges for the future is to consolidate and further harmonise, which could be empowered by stricter rules/standards devised by the community.  
Nevertheless, A-CDM is seen as prerequisite for enhanced integration of airports to the network for years to come.
It is also worth considering how A-CDM itself can benefit from new technology, such as artificial intelligence. This can contribute significantly in automating some of the A-CDM milestones, as well as to performance monitoring and alerting. Communication-wise, now we are heading towards B2B web services with the NM, with few of the A-CDM airports tackling this. 
Biography
Matej Nesvadba is an ENAC and CTU alumni, engaged with Air Navigation Services of the Czech Republic (ANS CR) since 2010. As an ATM systems specialist, he has been involved in tower systems activities with the ANS CR since 2012.
Nesvadba has worked in the A-CDM domain since 2014 and became ANS CR's [email protected] team leader in 2017.