Leonardo's world-class baggage handling systems are in top international airports
For over 50 years, Leonardo has been a leading international solution provider of sorting systems for letters and fl at mail items. In the second half of 2000s, anticipating that 'electronic diversion' was reducing the volume of traditional mail but boosting the growth of ecommerce, Leonardo expanded its solution portfolio, developing an innovative suite of sorters, to handle not only parcels, but customising its solution for baggage handling operations.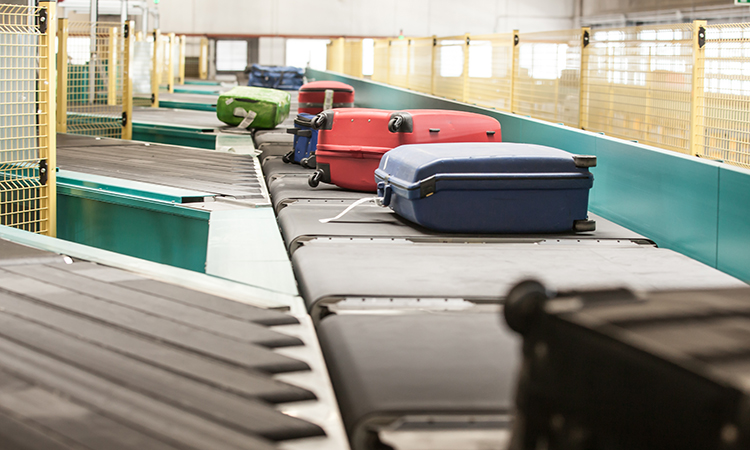 Specifically, Leonardo pioneered the application of cross-belt technology in an industry largely dominated, at that time, by other technological paradigms.
Breakthrough innovations and key features positioned the MBHS® (Multi-Sorting Baggage Handling System) as one of the most advanced, high-performance baggage handling systems on the market, convincing eminent customers to apply the Leonardo solutions in demanding environments.
Benefits
Some of the key benefi ts include very high sorting throughput with ultimate precision, signifi cant energy savings, low maintenance, high reliability, availability and confi gurability, and ensured minimum life-cycle costs. Compared with other technologies, the innovative features and the active control on loading/unloading operations enabled optimum and gentle handling for all types of baggage including fragile bags and ones with high friction or sticky surfaces, prominent wheels or irregular in shape. Through the years, Leonardo evolved the distinctive characteristics of MBHS®, which, thanks to a slope increase/decrease of +/- 15o, meets the most stringent fl oorspace constraints. Leonardo's baggage handling systems are successfully in operation in several major airports: Rome Fiumicino T1/T3, Geneve, Euroairport, Lyon, Islamabad, Kuwait City and Dammam. Systems are also in deployment in Paris Orly, London City and Athens.
Real-life case studies
The system in Rome Terminal 1 can be considered a real 'giant' among the BHS systems. The complete system is nine kilometres long, covering a 25,000m2 area, and includes three cross-belt sorters (for a total sorter length of 1,100m). It can easily exceed the overall capacity of 6,000 bags/hour that is required by Aeroporti di Roma thanks to the capacity of each sorter being more than 8,000 bags/hour. Terminal 3 BHS includes two cross-belt sorters (at a length of 960m) and a total of more than seven kilometres of conveyors.
Leonardo's cross-belt baggage sorter, MBHS, helped Aeroporti di Roma to be awarded the Baggage Improvement Programme certifi cate by IATA, allowing a dramatic decrease (over 60 per cent) in the number of mishandled bags. Leonardo is now engaged in finalising the design of the new Zurich airport, after being awarded a multi-year contract for re-engineering the entire baggage handling operations of the Swiss hub, while in 2020, Hong Kong International Airport (recognised worldwide for its advanced technology and served 74.7 million passengers in 2018) will benefi t from the application of the Leonardo technology, selected to replace existing baggage handling systems under the 'Primary Sorter Replacement' programme. Additional international successes are at Leonardo's horizon: Stay tuned for new, exciting announcements!
Issue
Related topics
Related organisations