Biometric trends for 2020: Increased use of facial recognition for air travel
Facial recognition (FR) technology is redefining many aspects for the air travel community. With high performance levels in terms of speed and accuracy, it is no surprise the wide-spread adoption of FR technology for air travel will continue throughout 2020.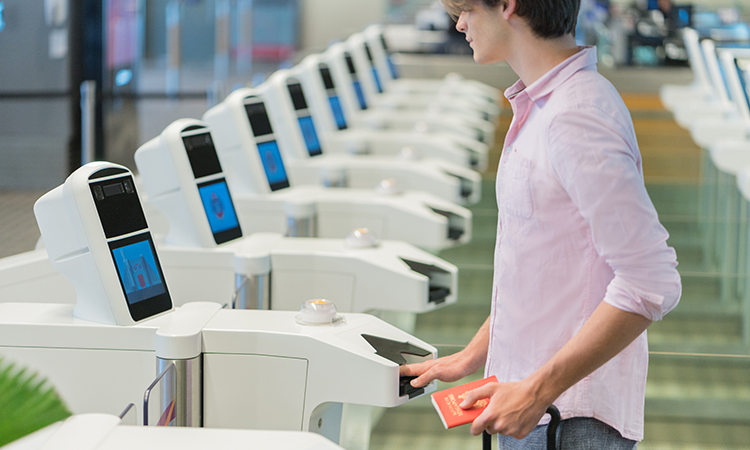 Get ready to fly from the comfort of your home
Today, travellers around the world can check in remotely using their smartphone and an enrollment app. The FR technology in the app includes a liveness check, allowing travellers to validate who they are with a few movements of their head. Thanks to this, travellers can benefit from a seamless journey the moment they set foot in the airport. Yet, travellers need to feel confident in sharing their biometric data. Next year, the industry will continue to work on securing biometric data through a variety of means: Enhanced encryption methods, multi-party computation and many more.
FR – the enabler of the seamless journey
FR technology facilitates the passenger's journey from their home to the plane. At the airport, travellers can use their face for self-service bag drop, to get airside access and enter the lounge, and to board the plane – all because their data has been stored in the airport system during remote check in. FR technology helps managing the increasing number of travellers. Singapore Changi Airport Terminal 4 is a perfect example of this. IDEMIA's world-leading biometric algorithms have already supported the fast capture and accurate matching of over eight million passengers. Not only does this system increase passenger convenience without the expense of decreasing security, a faster passenger processing time gives travellers more time to enjoy terminal facilities. FR brings many benefits for all stakeholders and this is why more and more FR initiatives will go live in airports worldwide in 2020.
FR for boarding passes
IDEMIA's biometric boarding pass is an option for travellers that do not wish to store their data in a central system, but still would like to benefit from a seamless travel experience. This GDPR-compliant offer from IDEMIA gives passengers full control over their personal data. A traveller's facial biometric data is only stored in the boarding pass and not saved in a central database. Passengers can choose whether to integrate their biometrics into the QR code on a paper-boarding pass or an e-boarding pass on their smartphone. Next year, we should expect to see more use cases that give end-users flexible solutions. The future is about increasing confidence in the biometric process through transparency and the power of choice.
Securing airport premises
Thanks to FR, airport staff can say goodbye to using key cards or personal identification numbers. FR technology and a whitelist system can help ensure only those registered for entry can access high-restricted areas. FR is the security pass of the future because it offers a quick and efficient way to process airport staff.
Regulating FR technology
Already deployed projects prove that FR technology offers significant problem-solving potential. Still, the increased use of FR technology also raises concerns about data privacy – people want to know where their data is stored and for what. Throughout 2019, and it will continue, we have already seen efforts to develop regulatory and ethical frameworks that aim to define how FR technology should be used. Governments, private sectors and technology providers need to work together to ensure the right regulations are in place to allow us to benefit from FR technology without compromising on data security.
Related topics
Related airports
Related organisations