Whitepaper: Providing airports with visibility on resource effectiveness for greater processing efficiency
7 September 2016 • Author(s): Blip Systems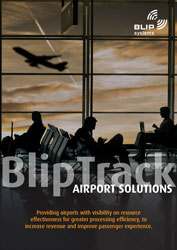 BlipTrack consists of several advanced modules designed to optimize all stages of passenger handling and improve commercial areas.
From queue predictions and flow measurements to advanced capacity forecasting, the modules provide airports around the world with insights to effectively plan staffing resources as well as improve non-aviation revenue, while maintaining a high level of passenger service.
BlipTrack Forecasting Solutions
Accurate forecasts are key to smooth and efficient airport operations. Each day brings new changes such as flight delays, seasonal changes, national holidays and more. Disruptions impact the operational plan and require both live and longterm operational changes in airport passenger processing areas to prevent queues, frustrated passengers and lost revenue.