COVID-19: Live aviation industry briefing – Iacopo Prissinotti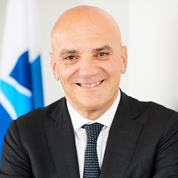 The COVID-19 crisis continues to relentlessly affect aviation across the globe. Therefore, International Airport Review continues to organise live briefings on the matter to ensure you are kept up to date.
We've targetted a range of associations so that we could provide you with as much information as possible. This exclusive live briefing with Iacopo Prissinotti, EUROCONTROL's Director Network Manager, will provide you with a traffic outlook, an overview of current initiatives in place and a 2020 recovery plan.
This exclusive briefing covered:
Traffic outlook
Initiatives to date:

Business continuity for ACCs and airports
NOTAM consolidation
Route availability relaxation

Network operations plan 2020 recovery plan

Overall context and operational requirements
Operational performance enhancement plans and actions at local level
Special events
Forecast of network operational performance
Bottleneck areas and mitigation solutions.
Watch on-demand for this free, exclusive opportunity to hear – directly from Iacopo – advice on how European aviation can recover from the COVID-19 crisis.
Stay tuned for more exclusive briefings!
Speaker
SPEAKER
Iacopo Prissinotti, Director Network Manager, EUROCONTROL
Iacopo brings to this role over 30 years of experience in air traffic management and air navigation services, occupying a series of senior leadership roles in strategic, technical and operational roles.
Starting his career with the Italian military as a tower and approach controller, Iacopo joined ENAV, the Italian air navigation service provider, in 1988 as an air traffic controller. He then progressed through a series of managerial roles, heading Scenarios & Strategies, then International Activities, and finally leading the International Strategies division between 2011 and 2019.
During this time, he served on many key ATM governance boards, committees and steering boards, playing a leading role in the development of a series of key European aviation initiatives, including the creation of major multinational alliances in the form of the A6 Alliance and the SESAR Deployment Alliance.
Iacopo has a proven track record at bringing together institutions, organisations and stakeholders, and delivering large and complex system adaptations. During an important period of change, he has been tasked with driving the ambitious objectives of the EUROCONTROL Network Manager (NM), and will be steering its evolution to meet the new tasks conferred by the European Commission's decision to reappoint EUROCONTROL as the NM for the period 2020-2029, and with a strengthened mandate.
Register
Register to watch this webinar on-demand
Related topics
Related organisations