New Zealand's first autonomous shuttle debuts at Christchurch Airport
Autonomous, electric and in part 3D printed, the autonomous vehicle at Christchurch Airport reveals what the future of airport movement could look like.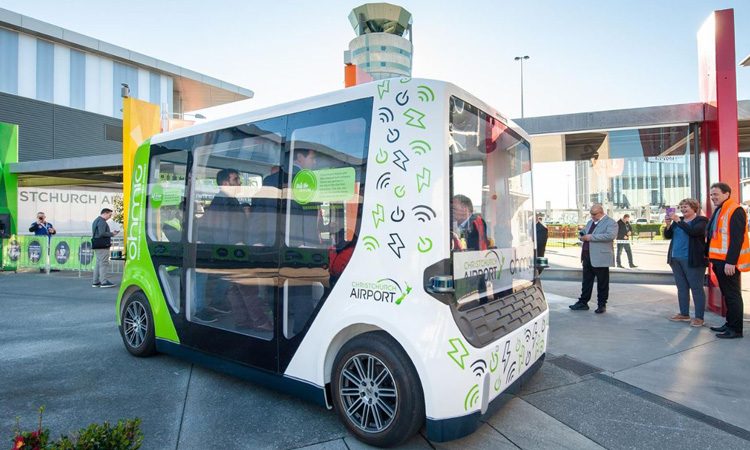 Credit: Twitter - @OhmioAutomotion
Christchurch's autonomous vehicle trial has introduced New Zealand's first Smart Shuttle.
The second stage of the ongoing Autonomous Vehicle (AV) trial on private roads at Christchurch Airport will now centre on the new vehicle, which has gone public at the airport.
Chief Executive of Christchurch Airport, Malcolm Johns, said: "This vehicle has been produced by our trial partner ohmio. It is autonomous, electric and parts of it have been 3D printed. The Kiwi Smart Shuttle can carry up to 15 adults, so may offer more possible uses for us across our campus in future. In the meantime, we will continue testing and learning to understand its capabilities."
The first phase of the trial saw the ohmio LIFT™ hit the road on private roads at Christchurch Airport.
ohmio Automation, Chief Executive, Stephen Matthews said this first build of the self-driving ohmio LIFT is a significant milestone for the company. "It is proof of our capability and realisation of our world-class driverless vehicle technology, pioneered in New Zealand. We are very excited to partner with Christchurch Airport. Their vision to realise the future allows us to demonstrate ohmio vehicles successfully operating as a first- and last-mile strategy in the airport context. We have the vehicle, they have the roads where we can test safely and we look forward to showcasing the Lift in a world premier event in the next few months."
Christchurch Airport General Manager Corporate Affairs, Michael Singleton, commented: "Our joint fully-autonomous vehicle trial continues, with the ohmio LIFT proving this country is able to design and construct a vehicle made for our conditions."
"Collaborating with ohmio means we have a technology partner and producer which is able to take the learnings from the trial to date and then adapt and enhance the vehicle to New Zealand needs. The focus of the trial remains on autonomy rather than a particular vehicle, and we look forward to continuing to explore how autonomous shuttles might play a part in our future at our airport.
"Christchurch Airport's growing reputation as a test bed for innovation, and in particular autonomy, is growing, because we combine the right physical environment for safe testing with understanding of technological advances."