First-class lounge set to open at London Luton Airport
As part of Luton's £160 million transformation, LLA passengers will soon see a premium lounge service available to passengers.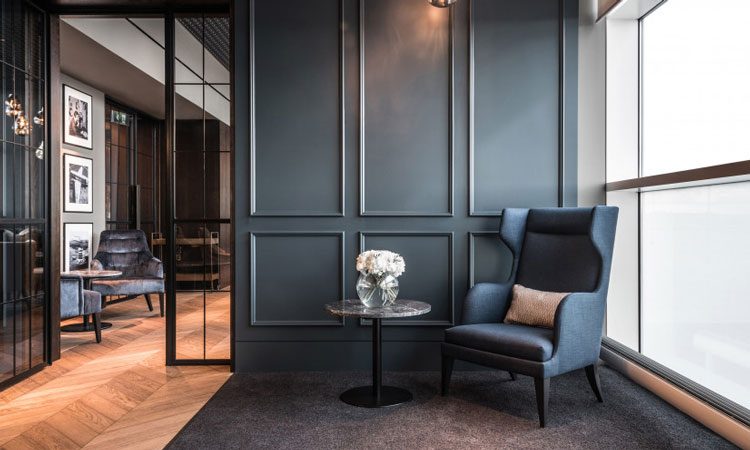 The Clubman lounge. Credit: London Luton Airport
Airport lounge operator, No1 Lounges is opening its first location at London Luton Airport (LLA).
The new lounge will open in July 2019 as the Clubrooms – No1's most premium brand, offering the very best pre-flight experience for all departing guests, no matter their airline or class of travel. The lounge is the latest feature in Luton airport's terminal upgrade, part of its recently completed £160 million transformation.
The Clubrooms are designed in the style of a modern members' club, with airside views, hosted table service, à la carte dining, award-winning wines, craft beers, premium spirits and classic cocktails – all included within the entry price. The Clubrooms will offer a truly first-class experience at Luton Airport.
The new lounge will be open to guests aged 12 years and over and is conveniently located next to the main departure area, with easy access to all gates, ensuring a seamless airport experience.  
No1 also operates at Heathrow, Gatwick, Birmingham and Edinburgh airports. Its arrival at Luton comes at a time of rapid expansion for the company, which also recently opened lounges in Sydney and Melbourne.
The addition of the Clubrooms is part of LLA's £160 million transformation, which has focused on expanding and upgrading the terminal building. Passengers have also benefitted from an expanded retail and dining space. The newly-upgraded terminal was officially opened by the Secretary of State for Transport in December 2018.
Jonathan Pollard, Chief Commercial Officer at LLA, said: "Improving our passengers' travel experience lies at the heart of our redevelopment, from increasing the selection of shopping and dining options, to expanding our route network and making the terminal easier to navigate. With more people travelling with us for business and pleasure than ever before, we know that some of our passengers are looking for a little extra indulgence before they start their trip. In addition to our current Aspire executive lounge, the Clubrooms will deliver a luxurious pre-flight experience for those who enjoy the finer things in life."
Phil Cameron, Founder  and CEO of No1 Lounges, said: "We are excited to be launching at Luton Airport and can think of no better way to introduce the No1 experience to its passengers than with our most premium Clubrooms brand. Our existing lounges across the UK have proven to be extremely popular with business and leisure travellers, and we look forward to providing greater choice, and a truly premium experience to London Luton's passengers – and at a price that represents great value for money."