Handbook to enhance air travel experience of passengers with disabilities
In continuing the drive to advance the experience for all passengers at airports, Airports Council International (ACI) World today launched an updated edition of its Airports & Persons with Disabilities Handbook.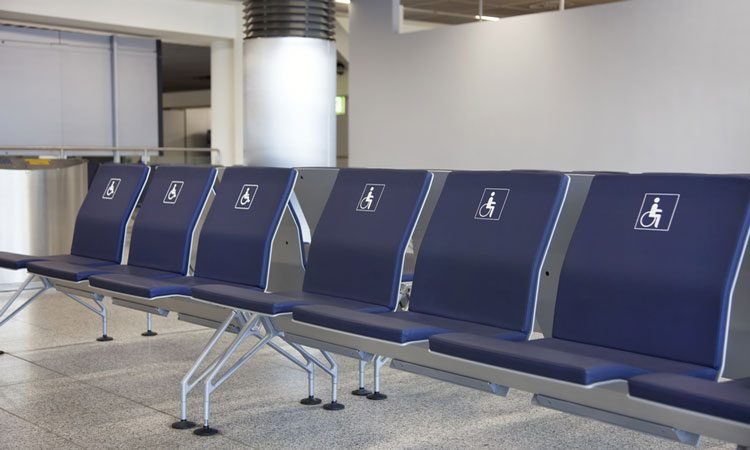 This guidance document is intended to help airports enhance the accessibility of air travel for persons with disabilities, including those with reduced mobility and hidden disabilities, and was launched at the first ACI Customer Excellence Global Summit, hosted by Halifax Stanfield International Airport.
The recommendations in this Handbook will help improve the overall airport experience for persons with disabilities by providing guidance for the design of new facilities and the upgrade of existing facilities.
This fifth edition has been updated to help airports effectively assist persons with disabilities and includes:
Best practices to accommodate passengers with sensory disabilities;
Content on technology and innovative solutions for flight information displays, check-in kiosks, mobile platforms, online tools and phone apps; and
Examples of leading edge practices such as accessible toilet facilities, sign language videophone booths, wayfinding and signage.
The Handbook, reviewed by the International Disability Alliance (IDA), takes into account guidance from international organisations such as the International Civil Aviation Organisation's (ICAO) Manual on Access to Air Transport by Persons with Disabilities – Doc 9984, and the United Nations' Convention of the Rights of Persons with Disabilities – UNCRDP.
Angela Gittens, Director General, ACI World said: "Ensuring that airports are accessible and easy to use for all passengers is an objective for all operators. Our new Handbook helps to ensure that airports provide ease of access to persons with disabilities and persons with reduced mobility and that the facilities meet accessibility standards. Airports recognise the importance of accommodating the needs of all people using the facilities and working in their environment and ACI is pleased to launch this new edition of the Handbook, which contains many simple and innovative ideas for airports to use and reviews some of the most advanced aids now available."
Vladimir Cuk, Executive Director, said: "The IDA is concerned that insufficient accessibility remains an issue, and that travel for persons with disabilities continues to involve unnecessary barriers, some of which can be easily prevented. As such, we warmly welcome the work of ACI in updating their Handbook, to ensure the advancements of accessibility standards for accommodating all travellers with disabilities. Usually, airports represent the first port of entry into a country for the majority of travellers. Therefore, it is important for each country to prioritise accessibility at airports, in order to correctly welcome travellers with disabilities in their countries".
 Liz Kavanagh, Customer Experience Manager at Dublin Airport said: "We were honoured and delighted to participate in updating this ACI Handbook to help airports improve accessibility of air travel for persons with disabilities."
John Seely, Technology Projects Manager at Dublin Airport added: "The Handbook is a fantastic guide to assist airports in ensuring their facilities and services are accessible to all." 
Chapman Fong, General Manager, Terminal 1, at Airport Authority Hong Kong said: "Hong Kong International Airport is honoured to be one of the members of the task force set up to create this Handbook. We work closely with ACI World and other task force members on the common goal to enhance the experience for all air passengers. The updated version of this practical and easy-to-use guidebook aptly addresses current issues and challenges faced by airport managers in improving existing facilities and designing new ones with the advent of innovative technologies, referencing best practices adopted towards greater harmonisation."
David Costa, Manager, Aviation Product Development and Competitive Intelligence at Aeroportos de Portugal said: "The Handbook is a comprehensive and up-to-date guide on how to best serve persons with disabilities at airports. It takes a holistic and worldwide applicable approach to a complex and increasingly relevant topic, from infrastructure design to service quality and innovation. Whether you're running an airport or want to benchmark one for best practices, this is were you should start."
Rosemary Vassiliadis, Director of Aviation said: "Las Vegas McCarran International Airport is proud to be a member of ACI. Providing excellent customer service and passenger facilitation is a cornerstone of our daily mission. We look forward to reviewing the ideas and processes within the new Airports & Persons with Disabilities Handbook to learn how they could benefit our daily operations as we seek to meet and exceed the needs of all of our passengers."
One of ACI's top priorities is helping airports to ensure the efficient management of the flow of passengers, baggage, cargo and mail through airport facilities, ensuring that services are delivered in a healthy, safe and secure environment. It also consists of meeting and exceeding the needs and expectations of customers throughout their entire journey through an airport, bearing in mind the different requirements of security, immigration and customs.
ACI is confident that implementation of the recommendations will contribute significantly towards the goal of barrier-free airports and wishes to thank all those involved in the preparation of this Handbook