Ryanair to open a base at London Southend Airport
The move will bring the total number of bases the airline, which is Europe's second biggest, owns to more than 87.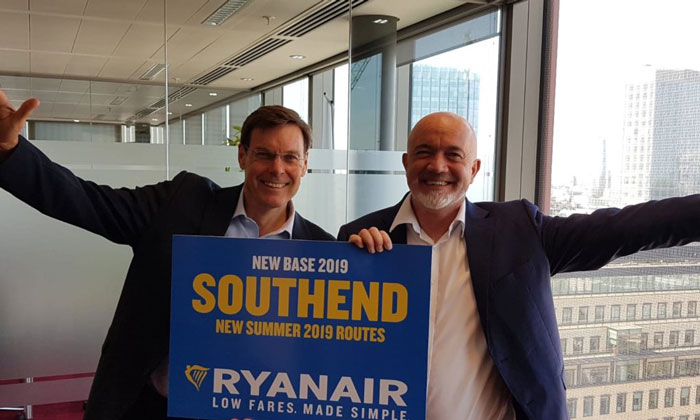 COMING SUMMER 2019: The new base provides 750 jobs
Ryanair will open a new base at London Southend Airport next year, it was announced earlier this week. 
Three aircraft will be stationed at the Essex airport, an investment worth around US$300 million, serving 13 new routes to eight countries, including Alicante, Barcelona Reus, Bilbao, Brest, Corfu, Cluj, Dublin, Faro, Kosice, Malaga, Milan Bergamo, Palma and Venice, which will deliver a million guests annually at London Southend Airport.
The carrier's Chief Commercial Officer, David O'Brien said: "We are pleased to add London Southend Airport to our UK base network. Ryanair guests travelling to and from London and the Essex area can now enjoy low fares on a choice of 13 routes through London Southend's exceptionally passenger friendly terminal.
Southend Airport's train station will deliver direct services from the terminal to London Liverpool St and also the new Crossrail service (opening in 2019), making the airport even more accessible from all parts of London."
Warwick Brady, CEO of Stobart Group said: "We are delighted to welcome Ryanair and its guests to London Southend in S2019. We have a clear and focused strategy to grow our airport to welcome over five million passengers a year by 2022.
"This news will help us achieve that aim, and Ryanair will be a valuable partner to Stobart Group in developing London Southend airport with 13 routes and six new destinations, allowing us to play a key role in solving London's capacity crisis. We look forward to delivering a great service to Ryanair guests to ensure we support the extraordinary growth of Ryanair operations out of London."
Ryanair, Europe's second biggest airline, made headlines last year after it cancelled thousands of flights, affecting around 800,000 passengers, due to mistakes made by the airline concerning pilots' holidays. At the time, the Civil Aviation Authority (CAA) accused Ryanair of 'persistently misleading passengers with inaccurate information regarding their rights in respect of its recent cancellations'.