Hong Kong International awards tender for $1.5 billion logistics centre
The five-hectare development is set to be operational by 2023, boosting Asia's thriving eCommerce industry.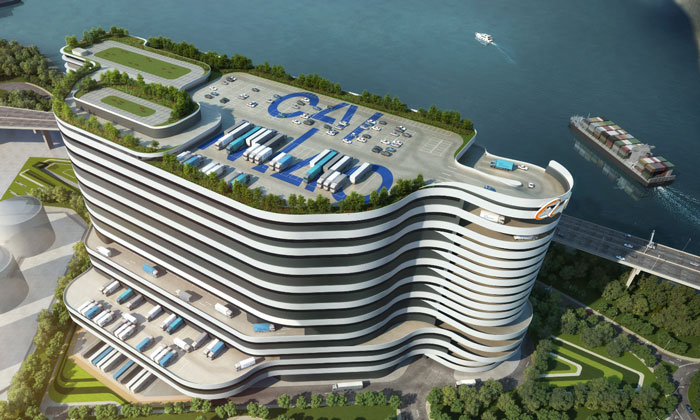 COMING SOON(ISH): A rendering of the logistics centre expected to be operational by 2023
Airport Authority Hong Kong has given the right to develop a new US$1.5 billion logistics centre at the city's international airport to a three-company joint venture.
Cainiao, the logistics arm of the Chinese tech conglomerate the Alibaba Group, will lead the project thorough a controlling, 51 per cent stake, working alongside China National Aviation Corporation and YTO Express, taking a 35 per cent and 14 per cent stake respectively.
Occupying a site of about 5.3 hectares and with an estimated floor area of 380,000 square metres, the centre will be the third-largest warehouse in Hong Kong. Under the agreement, the joint venture will design, construct, finance and manage the centre.
Scheduled to commence operation in 2023, the centre is expected to become a major smart hub in Asia serving the fast-going global e-commerce business. This aligns with the cargo development strategy of HKIA to capture opportunities arising from increased cross-border e-commerce and related businesses, as well as the growth in the logistics business related to temperature-controlled products such as pharmaceuticals.
"The Hong Kong hub will be yet another milestone on our way to achieving our goal of 72-hour global delivery, and will further empower SMEs locally and globally to more readily tap the benefits of more inclusive globalisation through cross-border e-commerce," said Wan Lin, President of Cainiao Network. "The Hong Kong International Airport has been the world's busiest cargo airport for many years. As an important gateway for global goods to enter the mainland China market and vice versa, Hong Kong is of strategic importance to Cainiao and we have a strong commitment to help the city address the surging needs of the future."
Cainiao has three global fulfilment centres in Hong Kong which are operated by its partners. It also opened an airfreight route between Hong Kong and Belgium last month. This is its second such international airfreight route specially for e-commerce parcels following the opening of its Hangzhou-Moscow route earlier this year.