How Hong Kong International Airport leads the field in pharmaceutical transportation
Recently, Hong Kong International Airport (HKIA) was recognised by IATA as a partner in its CEIV Pharma certification scheme. In this article, Cissy Chan, the Executive Director, Commercial, at the Airport Authority of Hong Kong, tells us more about how it keeps at the top of the game in pharmaceutical transportation.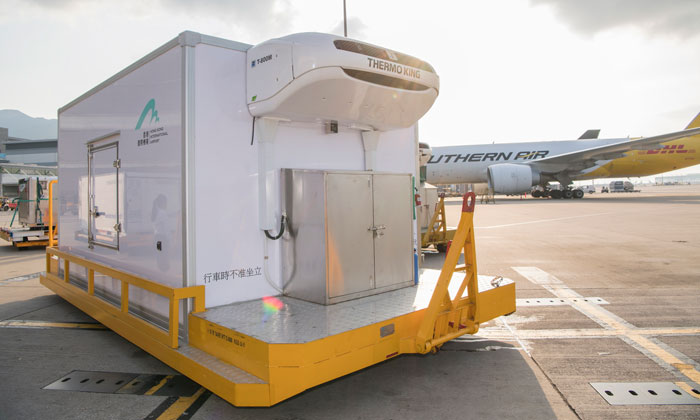 LEADING THE WAY: One of the airport's cool dollies
Hong Kong International Airport (HKIA) has been the world's busiest cargo airport since 2010 thanks to its strategic geographic location, excellent connectivity, efficient customs clearance and free port status. HKIA handled more than five million tonnes of cargo and airmail in 2017, becoming the first airport to reach this milestone. In addition to being recognised for having industry-leading cargo services and facilities, it has been named the world's best airport on numerous occasions, including "Best Global Airport" for the second year by Asia Cargo News and "Asia-Pacific Airport of the Year" by Payload Asia for four consecutive years.
An international aviation hub, HKIA helps passengers and customers reach out to half the world's population within five hours of flying time. This excellent connectivity, provided by more than 100 airlines that operate over 1,100 daily flights to more than 220 destinations – including 50 in mainland China – makes HKIA an ideal gateway for cargo shipments. This is supported by the airport's high operational standards, which include an electronic clearance system and 24-hour customs services at the cargo terminals.
In line with industry trends, HKIA is developing its cargo strategy in three main directions: e-commerce, transshipments and high-value logistics including the transportation of pharmaceutical products.
Pharmaceuticals represents one of the industry's fastest growing categories. From 2005 to 2016, the compound annual growth rate for the global cool pharma air trade was 5.4 per cent, much higher than the 1.8 per cent growth recorded over the same period for the total global air trade. In the past four years, HKIA has experienced annual growth of 12 per cent in pharma tonnage. From 2016 to 2023, HKIA's growth rate for pharma tonnage is expected to reach more than 16 per cent per annum.
In view of increasing industry demand for an efficient transportation process, with more stringent temperature control for high-value pharmaceutical shipments, Airport Authority Hong Kong (AA) took the lead by establishing an industry taskforce in 2016. The taskforce comprises stakeholders along the pharma supply chain at HKIA, including airport cargo partners, but also, very importantly, pharmaceutical companies.  Its mission is to excel in the operation and development of pharmaceutical airfreight handling. To achieve this, it was agreed that an "end-to-end" transportation process that complies with the latest industry standards should be established at HKIA.          
With the concerted efforts of the HKIA air cargo community, HKIA's three cargo terminals (Asia Airfreight Terminal Limited, Cathay Pacific Services Limited and Hong Kong Air Cargo Terminals Limited), three ramp handling operators (Hong Kong Airport Services Limited, Jardine Aviation Services Limited and SATS HK Ltd) and a local base carrier (Cathay Pacific Group) earned the International Air Transport Association's (IATA) Center of Excellence for Independent Validators in Pharmaceutical Logistics (CEIV Pharma) Certification,  which recognises the capability of their operations and facilities in handling pharmaceutical shipments. The certification also demonstrates the cargo operators' compliance with industry standards for handling pharmaceutical products. A globally recognised, standardised certification for pharmaceutical airfreight shipment, IATA CEIV Pharma Certification, is designed to help the industry develop a network of certified pharmaceutical trade lanes that meet consistent cold chain management standards and assure product integrity.
Since July 2017, HKIA has been an IATA CEIV Pharma Partner Airport. This accreditation was given in recognition of how the AA has brought together the airport community to pursue pharmaceutical handling excellence. HKIA is one of the few airports in the world to achieve this certification, which means it has the expertise to handle the entire airside pharmaceutical transportation process end-to-end, from the time an aircraft lands, to the release of pharmaceutical products to agents and vice versa. 
There are two kinds of devices currently deployed at HKIA to protect pharmaceutical products against temperature excursion, namely  temperature-controlled Unit Load Devices (ULDs) and cool dollies. Both help maintain pharmaceutical products at their specified temperatures against the ambient temperature during ramp transportation. In addition, HKIA has more than 5,000m2 of cold room storage in its three cargo terminals, which provide dedicated rooms at a range of temperatures from -20oC to 25oC; catering to the specific needs of different pharmaceutical products. Regardless of whether the products are in transit in the ramp area or stored in the cargo terminals, they are seamlessly monitored at all times by temperature sensors or real-time temperature monitoring systems.
To support growth, the AA will continue to invest in its cold chain facilities, for instance, they have invested HK$16 million to purchase 21 more cool dollies this year.
HKIA values its partnerships and collaborations with all its stakeholders along the air pharma supply chain. To extend its outreach to the pharmaceutical industry, HKIA has become the Strategic Airport Member (for China and North Asia) of the global collaboration body, Pharma.Aero, with the aim of providing efficient, reliable end-to-end air transportation for pharma shippers. Through Pharma.Aero, HKIA looks forward to opportunities to establish pharma corridors that connect with other fellow Pharma.Aero airports. This would provide a seamless airfreight trade lane for pharmaceutical products under the same stringent temperature control standards.
Meanwhile, a new premium warehouse in HKIA's South Cargo Precinct, scheduled to commence operations in 2023, will further fuel the momentum for developing the business related to pharmaceutical products. With its close proximity to the airside, the new premium warehouse will facilitate the provision of value-added services to attract pharmaceutical companies setting up their regional distribution centres in Hong Kong. The warehouse will have an expected gross floor area of approximately four million square feet and be equipped with high-specification facilities. The AA is currently inviting interested bidders to submit tenders for the development of the warehouse.
Enhancing the handling of high-value products such as temperature-sensitive pharmaceuticals is a key part of the HKIA's cargo strategy. HKIA is striving for nothing less than providing the best choice for delivering high-value products efficiently, professionally and to the highest international standards.
On the other hand, HKIA has also benefitted from the booming e-commerce industry, experiencing 19 per cent year-on-year growth in airmail volume in 2017. To further enhance the capacity and operating efficiency in airmail and small parcel shipment handling, HKIA partnered with DHL to expand its Central Asia Hub by increasing DHL's throughput capacity to more than one million tonnes annually. Meanwhile, a close working relationship with China Post and Hongkong Post on the expansion plan for the existing airmail centre at HKIA continues.
To continue strengthening HKIA's capacity to meet long-term air traffic demand, HKIA is undergoing expansion into a Three-runway System (3RS), which is expected to commence operation in 2024. This will allow the airport to handle approximately nine million tonnes of cargo each year, enhancing its competitive edge as an international air cargo hub.
Related organisations
Related regions