Islamabad International Airport opens for business after series of delays
Initially set to have a capacity of 9 million passengers, by 2025 the airport is expected to be capable of handling up to 25 million making it by far the biggest airport in Pakistan.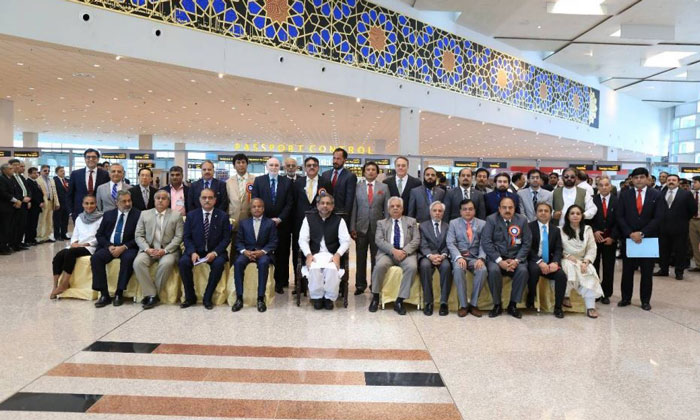 OPEN AT LAST: Pakistan's Prime Minister Shahid Khaqan Abbasi at the airport inauguration along with representatives from the Civil Aviation Authority
After a series of delays pushing back the official start of operations, Islamabad's new international airport has finally been opened for business.
Construction began on the site 20km from the Pakistan capital on April 7, 2007 with then-Prime Minister Shaukat Aziz and then-President Pervez Musharraf. It was built to replace Benazir Bhutto International Airport (BBIA), which saw its last flight take off on the same day as the new airport began its operations – a  Pakistan International Airlines plane heading to Birmingham taking off at 11.39am on May 3.
The ribbon on Islamabad International Airport (ISB), which was known as New Islamabad International Airport until a committee decided to drop the 'new' earlier this year, was cut by Prime Minister Shahid Khaqan Abbasi on May 1. Currently, the two-runway airport is capable of serving 9 million passengers a year but is expected to grow to 15 million then 25 million following a series of expansion projects, including the addition of a new runway, over coming years. By comparison, at its peak before its closure, BBIA was handling 4.7 million and Jinnah International Airport, the country's biggest, served nearly 7 million in 2017.
ISB has been subject of a number of delays and allegedly exceeded its budget by more than 200 per cent. When it was first proposed, it was expected to be completed during the lifetime of the Pakistan Peoples Party's Government which came to an end in 2013 when they lost the election to the Pakistan Muslim League. At the time the foundation stone was laid a price tag of Rs32 billion (US$2.7 billion) was fixed on the project. By the time it was inaugurated earlier this month, that had more than tripled to Rs105 billion ($9 billion).
Delays in opening became characteristic of the construction process. According to The Express Tribune, a major English-language daily publication in Pakistan, the airport was scheduled to open in June 2017, then it was delayed to August, then December. Delays this year have been comparatively minor with the first due date in March pushed to April 20 and then by just 11 days to May 1.