JFK winter ops improved following disastrous January storm
The Port Authority of New York and New Jersey announced that JFK Airport has adopted a catalogue of improvements in airport procedures during winter storms.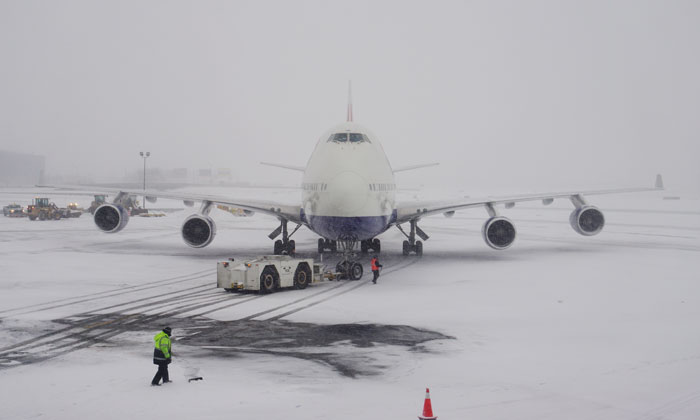 FREQUENT VISITOR: JFK is no stranger to inclement winter weather conditions as this photograph from 2015 demonstrates
The measures supplement and/or replace the ten interim steps previously announced to address the difficulties the airport experienced during and after Winter Storm Grayson in early January. 
"We are committed to strengthening JFK airport's operating procedures during winter storms so that the breakdowns experienced last January never happen again," Port Authority Executive Director Rick Cotton said.
"In our continued and ongoing effort to ensure the airport handles winter storms far more effectively, these new measures build on those we announced in late January. And we look forward to taking additional steps following the recommendations from the independent report to be issued by former Secretary Ray LaHood, which we expect next month." 
"We significantly improved storm operating procedures within the JFK community in late January," Port Authority Aviation Director Huntley Lawrence said. "The measures announced today represent another critical step to enhance performance at JFK in future winter storms. As we said at the time and continue to emphasise, what happened in January cannot and will not happen again. We are grateful for the continued input from all of our airport community partners to ensure we make good on this promise."
The winter storm at the beginning of January caused a cascade of issues at JFK, America's fifth biggest airport, including a burst water pipe which flooded a terminal and led to significant delays and 55 cancellations.
The new measures implemented Monday April 30 include the following:
Inbound Flights: A new planning procedure for airlines coordinated with the FAA and with IATA by which JFK will establish, in advance of a predicted storm, a specified "storm window." The airport's General Manager may recommend to airlines that flights due to arrive at JFK during the specified window be cancelled. Once any cancellation recommendations are made, prior permission will be required to launch any flight with an arrival time during the specified window. In order to receive such permission, airlines are required to receive explicit confirmation from their terminal operator that a gate will be available for any such flight arriving during the specified storm window and that the arrival of the flight will not have a negative impact on the safe and efficient functioning of the terminal. A similar procedure was put in place last January for all "recovery" flights (e.g. flights that were previously diverted or replacement flights for cancelled flights). Today's action adds the prior permission requirement for all flights scheduled to arrive during the "storm window." These new procedures, including the airport's proactive recommendation of cancellations, were initially piloted during Winter Storm Skylar on March 13 with positive results.
JFK Emergency Operating Center (EOC): Strengthened requirements for participation by airlines, terminal operators, and ground handling organisations in the airport's emergency operations centre that was established in January and now operates on a 24/7 basis throughout any winter storm.
Mutual Aid: Expanded requirements for mutual aid during a storm whereby airlines, terminal operators, and ground-handling organisations are mandated to share equipment, staff and gates to meet emergency situations during a winter storm. JFK airport has created an airport-wide inventory of equipment owned by all airport stakeholders (to be updated every year in the Fall) to be used in identifying needed equipment. The airport itself will also acquire a specific set of spare equipment that can also be deployed as necessary during a winter storm to airlines, terminal operators, or ground-handling organisations if needed.
Baggage Service: New obligations requiring every airline serving JFK to have in place a baggage service office that meets international best practice standards. This includes an obligation on JFK's terminal operators to provide a "common use" baggage service office serving multiple airlines if any individual airlines in their terminals do not have the capacity to establish baggage service offices that meet the mandated requirements.
Critical Equipment & Staffing: Terminal operators and ground-handling organisations will be required to certify to the Airport General Manager, as part of the opening check list of the EOC prior to each Storm, that all relevant equipment (both snow removal and normal operating equipment) has been fully fuelled and checked for storm readiness, and each entity has put in place a staffing plan adequate to meet full operations during the predicted storm.
Employee Transportation: Based on a survey (undertaken with terminal operators, airlines and ground-handling organisations) of all airport employees to determine their travel patterns to get to JFK, the airport will be providing heavy duty buses prior to and during a storm from key gathering points for employees to assure their ability to get to the airport during a storm, whenever a snow emergency diminishes the effective functioning of normal everyday transit options. In addition, the airport will survey the inventory of hotel rooms within a reasonable distance from the airport to devise a coordinated plan to provide access to hotel rooms for essential employees for employers that wish to provide such accommodations.
Snow Removal: Prior to the 2018-2019 winter storm season, the airport will acquire additional high-speed snow removal equipment to improve its performance in future storms as well as impose additional and rigorous training requirements for operators of snow removal equipment. It will also increase more efficient sharing of resources between JFK and other Port Authority airports as needed.