£180 million hotel district to be developed at Airport City Manchester
Four new hotels are to be erected in Airport City Manchester in a bid to create a hotel district.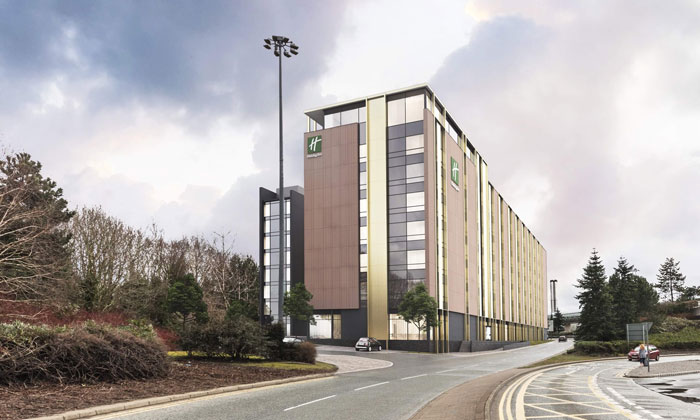 GOING UP: One of the hotels set to be erected in the Airport City
The first two will be a 280-bed Holiday Inn and a 262-bed Ibis Budget built at the site immediately adjacent to Terminal 2 at Manchester Airport, forming part of the wider £1 billion Transformation Programme.
Airport City Manchester's joint venture partners will act as the developer of the £80m hotel project on behalf of its client, P1 Hotels, a consortium of hospitality industry specialists.
Lynda Shillaw, CEO of MAG Property and Airport City JV Partner, said: "We are delighted to have reached an agreement with the consortium that will mark the start of the development of our new £180m hotel district at Airport City Manchester. 
"Increasing the number of hotels at the airport is underpinned by the significant growth that we have seen in both passenger numbers and airlines over the last five years. The development is being brought forward alongside the £1bn investment in Terminal 2 and the airport being made by MAG at the start of a period of significant development at Airport City."
A full planning application has been submitted with construction targeted to start in early 2019 with completion scheduled for Q1 2021, which will create in the region of 250 jobs.
Councillor Susan Quinn, Chair of GMPF Property Working Group at Greater Manchester Pension Fund (GMPF) and Airport City Joint Venture Partner, said: "This is a unique site within Airport City Manchester and we have seen strong demand from international investors looking to capitalise on the recent growth and opportunities at Manchester Airport. Driven by the £30m+ equity investment already committed by the JV partners, this signals the start of the next stage of activity at Airport City."
Further to the creation of the new Holiday Inn and Ibis Budget hotels, Airport City Manchester received planning consent in February 2018 for the creation of a 375-bed 4-star hotel and a 254-bed 3-star hotel, on a site located adjacent to Manchester Airport's transport interchange.
As a result, this £180m Airport City hotel district will become home to four new hotels by 2021, providing 1,171 new hotel rooms within the Airport City North footprint and supporting the creation of around 500 jobs. This is alongside the forecasted growth at Manchester Airport, where passenger numbers are set to grow from 26m in 2017 to 35m by 2027.
Dongwen Yu, lead director at Beijing Construction Engineering Group International (BCEGI) and Airport City Joint Venture Partner, said: "Hotels are a key component on Airport City and the development and construction of this new district will provide valuable employment opportunities for the local area while supporting the continued expansion of Manchester Airport."