London City Airport records busiest ever week with more than 100,000 flyers
Figures published by London City Airport have revealed that it has seen busiest week ever in the history of the airport, topping the 100,000 passenger mark for the first time.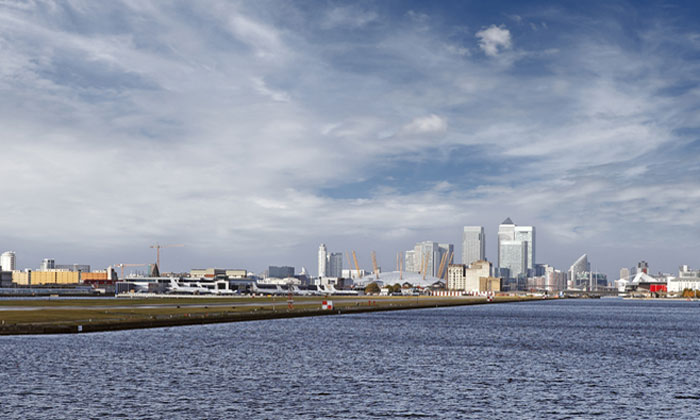 TRUE LONDONER: London City is the most central airport in the capital
Over the seven days, a total of 101,336 passengers either departed from or arrived at London City Airport, aboard 1,525 flights. For the first time in the 31 years of the airport, weekly passenger numbers exceeded 100,000, representing a 2 per cent increase on the existing record, achieved in June 2016. Thursday March 22 was also the airport's busiest-ever single day, with 18,607 through the airport's doors.
The record-breaking figures precede the annual Easter getaway, during which the airport expects around 55,000 passengers to travel over the course of the long weekend. Thursday March 29 will be the busiest day, when over 18,000 passengers are predicted to travel.
Partly responsible for the latest figures are strong performances by British Airways and Flybe, and an increasing mix of passengers, as the airport seeks to attract both business and leisure travellers. In 2017 around 54 per cent of the airport's 4.5 million passengers travelled for business purposes and 46 per cent for leisure.
This week, for example, the airport commences Porto flights, for the first time offering flights to the scenic and trendy Portuguese coastal city with TAP Air Portugal, and CityJet reinstates its Florence service.
Robert Sinclair, CEO of London City Airport, said: "This record-breaking week and expected Easter rush reflects a much bigger trend for London City Airport, as we develop a growing portfolio of leisure routes and attract new passengers, while at the same time maintaining the industry-leading punctuality, ease of use, convenience, customer service and speed that our returning passengers know and love.
"This passenger milestone comes less than a week after London City Airport was named the best airport of its size in the world in the Skytrax World Airport Awards 2018. It is also a further reminder of just how important the airport's £480 million transformation programme is, to meet increasing aviation demand in London, and create a world-class gateway that serves the whole of the city."
The top three routes during the record-breaking week of Monday March 19 – Sunday March 25 were:
Amsterdam: 13,374
Dublin: 11,454
Edinburgh: 11,043
Zurich: 9,028
Milan Linate: 7,236