Skytrax announces its 2018 best airport in the world award winner
At a ceremony held in Stockholm, the aviation review company Skytrax announced its 2018 winners, in categories ranging from best airport in the world to world's best airport for shopping.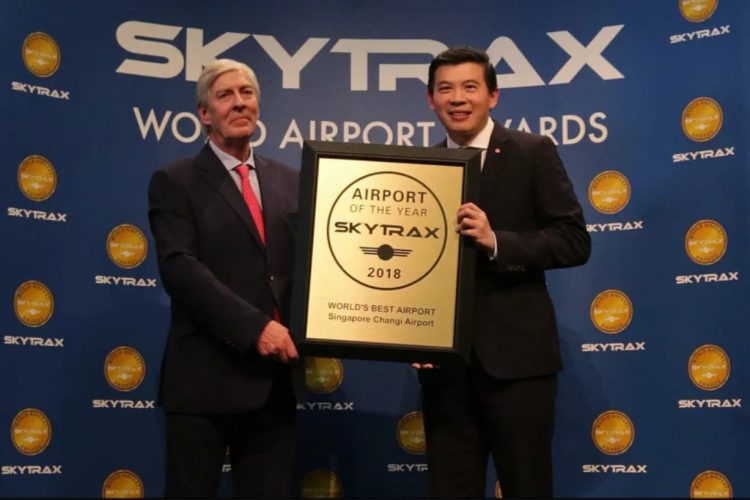 WINNER: Mr Lee Seow Hiang, CEO of Changi Airport Group (right) receiving the Skytrax World's Best Airport Award from Mr Edward Plaisted, CEO of Skytrax (left)
For the sixth year in a row, Singapore Changi Airport has come out on top in an award for the world's best airport presented by Skytrax.
The ceremony was held at Passenger Terminal Expo in Stockholm and saw nearly 50 awards dolled out, breaking each category down into world regions.
Speaking on the reception of the prize for best airport in the world, Changi Airport Group's CEO Lee Seow Hiang said his airport was "honoured" to have been given the award every year since 2012.
"It is a significant achievement for Changi Airport and spurs us to continue to deliver the best passenger experience for all who travel through Changi Airport. Last year, we successfully opened Terminal 4, and upgraded parts of Terminal 1.
"We are most grateful to the 50,000-strong airport community for their steadfast support through the years and as we continue to upgrade the airport's infrastructure.
"Their unwavering commitment and passion for service excellence are what underpins Changi Airport's success.
"As we anticipate the opening of Jewel Changi Airport next year, we will continue to work closely with our partners to deliver the best of experiences to our passengers. We thank our passengers and partners alike for their continued support and confidence in us."
Coming in second place, Seoul Incheon International climbed one rung on last year, followed by Tokyon Haneda in third and eight-time winner Hong Kong International.
The World's Top 10 Airports
Singapore Changi Airport
Incheon International Airport
Tokyo Haneda International Airport
Hong Kong International Airport
Hamad International Airport
Munich Airport
Chubu Centrair International Airport
London Heathrow Airport
Zurich Airport
Frankfurt Airport
London Heathrow Terminal 2 was named the world's best passenger terminal, as well as best airport in Western Europe.
Heathrow Chief Commercial Officer Ross Baker said: "To have two of our terminals be voted  amongst the world's top five is testament to the hard work our team has done to transform Heathrow for the better.
"We are tremendously pleased our passengers are not only voting for us through these awards – but also with their feet –  as we saw with this year's record breaking numbers. 
"Going forward, we will continue to invest in Heathrow to give passengers an enjoyable, reliable and affordable journey every time they travel through the airport."
The best airports by region
Africa – Cape Town 
Asia – Singapore Changi
Central Asia/ India – Mumbai
Australia Pacific – Sydney
India – Shanghai Hongqiao
Russia/CIS – Baku
Europe – Munich
Middle East – Doha Hamad
North America – Vancouver
Central America/ Caribbean – Panama
South America – Bogota
Eastern Europe – Budapest 
Southern Europe – Athens
Northern Europe – Helsinki 
Western Europe – Heathrow
Central Europe – Munich
The 2018 Awards are based on 13.73 million airport survey questionnaires that were completed by over 100 nationalities of airport customers during the survey period. The survey operated from August 2017 to February 2018, covering more than 500 airports and evaluating traveller experiences across different airport service and product key performance indicators – from check-in, arrivals, transfers, shopping, security and immigration through to departure at the gate. 
You can see more of the awards here.