IATA recognise Hong Kong International for pharma handling excellence
Hong Kong International has joined a select group of airports who have been recognised by IATA for their standards in transporting pharmaceuticals.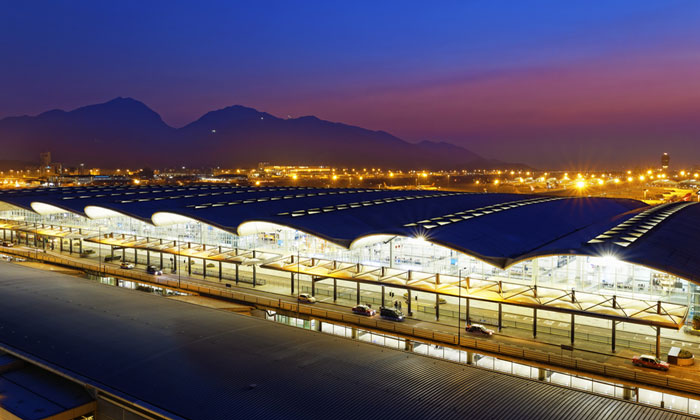 PHARMA KINGS: Hong Kong International by night
Hong Kong International Airport's high standards in handling pharmaceuticals by air has won it applause from the trade body that represents the world's airlines.
The International Air Transport Association (IATA) has recognised Hong Kong International Airport (HKIA) as a partner in its Center of Excellence for Independent Validators in Pharmaceutical Logistics (CEIV Pharma).
A globally recognised and standardised certification for pharmaceutical airfreight shipment, the IATA CEIV Pharma Certification Programme is designed to help the industry develop a network of certified pharmaceutical trade lanes that meet consistent cold-chain management standards and assure product integrity.
HKIA's three cargo terminals (Asia Airfreight Terminal Limited, Cathay Pacific Services Limited and Hong Kong Air Cargo Terminals Limited) and three ramp handling operators (Hong Kong Airport Services Limited, Jardine Aviation Services Limited and SATS HK Ltd), along with a local base carrier, Cathay Pacific Group, achieved IATA CEIV Pharma Certification in recognition of the capability of their operations and facilities in handling pharmaceutical shipments. The certification demonstrates the cargo operators' compliance with industry standards for handling pharmaceutical products.
HKIA is one of the few airports to achieve this airport-wide certification. It was created after IATA noticed a decline in the air cargo's share of the global pharmaceutical transport market which the trade body reasoned was the result of a lack of compliance, standardisation, accountability and transparency across the air transport supply chain. As a result "products [were] rendered worthless and harmful for patients due primarily to temperature deviation". Annual product losses ranged between US$2.5 billion and $12.5 billion in a $300 billion market. The certification was created to combat these losses.
A ceremony commemorating the certification was held for Hong Kong during the FlyPharma Conference Asia 2018. Ronald Schaefer, IATA Assistant Director of Cargo, Ground Operations and CEIV Consulting, presented the certification to Fred Lam, Chief Executive Officer of Airport Authority Hong Kong (AA). Representatives from the three HKIA cargo terminals, ramp handling operators and Cathay Pacific Group attended and officiated the ceremony.
Zhang Baojian, IATA's Regional Vice President for North Asia, said: "Congratulations to the AA in establishing a pharmaceutical logistics community at HKIA and for the achievement of the IATA CEIV Pharma Certification of its community stakeholders.
"The shipping of pharmaceutical products is the fastest growing segment in the air freight industry.
"Given the sensitive nature of the products, it is necessary to establish global standards and best practices to ensure the integrity of pharmaceutical products is not compromised when they are shipped by air.
"Having undergone a rigorous assessment for the CEIV Pharma certification, HKIA's community stakeholders are well placed to serve this important segment of the air cargo industry. Pharmaceutical companies can also have the confidence that the cold-chain integrity of their products is maintained."
Mr Lam said, "Being the world's busiest cargo airport since 2010 and handling over five million of cargo and airmail in 2017, HKIA strives to maintain its leadership status as an international aviation and cargo hub in terms of both volume and value.
"Pharmaceutical air cargo shipments has a strong market outlook, and this certification serves a testimony of HKIA's dedication in continuously enhancing its air cargo facilities for even higher efficiency and reliability.  I would like to express my gratitude to our business partners for their tremendous contributions over the years.  Our airport could not have achieved this certification without them."  
The compound annual growth rate of global cool pharma air trade during the period of 2005-2016 was 5.4 per cent, above the 1.8 per cent growth for total global air trade recorded over the same period. In the past four years, HKIA experienced an annual 12 per cent growth in pharma tonnage. HKIA's growth rate for pharma tonnage is expected to reach over 16 per scent per annum from 2016 to 2023.
To support the growth, the AA will continue to invest in its cold chain facilities, for instance, by investing HK$16 million to purchase 21 more cool dollies this year. Cool dollies maintain pharmaceutical products at their specified temperatures against the ambient temperature during ramp transportation. In addition, HKIA has more than 5,000m2 of cold room storage in its three cargo terminals, which provide dedicated rooms at a range of temperatures from -20oC to 25oC catering to the specific needs of different pharmaceutical products.