Designing an airport for the future at Hong Kong International
The weight of passenger numbers is growing each year, heaping pressure on airport services from security to retail. Hong Kong International is preparing itself for this change of pace, expanding to accommodate 102 million yearly passengers. Simon Scott tells us how Leslie Jones Architecture is creating a retail space fit for the future at the growing hub.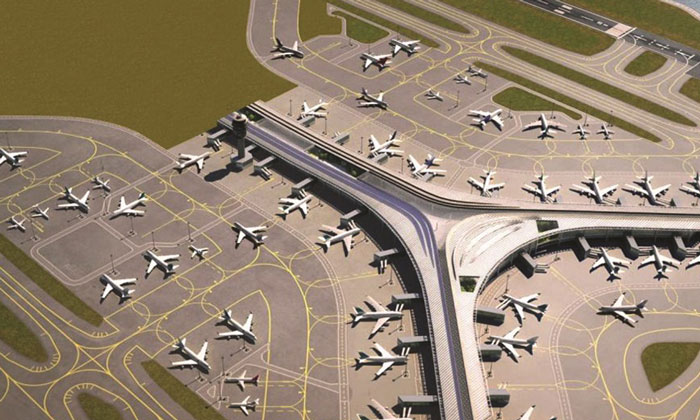 GETTING SET: Hong Kong International is sinking well over HKD$100 billion into its expansion project
As you'll be aware, statistics released by the Airline Safety Network at the start of this year showed 2017 to be the safest year ever for air travel – a statistic not affected by the constant increase in the number of passengers travelling through the world's airport terminals.
By the end of 2017, commercial airlines carried nearly four billion passengers over the course of the year and, with each of these passengers spending at least an hour in the airport pre-flight, the need to evolve an airport's retail and leisure space is becoming increasingly apparent. This is not necessarily true for some of our more modern airports – which are fully equipped for an increased volume of passengers and keeping them occupied pre-flight – but there are others that need to capitalise on the experience of the past to build an airport for the future.
The landscape in airport retail is constantly evolving
Those airports looking to maximise their non-aeronautical revenues in coming years will need to think about offering a more diverse retail offer, and adapt their terminals to better connect with their passengers through omnichannel solutions, harnessing the ability to deliver a seamless and consistent experience across all retail and leisure channels, while factoring in the different methods that consumers are using.
As a result, in 2018 we're likely to see a shift in how airport operators and retailers view and use their often limited space.
The landscape in airport retail is constantly evolving as changes in consumer behaviour and retail strategy develop at significant pace. The global duty-free industry is expected to grow to about $67bn by 2020, from an estimated $45.7bn in 2016, despite – so far – limited innovations from airport retailers to adapt to new consumer behaviours and trends.
But with air-side space fast becoming big business for landlords and occupiers alike, as architects, the pressure is on us to provide design options that enhance retailer-consumer engagement while encouraging dwell time and increasing passenger spend all within an innovative space. Long gone are the days of cheap tobacco and duty free gin being the highlight of an airport experience. If passengers are going to have to spend increased dwell times in the airport thanks to heightened security, then they want a positive experience that encompasses not only a variety of good quality retail, but also a memorable leisure experience, whether that be access to a health spa at Heathrow, surfing at Munich or a museum display of Old Masters at Schiphol.
One of the world's largest airports has recognised the importance of this passenger spend within its plans to build an airport for the future. Hong Kong International Airport has announced plans to start their HK$141.5 billion (£12.3 billion) investment to construct a three-runway system that will allow the airport to meet the needs of 102 million passengers, 8.9 million tonnes of cargo and 607,000 aircraft movements annually by 2030.  
Each of these passengers, whether direct or transferring, will pass through the retail segment of the terminal, meaning that the opportunities to increase spend on retail, leisure and F&B are considerable.
As the retail architect for the project, we'll be responsible for the future concourse's commercial design strategy. We will ensure that premium space is effectively planned with retailers ideally positioned to engage with high volumes of global travellers with time to kill and gifts to buy.
Our design plan for Hong Kong will include developing solutions that suit emerging and future requirements of retail. We want to ensure that the space has the ability to be used by the airport to showcase both products and experiences that can be evolved much further than the typical mall or high street.
Let's be honest, the success of a commercial airport depends on its bottom line, and with operators looking to extend dwell time, future airport design needs to offer a point of difference –something that moves it ahead of the high street and offers cutting edge innovation to attract, connect and engage from check in to departure.
In Hong Kong, we'll also consider how airport retail needs to emphasise the experience if it's going to increase footfall and in-store conversion. It is here that airports have the most to learn from the high street in terms of pushing boundaries around concepts and innovation, and that's why we're taking inspiration from this, knowing that the store environment is crucial to delivering product and brand engagement and experience is what will stimulate purchases and drive customers to buy.
To maintain and grow customer conversion and spend, the airport retail proposition needs to adapt to meet the expectation of the customer. Airports have a unique opportunity here to develop and grow, and design is the key to ensuring the longevity of airports as shopping destinations in their own right. Hong Kong International will be at the forefront of driving that change.

Simon Scott is Head of International Business at Leslie Jones Architecture. Simon's international reputation in airport & rail design sees him head up the Leslie Jones team on global transport projects in the Middle and Far East. He has also held design and delivery roles on Abu Dhabi, Lyon, Gatwick, Faro, Hong Kong and Heathrow Airports, together with UK railway station projects including Kings Cross and London Bridge.