Gatwick welcomes two additions to its Executive Management Board
The UK's second largest airport, London Gatwick, has announced two new appointments that aim to continue its commitment to quality services. Lesley Hall has been appointed as Environment, Health and Safety Director (EHS), while Bronwen Jones has been promoted to Development Director.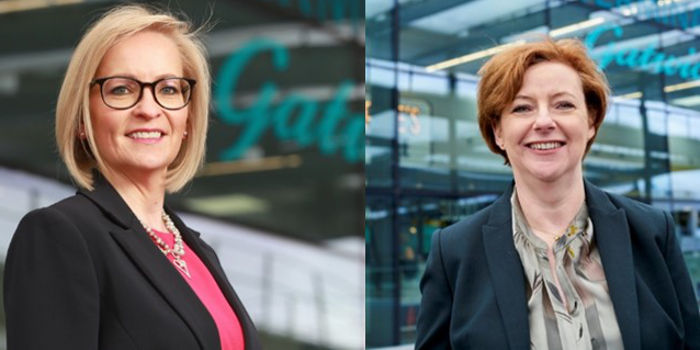 Left to right: Lesley Hall and Bronwen Jones join Gatwick as Directors
Lesley joined the airport's Executive Management Board at the beginning of 2018 and, alongside her colleagues, shall develop the performance and culture of EHS at Gatwick Airport, ensuring it continues to achieve excellence and recognition across the wider UK aviation sector. 
In her previous role Lesley was the Head of EHS for the Merchant Power business at Centrica, which included power stations, offshore wind farms and new energy technology projects. In addition, she has gained extensive experience in the EHS arena across a wide range of industries both within the UK and internationally, having previously held roles with the Brett Group, BP Gas, BP Alternative Energy and as a HM Inspector with the Health & Safety Executive.
In her role as Development Director, Bronwen also joins the Board and will work closely with Tim Norwood, Corporate Affairs, Sustainability and Planning Director, and Ray Melee, Construction Director to help deliver the airport's ambitious plans for continued growth. This work will ensure Gatwick has a robust and deliverable 10-year Capital Investment Plan (CIP) that aligns with the wider UK aviation and airspace strategy.
Bronwen was promoted from her role of Head of Development at Gatwick, having joined BAA in 1989 as a graduate trainee and consequently taking on a wide variety of operational and capital development roles. She has played a central role in some of the airport's largest transformational programmes including the self-service bag drop, the North Terminal Development Programme and the creation of Gatwick Connects (the airport's flight connections service). 
Commenting on the new appointments, Gatwick Airport's Chief Executive Officer, Stewart Wingate, said: 
"I am delighted Lesley Hall and Bronwen Jones have joined Gatwick's executive team and I look forward to the breadth of experience they will both bring to their new roles. 
"These appointments demonstrate Gatwick's ongoing commitment to providing our passengers with the very best airport facilities and service possible."