Manchester Airport gives out power infrastructure contract
The contract has been given to UK Power Networks Services as part of the airport's £1bn transformation programme and will involve building critical power infrastructure.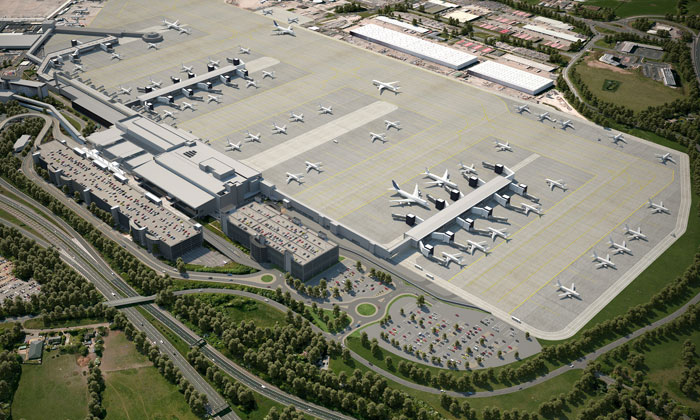 TRANSFORMATION: Work at Manchester Airport is intended to reinforce its role as the gateway to the North
UK Power Networks Services has signed a contract to provide vital power infrastructure services for Manchester Airport, the UK's third busiest airport, a key project to help deliver its £1 billion transformation programme.
This complex project will require UK Power Networks Services to build a new airfield substation and transfer critical electrical infrastructure from an existing substation located in the middle of a taxiway. The project will also include high voltage and low voltage cabling and airfield ground lighting works.
Moving the substation will make way for a wider dual parallel taxiway, which will support the airport's requirement to expand a number of taxiways and allow an increase in aircraft traffic and airport capacity.
This project is part of the £1 billion Manchester Airport Transformation Programme that will see an expansion to airport terminals, car parks, aircraft stands and air bridges, enhancing its role as the UK's gateway for the north.
UK Power Networks Services will deliver this project in a complex airside environment, and will draw on their impressive safety performance and experience working on the electrical infrastructure at all of the UK's leading airports.
This new contract further develops the strategic relationship between Manchester Airports Group and UK Power Networks Services, who are already a strategic partner delivering HV/LV operations and maintenance for London Stansted Airport's critical electrical assets.
Ian Smyth, Director of UK Power Networks Services said: "We are delighted to be selected by Manchester Airport Group as their delivery partner for this mission critical project. This project will support Manchester Airport in providing an enhanced experience to its customers for many years to come.
"We will deliver a world-class engineering solution to ensure Manchester Airport continues to be the global gateway for residents and businesses in the north of England and Wales."