East Midlands Airport signs off on 'framework agreement' with American construction firm
As part of East Midlands Airport's plans to double passenger numbers by 2030, an American firm has be brought on board to deliver upcoming construction and maintenance works.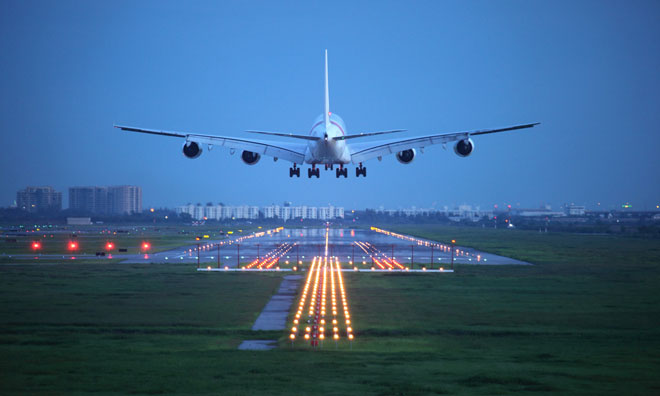 LIFT OFF: East Midlands Airport refurbished the full length of its runway in 2016
Expansion work at East Midlands Airport will go ahead under the command of an American construction firm. Jacobs Engineering Group Inc. received a framework agreement from Manchester Airport Group(MAG) to deliver building and infrastructure construction & maintenance/refurbishment works.
This includes the ongoing expansion projects which are intended improve capacity, throughput and overall customer experience at the airport.
Jacobs' scope of work includes project management, procurement, construction and commissioning activities for airport buildings and associated infrastructure. The initial framework agreement with MAG runs until 2020, with options for extensions up to 2025.
"In alignment with our vision of creating a more connected world, we are leveraging our airside aviation construction knowledge to help enhance the experience travellers will have while visiting East Midlands Airport," said Jacobs Buildings & Infrastructure and Industrial President Bob Pragada.
"Jacobs will support Manchester Airport Group through an Integrated Project Delivery (IPD) approach led by our knowledgeable project management and construction experts, along with a right-sized supply chain management approach."
Rob Williams, Head of Procurement and Contracting – Capital and Asset Management for MAG, said, "Manchester Airport Group framework agreements are a key part of our overall strategic procurement strategy, across all aspects of our extended supply chain. The framework agreements for building, civil and M&E works provide a platform for us to work with a small number of high-quality, efficient contractors, managing and executing a wide range of projects that include construction, refurbishment, maintenance and infrastructure works at our airports.
"We look forward to working closely with Jacobs over the next few years and utilising their skills and experience to broaden and strengthen the resources available to our capital delivery team."
Manchester Airports Group (MAG) is the largest UK-owned airport operator, serving around 52 million passengers every year in addition to handling 600,000 tonnes of air freight annually. MAG owns and operates Manchester, London Stansted and East Midlands airports. It sold Bournemouth Airport in December.