Virtual tower test successful with control centre 400km from airport
A successful virtual remote tower trial at a small airport in Germany has opened the door to live operations by the end of 2018 after the German Federal Supervisory Authority for Air Navigation Services (BAF) has given its approval.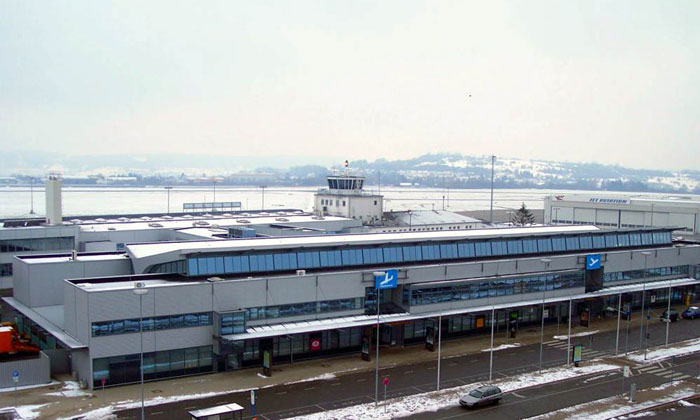 TRAIL BLAZER: Flughafen Saarbruecken, the site of the two-week test
The German air navigation service provider has successfully completed onsite testing of a remote virtual tower, with controllers sat over 400km away.
DFS Deutsche Flugsicherung (DFS) began a two-week testing period of the Frequentis Remote Virtual Tower (RVT) at Saarbücken Airport in October last year.
The testing phase included formal test verifications as well as free tests with a multi-day flight programme in various weather conditions.
A number of air traffic controllers tested the image quality, the performance of automatic object detection as well as camera tracking during the day and at night.
The Frequentis solution consists of high-performance infrared and visual cameras, a newly designed controller working position in the Remote Tower Centre in Leipzig, developed in close cooperation with air traffic controllers, and a secure network connection ensuring safe and reliable communications.
DFS and Frequentis have been working on the implementation of a remote tower concept since 2015, with plans for the Remote Tower Centre at Leipzig Airport.
In the future, this centre will provide aerodrome control services for the international airports of Saarbrücken, Erfurt and Dresden.
Robert Schickling, Managing Director Operations at DFS, said: "Remotely controlled towers are a hot topic in air traffic management – both the concept of providing aerodrome control services from any location and the ability to control several airports from a centralised location.
"This solution promises significant cost savings and increased efficiency while utilising advanced technologies that provide an enhanced view of the airfield in all weather conditions.
"Thanks to the commitment and motivation of the DFS and Frequentis smartVISION teams, we have been able to successfully verify the quality and functionality of this forward-thinking, innovative solution. We are now ready to take the next steps with the airports in Erfurt and Dresden."
Live operations (active shadowing) were successfully conducted for Saarbrücken Airport in August 2016 under the umbrella of the Single European Sky ATM Research (SESAR) programme.
The latest phase of site testing will allow the launch of live operations by the end of 2018 after the German Federal Supervisory Authority for Air Navigation Services (BAF) has given its approval.
Hannu Juurakko, Vice President ATM, Frequentis AG, said: "The Remote Virtual Tower solution will allow DFS to digitalise air traffic control solutions.
"The potential for increased efficiency and reduced costs in the industry are driving the implementation around the world.
"Saarbrücken will be an important reference in the Remote Tower market, we will be the first manufacturer to provide remote tower ATC services at a complex, medium-sized airport.
"The planned additions of Erfurt and Dresden airports, to come under remote control from Leipzig, demonstrate the confidence DFS has in our solution and the expansion of it,"
DFS and Frequentis are using advanced camera and tracking technology in close cooperation with Rheinmetall Electronics and provide a scalable 360° visual and infrared presentation with automatic object detection functions and a capability to highlight all relevant traffic in the control zone. It is supported by a high-performance pan tilt zoom (PTZ) camera with tracking capability.