Houston to Sydney service to bring Australia $47 million annual visitor spending
An Australian tourism minister and the CEO of Sydney Airport have welcomed the news of a new United Airlines service between Houston and Australia's biggest city.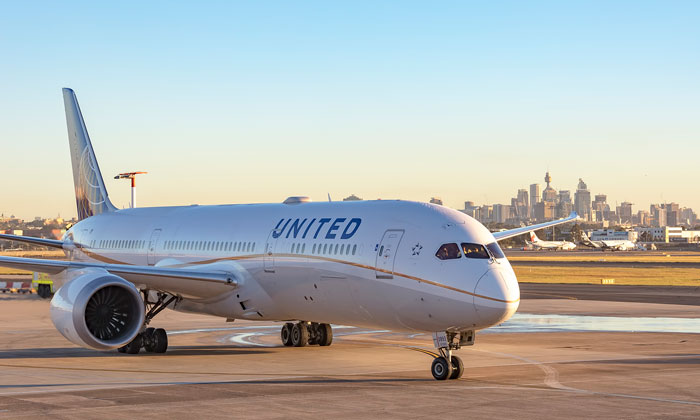 TAKE OFF: The inagural flight between Houston and Sydney (Photo: Kurt Ams)
A new service between Houston and Sydney could be worth as much as $47 million to the Australian economy. Welcomed by Sydney Airport, the United Airlines service is expected to bring 27,000 extra US visitors to the Australian city.
The route is Sydney's longest at almost 14,000 km and connects Australian flyers through a major hub to locations across the USA, Canada and Central and South America. 
Sydney Airport CEO Geoff Culbert said the new service was a win for both travellers and the state's tourism sector: "Houston presents an exciting opportunity for travellers coming from the US to access Sydney through a direct service. This is great news for travellers as well as businesses across NSW.
"United Airlines' new service will not only help drive tourism and trade, but create exciting new pathways to the US, Canada and Central and South America.
"It will also make it easier for tourists from the US and beyond to visit Sydney and experience the world's greatest city.
"The US is our third-largest international visitor market. This route means exciting new connections throughout the US."
United Airlines' Vice President of International Network, Patrick Quayle, said: "United is the largest US carrier offering the most seats between Sydney and the United States and we look forward to continuing to serve as Sydney's airline of choice.
"Our new service to Houston provides customers direct access to one of the country's largest business centres and it offers customers the opportunity to conveniently connect to hundreds of cities including Miami, Chicago, Boston, New York, Washington, D.C., Mexico City, Cancun, and more."
NSW Minister for Tourism and Major Events Adam Marshall said the opportunity this new service created to further grow visitor numbers from the US market was a huge coup for tourism businesses across the state.
"The US is currently worth an incredible $807 million to the NSW visitor economy, making it our second-largest international visitor market.
"We look forward to working with United Airlines, via our tourism and major events agency Destination NSW, to promote this new service to Sydney which will shine a bright light on our world-class calendar of events, great food and wine and stunning regional destinations to even more US travellers."