Capital Airlines touches down at Sydney Airport
Capital Airlines has launched a new Qingdao-Sydney route; a new airline and route for Sydney Airport.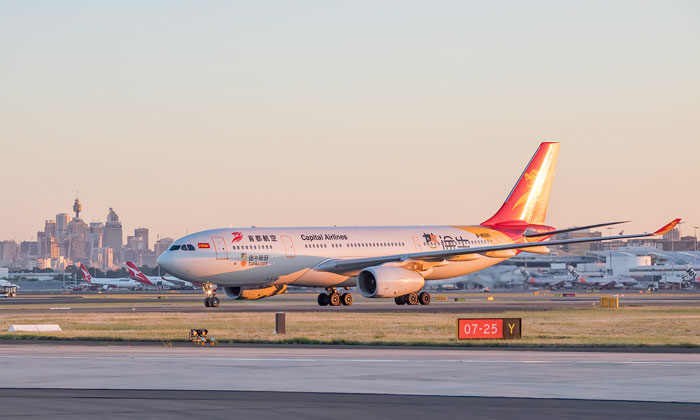 The new service will operate four times weekly on an A330-200 aircraft with 222 seats, adding 92,000 seats annually.
Sydney Airport is a long haul leader for China with eight airlines serving 15 mainland Chinese cities.
Sydney Airport Managing Director and Chief Executive Officer Kerrie Mather said the new airline would boost business and tourism to the city.
"We're thrilled that Capital Airlines' new service is expected to bring an additional 24,000 Chinese visitors annually and generate $100 million in additional visitor expenditure per year for NSW.
"Sydneysiders can also now directly access a new tourism destination to discover Qingdao's beautiful beaches, historic architecture, magnificent mountains and of course visit the city's world famous Tsingtao brewery museum."
Capital Airlines Vice President Qu Tao said the airline was excited to be launching its new service to Sydney. "Capital Airlines' launch of the Qingdao-Sydney route helps establish another passageway in the sky between China and New South Wales, to help facilitate and promote trade development and tourism between the two cities," Mr Qu said.
Parliamentary Secretary to the Premier and Treasurer Jonathan O'Dea MP welcomed the new service which follows the NSW Government's recently announced partnership with the airline.
"The aviation industry remains a key player in turbocharging tourism growth across NSW and we look forward to working with Capital Airlines and our travel trade partners," commented Mr O'Dea.
Qingdao is a vital hub for Capital Airlines, as passengers can connect onto the airline's new Vancouver or London Heathrow services, or utilise its partner HNA Group's services through Qingdao Liuting Airport to 17 domestic ports across China. Qingdao also has a 72-hour visa-free transit policy for Australian passport holders transferring via the airport.