Hong Kong cargo company takes top spot in carbon reduction awards
Ventilation and air conditioning changes have helped Hong Kong Air Cargo Terminals Limited (Hactl) come up trumps in a carbon reduction awards scheme.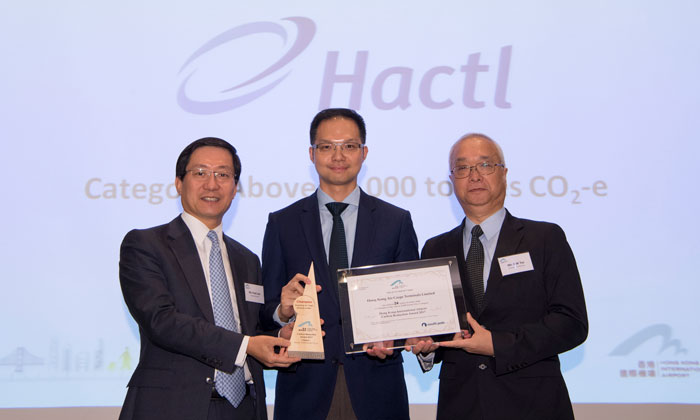 FIRST WINNERS: Benny Siu, Hactl's Senior Manager – Quality Assurance, receives the award from Mr. Fred Lam Tin-fuk, CEO of Airport Authority Hong Kong (left) and Mr. Tse Chin-wan, Under Secretary for the Environment (right)
Hong Kong Air Cargo Terminals Limited (Hactl) has taken top place in the first ever Hong Kong International Airport Carbon Reduction Awards, in the above 10,000 tonnes category.
The award scheme, sponsored by the Airport Authority, recognises the best carbon reduction performers, as well as best practice and innovation in carbon reduction, among the 54 airport business partners signed up to the initiative. To enable fair comparisons, all participants are grouped into three categories according to their annual carbon footprints: below 2,000 tonnes, 2,000 to 10,000 tonnes, and above 10,000 tonnes.
Hactl's award as overall category winner was given for its outstanding carbon reduction achievement, measured monthly through the Airport Authority's Carbon Audit System, and using 2015 as a basis. As one of the airport community's largest and most industrialised operators, Hactl's own efforts have helped the airport to achieve its overall target of 25 per cent carbon reduction.
Significant contributors to Hactl's latest reduction success were optimisation of the mechanical ventilation and air conditioning chiller plant through re-programming, and greater use of the most efficient units; the installation of plastic strip partitions dividing the Box Storage System from the rest of the cargo terminal, reducing warm air leakage into the air conditioned zone; and the installation of high intensity lights above the driveway of the Cargo Storage System, and replacement of fluorescent lighting at the cargo transfer point with low level 100W LED lighting.
Hactl's Senior Manager – Quality Assurance, Benny Siu received the company's award from Mr. Fred Lam Tin-fuk JP, Chief Executive Officer of Airport Authority Hong Kong, and Mr. Tse Chin-wan BBS, JP, Under Secretary for the Environment, at a ceremony attended by the top managements of the airport business partners participating in the scheme.
Says Siu: "It is very gratifying to have Hactl's continuing achievements recognised in this way. Our carbon footprint has been steadily reduced from 2008 to 2015, with an independently-audited reduction of 12 per cent from 2011-2013 alone.
"As we become more and more environmentally friendly, it naturally becomes more challenging to make significant further improvements. Nevertheless, we target 5% further carbon reduction by 2020, and will continue to look for new and better ways to run our terminal so that its overall environmental impact – not just in carbon footprint terms – is minimised."
Previous Hactl environmental awards have included Gold in the Hong Kong Awards for Environmental Excellence (Transport and Logistics) in 2015, and Payload Asia's Green Award (Customers' Choice) in both 2016 and 2017.