New Israeli airport to be protected by 30-metre-tall 'smart' fence
Planes flying into Israel's newest airport when it opens next year will be protected by cutting edge technology mirroring that used on national borders.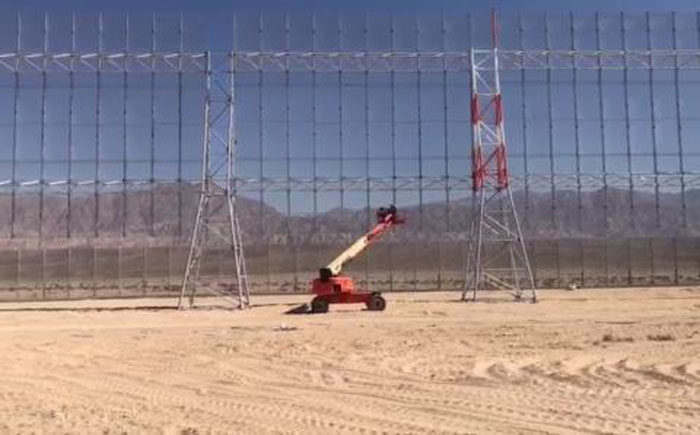 TOWERING: A section of the fence Photo: Israel Ministry of Defence.
Israel's Ministry of Defence announced on Monday that Eilat Ilan and Assaf Ramon International Airport will be girdled by 4.5km of high-tech fencing.
It will mirror the 30km defences currently in play at the Israel-Egypt border and the Golan Heights.
The 30m fence will be studded with sensors designed to detect movement and protect planes arriving and departing through the civilian airport from various threats.
Defence Minister Avigdor Lieberman said: "We are constantly working to strengthen security components on all borders in the face of current and future challenges.
"This unique obstacle we are building in the Arava (the region region of southern Israel adjacent to the Gulf of Aqaba) to protect the new airport is yet another proof of the creativity and ability of the defence establishment." 
The project will be developed with the help of dozens of contractors from the Israeli Engineering and Construction Division and the Border and Sewerage Administration.
Its construction will require clearing 13km of old minefields and corrosion prevention solutions due to the fence's proximity to the sea.
When it opens early next year, Eilat Ilan and Assaf Ramon International Airport will become the first new civilian airport to be built in the country since 1948. The first test flight successfully touched down on the runway in September.