Frankfurt Airport welcomes Lufthansa Airbus A320neo
Posted: 15 February 2016 | Katie Sadler, Digital Content Producer, International Airport Review | No comments yet
On 12 February 2015, Deutsche Lufthansa officially launched the world's first Airbus A320neo aircraft at Frankfurt Airport, adding another aircraft type to the airport's portfolio…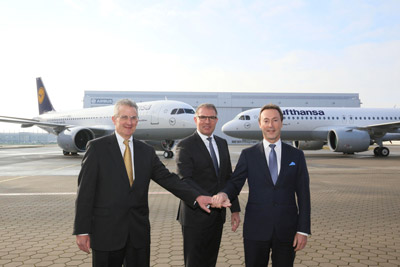 Lufthansa takes delivery of the world's first Airbus A320neo as launching customer. Robert Leduc, President of Pratt & Whitney (aircraft engine manufacturer), Carsten Spohr, Chairman of the Board and CEO of the Lufthansa Group, Airbus President and CEO Fabrice Brégier
The Lufthansa Airbus A320neo is equipped with state-of-the-art technology designed to improve quality and comfort for passengers and provide effective noise reduction.
Lufthansa intends to deploy a total of five new Airbus A320neo aircraft from Frankfurt Airport by the end of 2016. Fraport, the owner and operator of Frankfurt Airport, welcomes Lufthansa's latest fleet enhancement, since the A320neo is one of the quietest and most energy-efficient aircraft models for short and medium-haul flights. The departure noise footprint of the new aircraft type is almost 50 percent smaller than that of its predecessor, according to aircraft manufacturer Airbus. The aircraft will also be equipped with vortex generators on delivery, which have an additional noise-reducing effect.
Airbus A320neo departure noise footprint 50% less than predecessor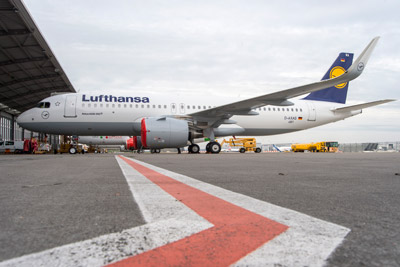 Commenting at the launch, Fabrice Brégier, Airbus President and CEO, said: On behalf of everyone at Airbus, I congratulate Lufthansa on being the A320neo launch customer. Together, we're opening a new chapter in commercial aviation and I am confident that the A320neo will support Lufthansa objective to raise its environmental performance. The A320neo not only cuts emissions at every operational stage but also halves its noise footprint compared to previous generation aircraft."
Further information of the A320neo can be found here.
Frankfurt Airport insists it will continue to work closely with aircraft manufacturers and airlines in order to master the challenges that can be related to the introduction of new aircraft types.