Aarhus Airport announce deal set to bring 200,000 new passengers to the airport every year
Scandinavian Airlines System Aktiebolag (SAS) is investing hundreds of millions DKK in Aarhus Airport. East Jutlanders to create new direct routes to Oslo, Stockholm, Munich, Mallorca and Split.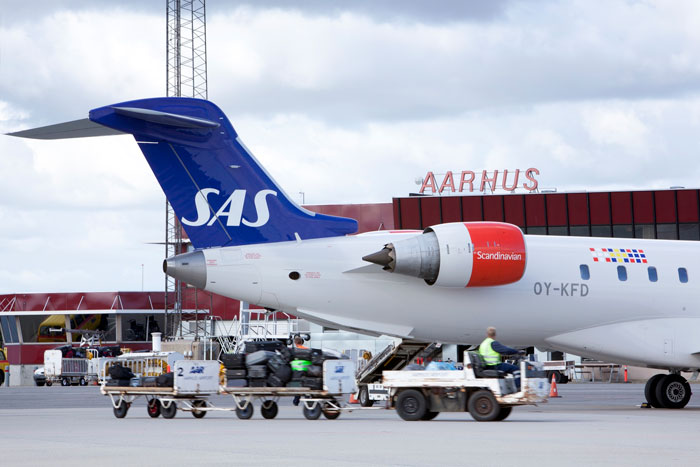 LINKING UP: SAS and Aarhus Airport strengthen ties.
This morning (October 5) Denmark's Aarhus Airport and Swedish-based airline group SAS announced plans to expand 'strategic cooperation'.
Executive Vice President of SAS, Lars Sandahl Sørensen, told those present at a press conference in the airport that SAS was investing hundreds of millions DKK in the city airport.
This investment would enables 3,000 new departures, more than 300,000 new tickets for sale and around 200,000 new passengers at the airport. All within the first year of the new cooperation.
"We see big potential in the region. We are strengthening our domestic service with extra daily departures between Aarhus and Copenhagen, which creates better opportunities to use air travel to Copenhagen, where there is access to our global network. Furthermore, we are creating direct departures from Aarhus to holiday destinations and will continue to develop these. This is a big venture for SAS together with Aarhus Airport and it will create many new jobs in and around Aarhus", said Mr Sandahl Sørensen.
SAS is creating five new international departures from the city to Oslo, Stockholm, Munich, Mallorca and Split. Furthermore, the route between Aarhus and Malaga will become an all year-round route that means SAS now offers seven destinations to and from Aarhus.
SAS is simultaneously increasing the number of departures between Aarhus and Copenhagen by 20 per cent, thereby strengthening the cohesion between East and West Denmark.
With this new cooperation agreement, the airport faces growth in the airport's traffic of more than 50 per cent, much to the apparent satisfaction of Chairman of Aarhus Airport, Torben Boldsen. He underlined that the cooperation with SAS is, among other things, an attempt to feed the demands from the airport's business clients.
He said: "A year and a half ago we asked businesses in East Jutland what they wanted with regard to the airport's traffic. The answers all pointed to direct flights to Oslo and Stockholm as well as more frequent service to Copenhagen. The common denominator for all three requests is SAS, which is the only airline that flies to all three destinations. That is why it is with great joy and pride that we now can present a substantial expansion of the airport's traffic in exactly the areas that there is a demand for."