Berliners vote to keep Cold War airport running – but will they be listened to?
Politicians from all major political parties took part in the extracurricular battle for hearts and minds that was the Tegel campaign. But was it worth it?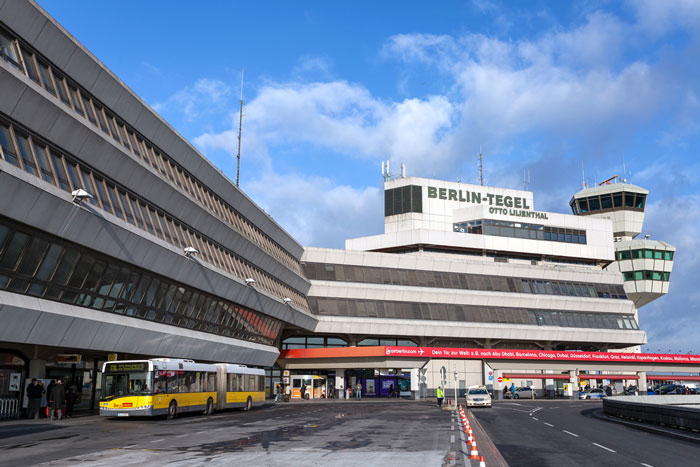 ON BORROWED TIME? Tegel Airport can trace its history back to the early days of aviation
It was a vote nearly as divisive as the general election it coincided with. In the weeks leading up to it, the race grew tighter and more bitter. A heated exchange at a debate reported by the BBC even saw a speaker's commitment to democracy itself being questioned.
And what was it all about?
Berliners were asked whether Tegel Airport, a 60-year-old relic of Cold War-era Berlin, should stay or go.
The answer? Stay. The official result announced yesterday (September 24) has 56.1 per cent of Berliners standing up for the hub which was once the biggest airport in West Berlin. But for all the passions stirred up by the debate, it may prove meaningless.
For years, Tegel has been billed to fall to wrecking balls six months after its successor, Brandenburg (BER), is up and running. Pro-Tegel campaigners argued that the city needs two airports, that Brandenburg alone will not be enough to serve one of Europe's busiest cities. To spare the airport, they sent out a petition which by April had garnered more than 200,000 signatures. This was enough to trigger a referendum on the matter and forces gathered on both sides, often championed by political heavyweights, for confrontation at the ballot boxes on September 24. And though 992,000 of the 1.7 million eligible voters wanted it to stay, the demolition plans remain unchanged.
Flughafengesellschaft Berlin Brandenburg (FBB), the company that runs Tegel (TXL) and Berlin Schönefeld (SFX) and is building Brandenburg, is sticking to its guns.
Speaking to International Airport Review, Hannes Stefan Hönemann, Head of Corporate Communication at FFB, said: "From day one of operation at BER, TXL will switch to a six month standby mode and will close after this period.
"Based on the unchanged plan regarding the BER opening and the closing of TXL as legal mandatory consequence, the intention is still the same: every investment that is needed in order to keep TXL running until the opening of BER will be taken. 
"The staff (currently working at Tegel) will be fully incorporated. Between the opening of BER and 2025 we still will have two airports in operation: BER and SFX."
The referendum is far from legally binding for FBB, and will only serve to turn up the pressure on the Berlin local authority who are officially for the demolition. They say the site Tegel currently occupies can better serve the city as housing, much needed in the German capital, and an IT start-up hub. One of the most vocal no campaigners, Matthias Kollatz-Ahnen, Finance Director in Berlin's Regional Government, made it clear that he did not believe the airport had a commercially viable future in an interview with the German newspaper Berliner Zeitung.
Responding to a question about Mr Kollatz-Ahnen's estimated budget of more than €1 billion simply to keep the airport operational, Mr Hönemann outlined the "main positions regarding the need of modernisation or renovation" at Tegel. These covered the estimated €1 billion and included €270 for the terminals, €270 for runways, parking and operation infrastructure, and €250 million for service facilities. 
Sebastian Czaja, the Secretary General of the Free Democrats, was the face of the campaign, called Berlin Braucht Tegel (Berlin Needs Tegel). His campaign secured the votes necessary to spark a referendum. 
Speaking in Welt, the 35 year old said: "For the Mayor Michael Müller, there is now an unequivocal task to implement the legally-possible retaining of Tegel with respect and vigour. This vote cannot be corrected like an inspiration-free coalition agreement. Berlin has decided clearly with heart and mind."
On his Twitter, he wrote: "56.1 per cent of you have opted for a functioning city, for keeping TXL open. Thank you!"
Currently, Berlin is expected to get its much-anticipated upgrade in 2019. And for £4.7 billion more than it was initially budgeted for. Tegel's closure could, concerned politicians like Mr Czaja say, leave a blackhole shaped like 20 million people to be filled by Berlin Schönefeld Airport – the city's second airport currently serving 11 million a year.