Passenger capacity on growing route boosted by bigger jets
Singapore Airlines will soon boost their passenger capacity by as much as 53,000 every year on the growing Singapore-Brisbane route.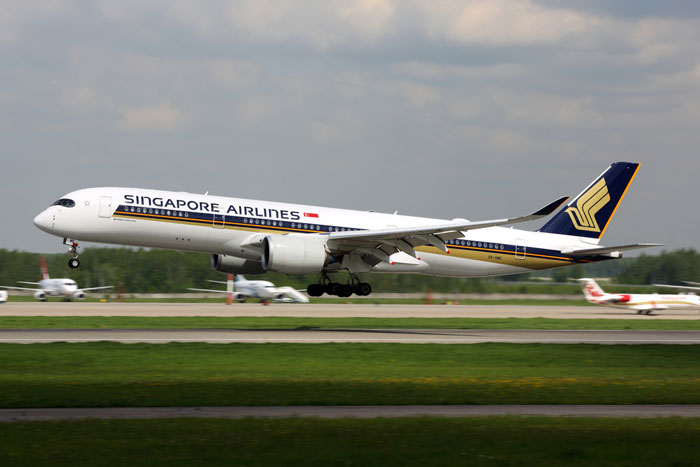 The new A350 will be sporadically introduced from October
Days ahead of increasing services from 24 to 28 flights per week between Singapore and Brisbane Airport, the airline has announced it will operate the brand new A350-900 aircraft for three of its four daily flights.
Moving from the A330-300 will mean an increase in passenger capacity in the new Premium Economy cabin and Business Class.
The introduction of the three new aircraft will occur over a four month period starting from Monday October 16 2017, when SQ235/256 will change from an A330-300 to the A350-900.
Compared to current operating capacity, by January 2018 Singapore Airlines' overall Singapore-Brisbane capacity will increase by 53,040 seats per annum (two way).
A show of confidence
Julieanne Alroe, Brisbane Airport Corporation CEO and Managing Director, welcomed the announcement saying the increase in Premium Economy and Business Class passenger capacity demonstrates Singapore Airlines' confidence in Brisbane, and the economic outlook moving forward.
She said: "The passenger mix is changing and it's evident more travellers are wanting a premium experience so it makes sense for Singapore Airlines to bring the state-of-the-art A350 into the Brisbane market.
"Combined with Singapore Airlines' brand new airport lounge at the International Terminal and our award winning customer service, Brisbane Airport is increasingly becoming the gateway of choice for discerning business and leisure travellers,"
The increase in size creates space for 24 seats in the new Premium Economy cabin, a class not available on the A300. Every year on the Singapore-Brisbane run there will be 52,416 seats available in this new cabin.
Singapore Airlines is the only international carrier to offer four daily return frequencies on a single route from Brisbane.
Last financial year it carried more than 690,000 passengers to/from Brisbane and, from January 2018, will be offering 750,000 seats over 2,900 annual aircraft arrivals/departures, reinforcing Singapore Airline's major presence in Brisbane.
Singapore Airlines is also an important contributor to Queensland tourism, drawing in visitors from a variety of countries including Germany, India, Japan, the Netherlands, the Philippines, the UK, Vietnam, Indonesia, and Scandinavia.