Aruba Airport Authority and Vision-Box sign an exclusive partnership
James Fazio, the CEO of Aruba Airport Authority, and Miguel Leitmann, the CEO of Vision-Box, announced a new partnership between both organisations. Aruba Airport Authority and Vision-Box have decided to sign an exclusive partnership for the further evolution of the Aruba Happy Flow.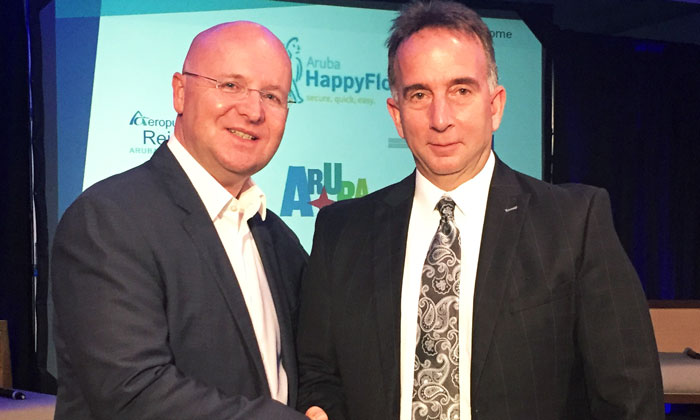 The goal of the partnership is to:
Sustain the leading position of the Aruba Happy Flow in the global aviation industry
Ensure the usage of leading edge Vision-Box technology at Aruba Airport enabling unique value propositions for the airport and high-profile recognition and showcasing for Vision-Box
Creating a knowledge and experience centre on seamless travel
"The Aruba Happy Flow Proof of Concept has exceeded our expectations during these 2 years, paving the way for a new direction for the airport," said James Fazio, CEO of the Aruba Airport Authority. "On the other hand, with this new partnership with Vision-Box, we are now very excited to get the opportunity to establish a pioneering Centre of Excellence, where we aim to understand tendencies, develop new products and technologies in a real-life environment and support local economy. This combined effort will surely mark another milestone in the development of the future airport. "
The partnership will profile Aruba Airport as an airport that drives change with passenger-centric focus, creating value for their stakeholders and an excellent passenger experience. Furthermore, the partnership should provide skills development for Aruban and international students through the Vision-Box Centre of Excellence, while building a strong foundation for sustainable airport solutions.
Miguel Leitmann, Vision-Box CEO highlights that "This is indeed a great partnership. Aruba airport has already embraced the new era of the digital airport concept and it will soon benefit further from our game-changing technology for the Gateway 2030 project. We are convinced that this partnership will be the ground base for the next generation of Happy Flow, reaffirming Aruba Airport as an innovation centre for passenger facilitation and projecting Aruba with a highly recognisable worldwide airport". 
The Strategic Partnership is built on four pillars:
Both partners are committed to invest in evolving the Aruba Happy Flow platform. New functional solutions will be (co-)created and assessed at Aruba Airport.
Gateway 2030, first airport designed for Happy Flow
Aruba Airport and Vision-Box share the vision that the design of the Gateway 2030 project, should fully harvest the benefits of the Aruba Happy Flow platform as a terminal-wide solution.
The Centre of Excellence (CoE) at Aruba Airport is designed to combine the strength of Aruba Airport as a facilitator for innovation with the strength of Vision-Box as a technology innovator.
Aruba Airport and Vision-Box will realisev a high quality and continuous showcase for the Happy Flow solution.
Aruba Happy Flow is the result of a cooperative consortium composed of the governments of Aruba and the Netherlands, Schiphol Group, KLM, Aruba Airport Authority and Vision-Box.
Related topics
Related airports
Related organisations