The internet goes gaga over giggling man at airport
A YouTube video has gone viral after it showed a man giggling at a boarding announcement at Dubai International Airport.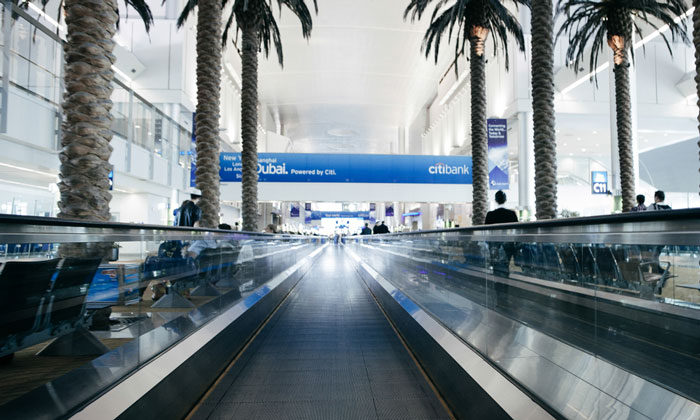 While a seemingly benign event, the man couldn't contain his delight and surprise because the language being used for the announcement was his own regional dialect of Javanese, seldom heard outside of Eastern and Central Java, an island off Indonesia. "I have never even heard Javanese flight information in Indonesia itself, so it was really amazing to hear it in Dubai." said Wahyu Pratomo, who recorded the video and uploaded it to YouTube and Instagram.
Already viewed more than 200,000 times on YouTube, the story has been picked up by news outlets across Indonesia and Asia, including BBC Indonesia. Petr Otoupal, CEO of Simpleway, the company that provides voice announcements to airports across the world, was delighted to see the happiness on the man's face: "It was lovely to see," he said and explained that Dubai International Airport had requested announcements in Javanese from Simpleway.
"We've built a reputation as having one of the world's biggest and best voice libraries for airport announcements, so when Dubai International Airport asked if we could provide announcements in Javanese, we were happy to oblige." But it wasn't easy finding a Javanese voice talent, particularly when Simpleway is headquartered in Prague in the Czech Republic.
"We always insist on having professional voice talents for our announcements," said Otoupal, "but sometimes, when it is a lesser used language, it can be a real challenge to find someone of the right calibre. "However, in this particular instance, it was a happy coincidence that we found the perfect person, Widya Sykorova, living right on our doorstep in Prague."
As for Ms Sykorova herself, she has been inundated with requests for media interviews since the video began to be shared globally. "It's hard to be an instant celebrity," she laughed. There are currently only two airports in the world using Javanese: Dubai International Airport and Adisutjipto Airport in Yogyakarta, Indonesia.
Related topics
Related organisations