Gatwick awards two construction frameworks to guide £1.15bn transformation
Gatwick Airport has today announced the award of two new Frameworks for construction activity at the airport in support of its recently announced five-year Capital Investment Programme.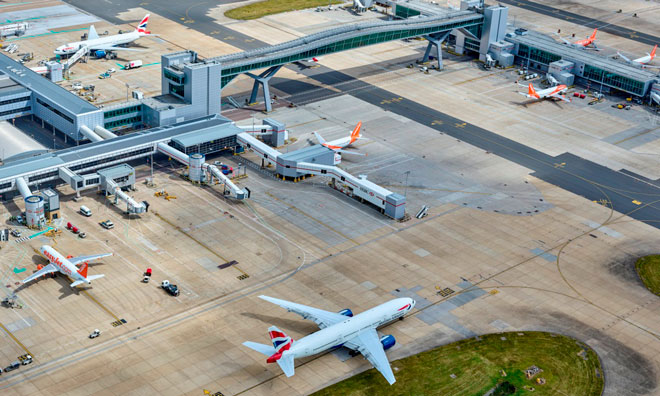 Two frameworks to guide construction activity at Gatwick awarded
A total of 18 specialist consultancies selected
Gatwick will invest £1.15 billion in transformation over next five years
The Design and Engineering Services Framework and the Professional Services Resource Framework will have a pool of 18 specialist consultancies to select from to support the five year plan. This follows a rigorous procurement process which involved interest from more than 250 organisations, with more than 130 formal applications being evaluated by Gatwick.
Gatwick's Director of Construction Raymond Melee said:
"It's an exciting time at Gatwick as we kick off our five-year Capital Investment Programme with £1.15 billion committed up to 2022 and £240 million planned for 2017/18 alone.
"We are halfway through a £2.7 billion transformation programme as we plan for more growth and improved efficiency, while also maintaining our record levels of passenger satisfaction.
"I look forward to working with these specialists to boost our in-house teams as we move through the various stages of our projects."
The Design and Engineering Framework has awarded preferred bidder status to 13 consultants as listed below:
Low Complexity Architecture: Pascall + Watson, Atkins, 3DReid
Low Complexity Structures & Civils: WSP, Jacobs, RPS, AMEY OW, Ramboll
Low Complexity Engineering (M&E): WSP, Cundall, TSP, Hulley & Kirkwood
Medium/High Complexity Design: WSP, RPS, Chapman Taylor/Arcadis, Arup, Jacobs
By classifying projects according to complexity, rather than value, Gatwick has set up agreements with these organisations which will provide opportunities in building, civil engineering and mechanical/electrical design across small, medium and large projects.
At the same time Gatwick has ambitions to work in an integrated, collaborative and sustainable way with its supply chain. It expects consultants to support the airport's business objectives and to contribute to its environmental and health and safety targets under the Decade of Change reporting structure that Gatwick began in 2010. 
The Professional Services Resource Framework has been awarded to seven organisations who will support Gatwick over the next four years with the supply of commercial and project management resource such as contract administrators, cost engineers, estimators, project managers, engineers, planners and risk managers.  In addition, some may be called upon for principal design services, traffic consultancy, business planning and whole life costing.
Arcadis
Faithful + Gould
Robinson Low Francis
Doig and Smith
Currie & Brown
WSP UK
AECOM
These organisations will assist the airport at times of peak activity. Working alongside the Gatwick Airport capital delivery team, they will play a critical role in supporting the delivery of the Capital Investment Programme, and will allow the airport to flex its resource levels depending on the cycle of its programmes of work.  
Projects include: reconfiguring stands to facilitate a changing aircraft mix, building a new hangar in partnership with Boeing, extending Pier 6 to increase pier service levels well beyond its 95% target, adding a new domestic arrivals facility in South Terminal and continuing to roll out its popular self-service bag drop product.