London Stansted sets new passenger record for June as cargo total hits all-time high
Busiest ever June at Stansted beating record set in 2006.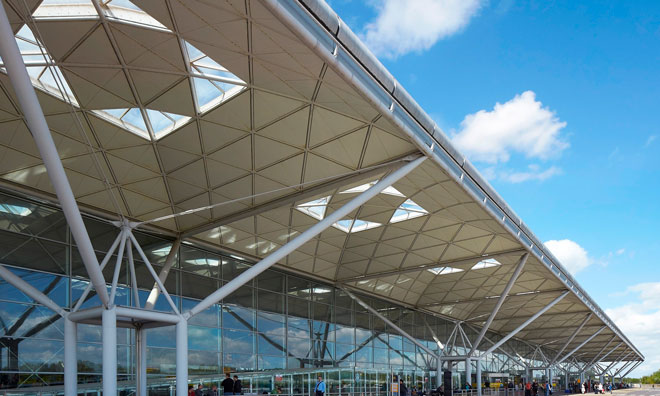 Annual passenger total up 6.2% to over 24.9 million
Cargo total hits all-time high with goods worth over £12bn
London Stansted welcomed over 2.3 million passengers to the airport during June this year, up 7.9% over the same month in 2016 and a new record for the month of June, surpassing the previous high set eleven years ago in 2006.
The biggest year-on-year growth came from Denmark and Cyprus with Ryanair now serving Copenhagen and Jet2.com flying to both Larnaca and Paphos.
In the 12 months ending June 2017, Stansted's passenger numbers grew by 6.2% over the previous year with the moving annual total now standing at over 24.9 million.
The volume of cargo passing through the airport continues to rise with over 22,000 tonnes of goods, products and mail being transported during the month, equivalent to moving over 100 Statues of Liberty. The annual total now stands at nearly 259,000, up 4.3% over the previous year and an all-time record for the amount of cargo moving through Stansted in a 12 month period.
Stansted Airport CEO, Andrew Cowan said:
"Passenger traffic at London Stansted continued to grow strongly in June as we recorded yet another record breaking month as our airline partners add even more new services, choice and extra capacity on the most popular routes in response to increased demand from people wanting to fly from their local airport.
"Stansted will very shortly pass 25 million passengers a year for the first time ever as we head towards the main holiday getaway and our busiest summer on record, another clear indication of the rapid growth the airport has experienced over the past four years and highlighting the critical role Stansted can play in supporting the UK's economic growth and increasing our global competitiveness over the next 10-15 years by making use of Stansted's spare capacity.
"The airport's cargo operation is also reporting significant growth with the volume and worth of goods, products and mail passing through the dedicated facilities now reaching an all-time annual high – the value of all the cargo and freight moving through Stansted is now over £12bn a year. This demonstrates the major benefit a global cargo network provides, connecting not only the fast growing east of England region to the world but also businesses in London and across the UK that trade internationally."
Stansted Airport owner, MAG, has also today published its annual results for the year ending March 2017. Full details can be found at http://mediacentre.magairports.com/mag-delivers-sixth-year-of-consecutive-growth/.
Related topics
Related airports
Related regions