New £65 million centre to spearhead UK research in digital aviation technology
It has been announced today that a new £65 million Digital Aviation Research and Technology Centre (DARTeC) will be built at Cranfield University to spearhead the UK's research into digital aviation technology. Once constructed, DARTeC will provide research facilities unprecedented in Europe.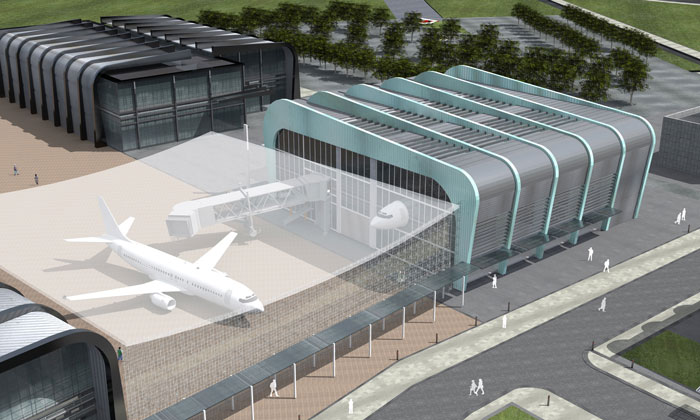 The Centre will address such research challenges facing the aviation industry as:
the integration of drones into civilian airspace
increasing the efficiency of airports through technological advances
creating safe, secure shared airspace through secure data communication infrastructures
increasing the reliability and availability of aircraft through self-sensing, self-aware technologies
Game-changing technologies such as a virtual air traffic control tower and next-generation radar technologies on the University's licensed airport will also provide a Civil Aviation Authority-approval route that promises increased efficiency, flexibility and capacity.
Funding for DARTeC will be provided from a consortium of leading aerospace and aviation companies including Thales, Raytheon, SAAB, Monarch Aircraft Engineering Limited, Boeing UK and Aveillant – as well as Cranfield University. The Centre is also benefiting from £15.5m of funding from the UK Research Partnership Investment Fund (UKRPIF), a scheme led by the Higher Education Funding Council for England (HEFCE).
Professor Sir Peter Gregson, Chief Executive and Vice-Chancellor of Cranfield University, said: "This is a fantastic example of business, academia and Government coming together to create world-leading research facilities. Together with the Aerospace Integration Research Centre and the University's own airport, the construction of DARTeC will see Cranfield offering the leading aerospace and aviation research facilities in Europe.
"The research at Cranfield will develop solutions for the aviation sector in the 21st century through collaboration between universities, business, government and regulatory authorities."
Principal Investigator for DARTeC and Director of Transport Systems, Professor Graham Braithwaite, said: "The Digital Aviation and Research Technology Centre will greatly advance the application of new innovative technology within the air transport sector. Here at Cranfield, we are shaping the future of airports, aircraft, airspace and airlines, through the power of our research capabilities. The implementation of new novel technologies has the capacity to transform the way air transport operates, bringing greater efficiency and heightened safety."
Universities and Science Minister Jo Johnson said: "The UK's world-renowned leadership in science, research and innovation is helping to solve a range of national and global challenges, and the breadth of the projects funded today means this will continue. 
"Through our Industrial Strategy and £4.7 billion investment for research and development, we're ensuring we capitalise on the great work taking place in universities across the UK and remain at the forefront of innovation."  
This is one of nine projects announced as part of the current round of UKRPIF funding. David Sweeney, HEFCE's Director of Research, Education and Knowledge Exchange and Chief Executive Designate of Research England, said:
"I am delighted that we are able to support these nine projects that will deliver high class facilities and world leading research, enabling UK universities to continue to tackle major national and global challenges, and make a significant contribution to economic growth."
Related organisations
Related regions