Munich half-year passenger total tops 20 million for the first time
Munich Airport posts record figures for passengers and aircraft movements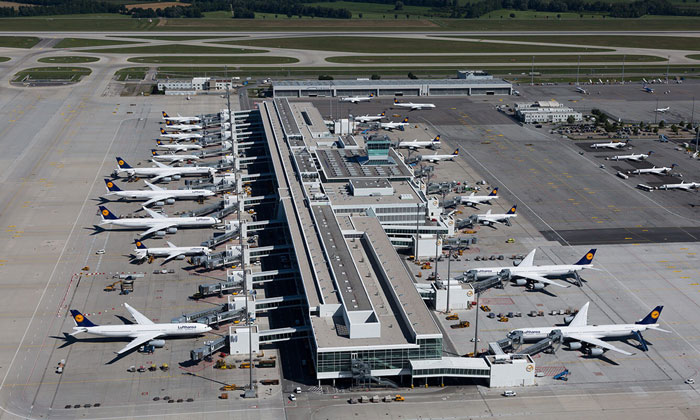 Over the first six months of 2017, Munich Airport posted the best half-yearly figures in its history: with the 21 million passengers handled during that period, the airport topped the 20 million mark for the first time. That number matches the full-year figure for 1999, and convincingly demonstrates the powerful growth dynamic achieved by Bavaria's international hub. In relative terms, passenger traffic was up by around 6 percent as compared with the same period in 2016. As in the previous year, the airport again saw a 4 percent increase in total take-offs and landings to approximately 200,000. The freight segment also reported a new all-time high, with a 9 percent year-on-year increase in cargo turnover to approximately 180,000 tons.
With the substantial traffic increases, Munich Airport outpaced the industry as a whole in Germany – largely on the strength of a strong performance by the European traffic segment, which showed an impressive 8 percent year-on-year increase in total passengers. Meanwhile, passenger traffic in the intercontinental segment and on domestic routes was up by 6 percent and 4 percent, respectively. "Today, 25 years after it opened, Munich Airport is indeed looking stronger than ever before," said Dr. Michael Kerkloh, the airport's president and CEO, who presented the half-year figures at the Munich Press Club. He also noted the airport's outstanding prospects going forward.
The future outlook has benefited in particular from three key strategic moves by the Lufthansa Group. First: The airline with the distinctive crane logo on the tail will station the first 15 of its 25 new Airbus A350 widebody jets in Munich. This will yield economic benefits and is also a boon to the environment: In addition to very substantial fuel savings of 25 percent achieved by the A350 as compared with its four-engine predecessor, the Airbus A340, it also has a 50 percent smaller noise footprint on takeoff. Second: When the 2018 summer timetable begins, Lufthansa will have five of its 14 A380 aircraft stationed in Munich for the first time. Bavaria's hub will join London, Paris and Frankfurt to become the fourth European airport to be home to an A380 fleet. The gigantic Airbus will be used on routes to Hong Kong, Beijing and Los Angeles. Third: Coming as a further boost to Munich's competitiveness is the decision by Eurowings to station aircraft here. Since the start of this year's summer timetable, the airport has been the home base for several Eurowings planes serving around 30 destinations in Europe.
"With the foreseeable increases in intercontinental traffic, our high-quality airport will attain a new standard of quality in the coming years. We will then be equally well positioned as a hub across all traffic segments," said CEO Michael Kerkloh. His final assessment: "We're now in the enviable position of being poised to add more chapters to our success story for the next 25 years – in the interests of Bavaria and the people who live here."
Related topics
Related airports
Related regions