New agreement to boost Heathrow rail services
Heathrow, Transport for London (TfL) and the Department for Transport have agreed a commitment to boost integrated rail connectivity to the airport, including the addition of two new Elizabeth line trains per hour serving Terminal 5 from December 2019.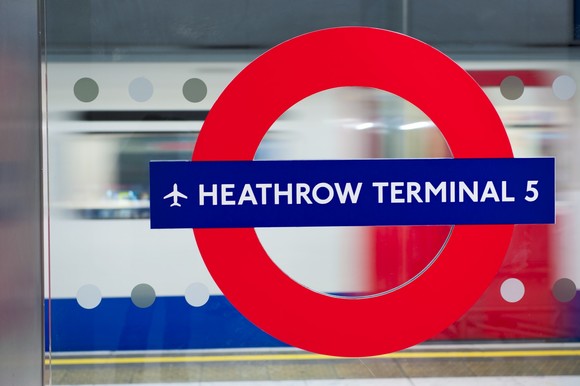 Elizabeth line services to serve Terminal 5
From 2019 at least 22 trains per hour connecting Central London and Heathrow – up from 18 today
Thousands of rail passengers to benefit from the convenience of Oyster and contactless ticketing – including on the Heathrow Express 
New services will increase choice of routes in and out of airport, strengthening rail network resilience for future generations  
Under the plan, services to Heathrow will increase from 18 trains per hour today to at least 22 trains per hour in 2019, of which six will be on the Elizabeth line. A train will depart Central London to Heathrow on average every two-and-a-half minutes – including two Elizabeth line trains per hour to Terminal 5. Journey times to Heathrow from Bond Street will be 27 minutes, Liverpool Street 35 minutes and Canary Wharf will be only 39 minutes away on a direct train. There is also an ambition to add further services in the future. A joint feasibility study is underway to look at delivering a further two Elizabeth line trains per hour to Terminal 5 meaning eight Elizabeth line trains per hour serving Heathrow, as well as additional work on developing western rail access to Heathrow.
An interchange at Old Oak Common will connect High Speed 2 to Heathrow via the Elizabeth line in under 20 minutes, from 2026. Four Heathrow Express services from Paddington will continue to run every 15 minutes offering a fast 15-minute connection between Heathrow and central London.
From May 2018, new ticket readers will be installed at Heathrow, meaning passengers using Heathrow Express and TfL Rail between Paddington and Heathrow will be able to use pay as you go Oyster or a contactless device. The new ways to pay for journeys to the airport will mean more convenience and flexibility for passengers. Passengers travelling on the Heathrow Express will benefit from easier on-the-day ticketing and can still purchase tickets in advance online from as little as £5.50.
The initiative will support Heathrow's plans to ensure that half of all journeys to and from the airport are by electric or low emission public transport by 2030. Together with planned co-operation in developing Heathrow's bus service network, passengers travelling to and from Britain's biggest airport can expect: 
Convenient and flexible ticketing with Oyster and contactless payments on all services
Easier, more frequent access to all terminals 
Shorter journey times from more places across London and the UK
More sustainable travel choices 
Improved travel network resilience 
Heathrow CEO John Holland-Kaye said: 
"This agreement is a big step forward. Together Heathrow, TfL and the DfT are working together to boost rail connections to the UK's hub, giving our passengers more choices to travel sustainably between Heathrow and London. With 22 trains per hour, an ambition to add even more services and easy to use Oyster and Contactless ticketing, Heathrow will be at the heart of an integrated transport network and our passengers will reap the benefits."  
Mike Brown, London's Transport Commissioner, said:
"We have been working with Heathrow on how we can deliver the best services for customers to and from the airport. It is great news that we can now confirm that the Elizabeth line will serve all the Terminals."
Rail services to Heathrow from December 2019: 
12 Piccadilly Line trains per hour – 6 trains serving Terminals 2, 3 and 4 and 6 trains serving Terminals 2, 3 and 5
6 Elizabeth Line trains per hour – 4 trains serving Terminals 2, 3 and 4 and 2 trains serving Terminals 2, 3 and 5
4 Heathrow Express trains per hour – all trains serving Terminals 2, 3 and 5