Record breaking April as Gatwick adds 500,000 passengers
Gatwick Airport welcomes 3.8 million passengers travelling through the airport this April, +15% on 2016, and marking 50 months of consecutive growth.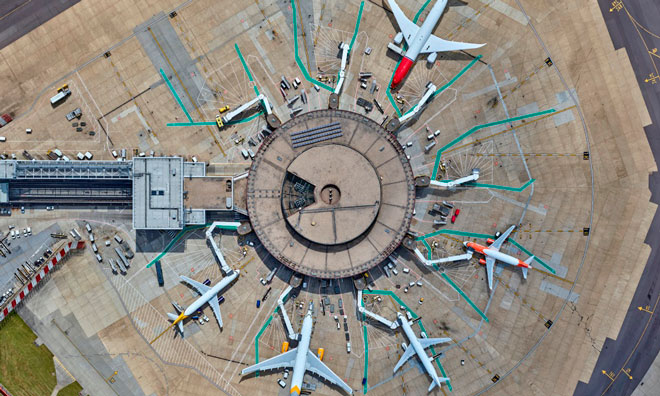 3.8 million passengers travelled through the airport in April, +15% on April 2016
Long-haul growth +23% consequently driving impressive cargo growth of +27.2%
To celebrate the busiest-ever April in Gatwick's history, today a video has been released showing a day in the life of the World's busiest runway
The airport benefitted from the whole of the Easter school holiday falling in April, with an additional 496,200 passengers passing through the airport.
Long-haul routes continue their booming growth at Gatwick, +23% on April 2016 and driving a +27.2% cargo increase – once again demonstrating Gatwick's key role connecting Britain to important growth markets when these links have never been more crucial.
North Atlantic routes performed particularly well +35.2% with New York +70%, Los Angeles +56% and Fort Lauderdale +53%.  
As well as the airport's long-haul growth, Gatwick's connections throughout the UK and Channel Islands performed strongly in April +10.7% on 2016, with Belfast +27%, Jersey +10% and Edinburgh +9%.
Gatwick Airport, Chief Executive Officer, Stewart Wingate said:
"Gatwick's vital role for Britain shines through our latest traffic figures as the airport continues to go from strength to strength as we gear up for our biggest Summer yet.
"Confidence in Gatwick is unrelenting as our existing carriers increase frequencies, Cathay Pacific will be providing a daily connection Gatwick to Hong Kong from June, and new routes are announced.
"We continue our trailblazing low-cost long-haul revolution, bringing more parts of the Globe within reach of more Britons, with the World's furthest low-cost long-haul connection just announced between Gatwick and Singapore, from Norwegian.
"Our booming long-haul routes have driven a huge cargo increase and at this crucial time for the country and the economy, Gatwick continues to stand ready and offers the UK Government a credible and deliverable option for runway expansion."
This April, long-haul growth continues to rocket, +23.0% on last year
This long-haul growth has driven a cargo increase of +27.2%
North Atlantic routes drove this long-haul growth +35.2% on this time last year
UK and Channel Islands routes grew +10.7%
 

Month

 

Moving Annual Total

 
 
 

Growth

 

May-16

May-15

Growth

Apr-17

Apr-16

(%)

 

Apr-17

Apr-16

(%)

 

 

 

 
 

 

 

 

Total terminal passengers (000s)

3,795.2

3,299.0

15.0%

 

44,465.5

40,914.2

8.7%

Market Analysis:

 
 
 
 
 
 
 

UK + Channel Islands

361.5

326.7

10.7%

 

4,027.3

3,646.8

10.4%

Ireland

137.0

126.5

8.3%

 

1,675.5

1,454.3

15.2%

European scheduled

2,428.6

2,123.9

14.3%

 

28,844.7

27,200.5

6.0%

European charter

288.5

250.8

15.1%

 

3,081.0

3,032.2

1.6%

North Atlantic

246.1

182.0

35.2%

 

2,933.8

1,977.2

48.4%

Other long haul

333.5

289.1

15.4%

 

3,903.3

3,603.1

8.3%

 
 
 
 
 
 
 
 
 
 
 
 
 
 
 
 

Air transport movements

23,715

22,497

5.4%

 

284,312

271,723

4.6%

 
 
 
 
 
 
 
 

Cargo (metric tonnes)

7,142

5,615

27.2%

 

82,666

68,891

20.0%