Gatwick and UK government support focus on US and Chinese markets
More than 150 business leaders attended Gatwick Airport's TAKE OFF 2017 event to hear a clear message: exporting is GREAT.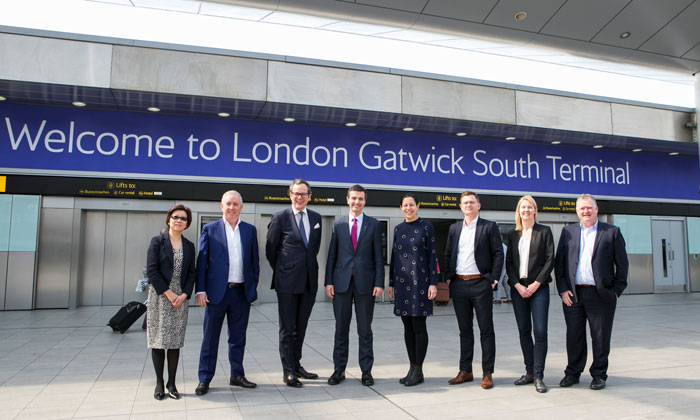 Gatwick teamed up with exporting is GREAT campaign to deliver TAKE OFF conference
More than 150 small to medium business owners attended the conference
Key speakers included PayPal, UPS, Martin McCourt and Lord Young
The 'TAKE OFF 2017: Grow Your Business Abroad' conference, designed to help businesses from London and the South East grow internationally, brought together a host of established exporters, government figures and support organisations to provide a mixture of practical advice and inspiration for those who are looking to expand their business to overseas markets.
Delegates heard from over 20 speakers including representatives from: Gatwick, PayPal, UPS, Funding Circle, Rocketspace, M Squared Lasers, Norwegian Air and Cathay Pacific. The conference was hosted by Michael Hayman MBE and brought to a close by former CEO of Dyson, Martin McCourt.
With a specific focus on the US and Chinese markets, delegates heard that the opportunities for starting or growing global sales have never been greater. With inspiring tales from entrepreneurs who are already exporting and advice from the companies that can help them, the audience was encouraged to make their businesses take off. 
The ever increasing number of passengers travelling through the airport each year has now reached 43 million and its booming long-haul services grew by +26.8% in 2016, continuing to demonstrate that Gatwick can connect Britain to important growth markets when these links have never been more crucial.
Gatwick long-haul network now reaches over 50 destinations and accounted for 14 per cent of the UK's aviation connectivity in 2016, delivering productivity benefits to the UK estimated at £1.1 billion.
Guy Stephenson, Gatwick's Chief Commercial Officer, said:
"We are delighted to have seen such a good turnout at this year's TAKE OFF event and hope these businesses feel inspired to grow their exports. Their success is vital to the future of our region and Gatwick is their gateway to global growth."
Matt Wood, VP of Network for Norwegian Air said:
"There are significant opportunities for businesses of all sizes to take off in the US market and the aviation industry has a vital role to play. Norwegian's rapid transatlantic growth at Gatwick has always focussed on serving the top destinations at the most affordable price. With more flights, new routes and lower fares planned, we look forward to giving lots more UK businesses an affordable springboard to global growth."
Martin McCourt, Chairman of the Board, Glen Dimplex Group and former CEO of Dyson, said:
"My advice to small businesses tackling overseas markets is to be bold, lead from the front and think big. There will no doubt be bumps in the road along the way but with high risk comes high achievement so it's important to believe in your business plan and grasp the opportunities out there."
Related airports
Related regions