Lufthansa to launch internet connectivity on short- and medium-haul flights
Posted: 28 June 2016 | Katie Sadler, Digital Content Producer, International Airport Review | No comments yet
From October this year, Lufthansa's short- and medium-haul aircraft will be fitted with broadband internet. The technology is expected to be installed on its entire A320 fleet by 2018.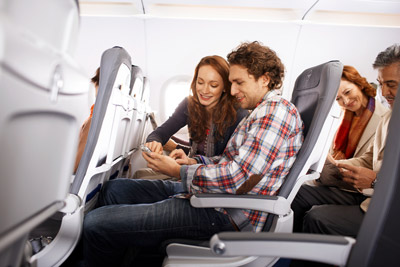 Passengers will soon be able to make use of broadband internet connectivity whilst travelling on Lufthansa's short- and medium-haul aircraft. With the benefits of the introduction expected in October this year, the airline has revealed that it expects to install the technology on its entire A320 fleet by mid-2018.
Lufthansa Technik is the first MRO company in Europe to have received the Supplemental Type Certificate (STC) from EASA to install a Ka-band antenna on the A320 family, i.e. the A319, A320, and A321 models. The STC serves to verify that the modifications to the aircraft (hardware or software) conform to the design specifications stipulated by EASA. Said specifications ensure aircraft's continued airworthiness.
Lufthansa has already installed the technology on one aircraft. In the coming weeks, the on-board system will be tested for functionality and stability.
Lufthansa passengers will be able to stream videos to their mobile devices via wi-fi
According to the airline, the broadband satellite technology (Ka-band) – developed by Inmarsat – will deliver seamless, reliable coverage on short- and medium-haul flights through Inmarsat's Global Xpress network. Passengers will be able to access the internet using their own mobile devices via wi-fi. In addition to basic surfing and email, other more sophisticated applications will be possible, including video streaming. At a later date passengers will be able to use their phones for SMS and data transfer via their own mobile accounts.
Lufthansa Systems will provide the required IT infrastructure on-board the aircraft. This includes network operations as well as the innovative FlyNet portal for passengers.
Lufthansa Systems and Lufthansa Technik have also established a long-term partnership with global satellite operator Inmarsat in order to offer a multifunctional on-board IT platform with broadband internet access to the market.
Related topics
Related airlines