Lufthansa enhances passenger experience with Airbus A350-900
Posted: 1 April 2016 | Katie Sadler, Digital Content Producer, International Airport Review | No comments yet
Lufthansa plans to enhance its passenger experience with a new service on board its Airbus A350-900 fleet in early 2017.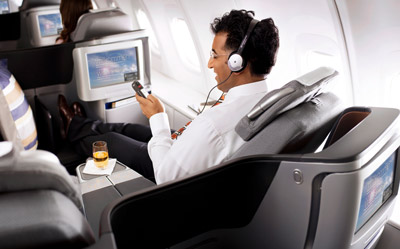 Passengers will soon benefit from a heightened traveling experience with the introduction of ten Airbus A350-900 aircraft based at Munich Airport from January 2017.
Lufthansa's A350-900 provides customers with a self-service section in Business Class, increased passenger comfort, plus new seats in economy and larger monitors. The cabin space has increased in width and is fitted with special lighting which has been designed to provide a relaxing atmosphere.
"We want our customers on board to feel comfortable and to arrive relaxed even after long flights"
Thomas Winkelmann, CEO Lufthansa Hub Munich said: We want our customers on board to feel comfortable and to arrive relaxed even after long flights. This is why we have improved passenger comfort even more in the A350-900"
For the first time, Lufthansa will offer its customers a new service on the A350-900. Passengers in Business Class will be able to serve themselves refreshments between meals. In a specially designed self-service area passengers can enjoy a variety of snacks. A refrigerator is also provided with cold drinks.
Lufthansa provides Business Class self-service area on-board new Airbus A350-900s
Passengers in Economy will be seated in ergonomically designed seats in a new colour scheme. In future there will also be more room to stow personal items.
In all classes passengers will benefit from the latest FlyNet technology and improved web surfing. 
Thanks to the special design of the A350-900, the cabin pressure during flight is pleasant, so passengers arrived more rested. This is comparable with an altitude of 1,800 meters, versus 2,400 meters of altitude with comparable aircraft. The effect is also enhanced by an innovative lighting concept with a total of 12 light scenarios. These can be deployed in such a way that passengers can adapt their biorhythm better to local time at their destination.
Based in Munich, initial destinations for Lufthansa's A350-900 is likely to be Delhi and Boston. The aircraft will provide seating for 293 passengers: 48 in Business, 21 in Premium Economy and 224 in Economy.